UBOC5: Steven Gonzalez Wins Event #9; Daniel Kelly Dominates Event #10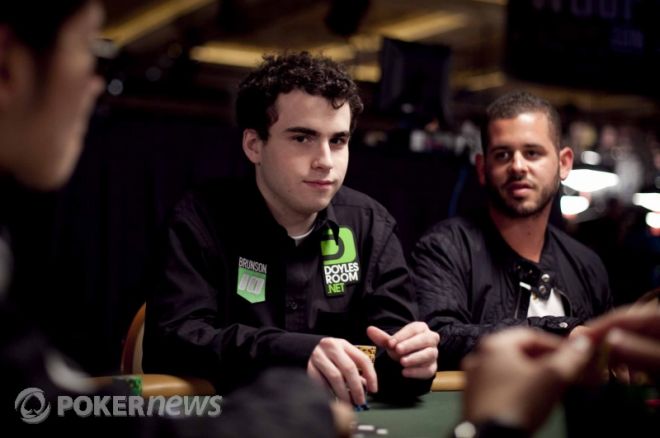 For the past week, Ultimate Bet and Absolute Poker, in conjunction with the CEREUS Network, have been hosting the Ultimate Bet Online Poker Championship Series 5. The UBOC5 is a series of 20 tournaments that offer a combined $4 million in guaranteed prize money. On Monday, Event #9 $200 + $15 No-Limit Hold'em Rock Star Bounty and Event #10 $300 + $20 PLO8 took place, attracting online poker pros and amateurs from around the world. In addition, the Mini-UBOC, which runs simultaneously with the UBOC and offers the same tournament at one-tenth the price, served as an excellent option for those with a limited bankroll. The winner of each UBOC tournament not only received a nice payday, but also received a championship watch. In addition, anyone who eliminated a Team UB pro received $200 and a UBOC T-shirt.
The first event of the day was the Rock Star Bounty tournament hosted by rocker Scott Ian and actress-model Shanna Moakler. The event had 781 entrants, including a number of UB pros such as "Hollywood Dave" Stann (686th), Annie Duke (665th), Shanna "SHANNAXOXO" Moakler (621st), Scott Ian (406th), Gary "DEBO 34" Debernardi (364th), Matt Graham (230th), Tiffany Michelle (212th) and the "Poker Brat" himself, Phil Hellmuth, who made his first UBOC5 appearance and finished just six spots out of the money. The tournament lasted into the early morning hours of Tuesday, concluding with a long heads-up battle between Steven "TRACILORDS" Gonzalez and Andrew "A_CHEN" Chen. When the dust settled, it was Gonzalez who emerged as the tournament's true rock star, taking down the title and $46,500 first-place prize.
UBOC5 Event #9 (NLH – Rock Star Bounty)

Buy-in: $200 + $15

Guarantee: $200,000
Prize Pool: $200,000

Entrants: 781
1. Steven "TRACILORDS" Gonzalez - $46,500

2. Andrew "A_CHEN" Chen - $28,500
3. ROUNDER63 - $19,000

4. 678FOSTER - $13,200

5. ULTAFISH - $11,000

6. Jason "ONLINEPRONGP" Gray - $9,000

7. BETTYSD - $7,000

8. CRAVENDEKERE - $5,000
9. VENUSIGNA - $3,500
The Mini-UBOC5 Event #9 didn't have the Rock Star Bounty, but it did offer a $15,000 guaranteed prize pool. The event, hosted by online pro VOSS1313, drew an impressive 1,047 entrants, surpassing the guarantee by creating a prize pool worth $20,940. Surprisingly, only a few UB pros opted to give the Event #9 Mini a shot including "Hollywood Dave" Stann (522nd), Scott Ian (422nd) and Gary "DEBO 34" Debernardi (229th). The final hand of the tournament saw GOLFFREAK77 (944,432 in chips) raise to 80,000 and XMCNUGGETZX (2,196,568 in chips) reraise to 248,000. GOLFFREAK77 called and the flop came down
. XMCNUGGETZX bet 720,000 and GOLFFREAK77 called all in for 692,432.
XMCNUGGETZX –

GOLFFREAK77 –
The turn was the
and GOLFFREAK77 needed to catch a six, four or nine to stay alive. It was not meant to be as the
hit the river. XMCNUGGETZX took down the pot and the Mini-UBOC5 Event #9 for $4,675.90.
Mini-UBOC5 Event #9 ($15k No-Limit Hold'em)

Buy-in: $20.00 + $2.00

Guarantee: $15,000
Prize Pool: $20,940

Entrants: 1,047
1. XMCNUGGETZX - $4,675.90

2. GOLFFREAK77 - $2,795.49
3. SANJOBOMBER - $1,895.07

4. CARPMAN42 - $1,350.63

5. JOEEICH - $1,141.23

6. REALWITIT - $931.83

7. DMZ - $722.43

8. CUBSWIN111 - $513.03
9. KLINTDW - $355.98
The tenth event of the UBOC5, $300 + $30 PLO8, hosted by Billy Kopp who is featured on this week's World Series of Poker broadcast on ESPN, offered a $100,000 guaranteed prize pool. Two hundred and ninety-four players entered, including UB pros Gary "DEBO 34" Debernardi (127th), Annie Duke (120th) and Matt Graham (113th). Although none managed to make the money, another pro, Daniel "JEFFGRESSARD" Kelly, navigated the field and made it to the final table.
Kelly, who took down the $25k 6-Handed event at the WSOP this summer and became a member of the "Brunson 10" in the process, entered the final table as the chip leader with more than double the stack of his nearest competitor. Kelly, known as "JEFFGRESSARD" on UB, put his chips to good use, taking down pots as the other finalist were eliminated. When action was three handed, JEFFGRESSARD (631,078 in chips) held a dominating stack and decided to raise a hand to 16,000. YOTEFAN (182,580 in chips) made the call and the two saw a flop of
. After YOTEFAN checked, JEFFGRESSARD bet 24,000 and received a call. Once again, YOTEFAN checked the
on the turn and JEFFGRESSARD bet 54,000. This time YOTEFAN didn't just call, he moved all in for 142,580. JEFFGRESSARD called and showed
for two pair and an ace to five low. YOTEFAN held
for the nut low and a pair of eights; unfortunately for him, the river was the
and his low was counterfeited, eliminating him in third place.
It took just two more hands for the tournament to come to an end. JEFFGRESSARD (821,658 in chips) raised to 24,000 and JONSCOTTY (60,342 in chips) reraised all-in. After a call, the two revealed their cards:
JEFFGRESSARD –

JONSCOTTY –
The board ran out
, giving Daniel "JEFFGRESSARD" Kelly an ace-high flush and the tournament. Kelly, who has already had a spectacular year, took down the $26,000 first-place prize and added a UBOC5 title to his résumé.
UBOC5 Event #10 (PLO8)

Buy-in: $300 + $20
Guarantee: $100,000
Prize Pool: $100,000

Entrants: 294
1. Dan "JEFFGRESSARD" Kelly - $26,000
2. JONSCOTTY - $15,500
3. YOTEFAN - $11,000
4. COMEONPHISH_ - $8,000
5. UTELLME - $6,550
6. KENNEOIN - $5,500
7. OMGDIARRHEA - $4,500
8. PSYCHO123 - $3,500
9. CIGAR4 - $2,500
Mini-UBOC5 Event #10, hosted by JOES2828, managed to surpass the $10,000 guarantee by attracting 426 players, creating a prize pool of $12,780. Gary "DEBO 34" Debernardi, who has been playing almost every UBOC5 event, was the only UB pro who played the event but made an early exit in 363rd place. In the end, it was SPECIOUS facing off against John "MICHAELEAHCI" Michael in heads-up action. The battle lasted 68 hands, with the end coming when SPECIOUS (831,199 in chips) raised to 90,000, MICHAELEAHCI (446,801 in chips) reraised to 270,000 and SPECIOUS made the call. The flop came out
and SPECIOUS bet 540,000. MICHAELEAHCI called all in for 176,801 and showed
and was up against the
of SPECIOUS. The turn was the
and gave SPECIOUS the lead with three of a kind. The
on the river sealed the deal and SPECIOUS became the Mini-UBOC5 Event #10 champion and took down $3,188.61 for his efforts.
Mini- UBOC5 Event #10 (PLO8)

Buy-in: $30.00 + $3.00
Guarantee: $10,000
Prize Pool: $12,780

Entrants: 426
1. SPECIOUS - $3,188.61
2. John "MICHAELEAHCI" Michael - $1,917.00
3. BEAUSPUNKY - $1,309.95
4. KEVGORDON05 - $894.60
5. SMALLAXE - $766.80
6. BADBOYPLAYA - $639.00
7. MELSUNGEN12 - $511.20
8. NOHANDDLEBAR - $383.40
9. DEGENWLDBOY - $255.60
Want your shot at a win? You have to sign up for a UB account before you can get it.