Going GloBal: Estonia to Cyprus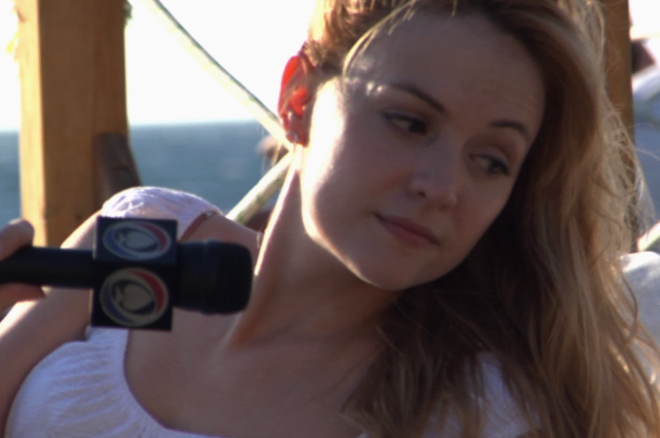 Estonia to Cyprus
So I'll be honest, Cyprus was a blast. I legged it to Kyrenia, Cyprus, for the Full Tilt Poker Merit Cyprus Poker Classic straight from the PokerStars European Poker Tour Tallinn. I'd like to point out a few things here. First, "Full Tilt Poker Merit Cyprus Classic" is the longest title for a poker tournament — ever. Second, about halfway through the last of three flights and two epic layovers, the gremlins started to come out about being too tired and not getting days off. Then I walked through customs and got a thick bright red stamp in my passport. That's when the light bulb went off that reminded me that I am one of the luckiest girls in the world.
Clearing customs, I walked out and saw a bewildered guy holding a sign that read, "Gloria Baldin." Sigh no one ever gets my last name right. It's almost like they don't want to believe it is an adjective for hair loss. Either way, I had a mother-freakin car picking me up. For all of you intimately involved with the high-roller lifestyle, I am the girl in the airport trying to read a bus map while you get in your SL500 with black tinted windows. That day, I had my own car with a driver to take me to the Mercure Hotel and one of the most hotly anticipated tournaments of the year.
The Must Haves
In my mind, I have a check list of things that I think make a tournament great. Are there English-speaking players attending? I don't care if they are American or British, but I have tried to talk about smooth-calling with far too many Russians to not appreciate the anglophones of the world. Will the tournament's final table be less than 12 hours long? This is always a win. I don't care how big the blinds are or how many players are left; but I show up before you and have, at minimum, an hour of work after you win. It is so much win. Last, and this is the most important, can I feed myself at the tournament? Too many tournaments that I've attended have an amount equal to Malawi's gross domestic product for a sandwich. Not the case in Cyprus. Two words: All Inclusive.
all-in·clu·sive [awl-in-kloo-siv] – adjective: including everything; comprehensive.
There are two kinds of all inclusive: the sort of "everything included" that you still get nickel and dimed with, and then there was the Cyprus "all-inclusive" version 20.10. Guys, the bar was all-inclusive. Cohiba's were all-inclusive. Were it not for a little thing called an embargo, my suitcase would have been chock full of Castro's toothpick. Check out the video below to get a taste of the luxury I enjoyed at the Full Tilt Poker Merit Cyprus Classic.
Wait There is More
But oh yeah, a tournament was going on. I really like the different dynamics that different tournaments pull in. A lot of U.S. players came in for the softer, mostly regional field. It reminded me of the PPT Grand Final circa 2008. I mean, Michael Mizrachi came out for it, and his crew is almost never Europe-side. I chalk it up to the promise of a good tan and embargo-free Cohiba's. The beaches and heat made everyone talkative and mellow. Even the Grinder was chirpy. OK, so maybe it could have been his upcoming World Series of Poker Main Event Final Table appearance that had him in such good spirits.
All-In"clusive" All
All in all, the Full Tilt Poker Merit Cyprus Classic was a blast. I managed to get PokerNews tournament reporter Mickey Doft to try Malibu and Bailey's. Our head of tournament reporting, Donnie Peters, rebelled against all those pesky ads that say sun burn causes cancer — he turned lobster red. I wore my bathing suit in a video for the first time. To be honest, I just needed a work-related reason to get in the Mediterranean on company time. What can I say! Check out the recap video for an example of why I have the best job in the poker world.
Check out Gloria's video interviews from Merit Cyprus Classic and EPT Vilamoura where she is right now. And be sure to follow the PokerNews Live Reporting blog for all the updates from the felt.