PokerStars.net APPT Auckland Day 3: Leaoasavaii Rhymin' Atop the Final Table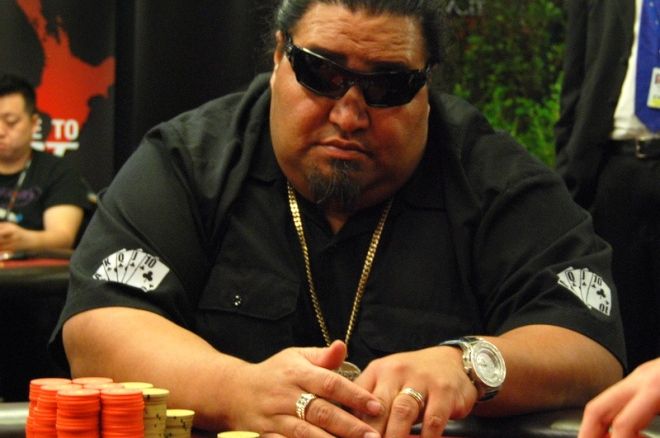 The penultimate day of the 2010 PokerStars.net Asia Pacific Poker Tour returned to the SKYCITY Auckland Casino as the third stop of season four looked to reach the expected predominately Australasian final table for the Auckland Main Event!
As twenty-eight players strolled into the poker room with coffee and a breakfast muffin in hand, the first goal would be sneaking into the money by avoiding elimination and outlasting just four players. Sam Courtenay was first to go before AJ Bertenshaw and Akshay Nauhria followed in a double elimination. The honours however of bubble boy would go to Canadian Linh Tran who's
wouldn't be able to improve against Tom Grigg's
on a nine-high board.
As players such as Julius Colman (23rd) and Damien Wong (21st) fell quickly after the bubble burst, Grigg would have a tough time building upon his solid chip lead. Instead, Grigg's chip trend bobbled around the 600,000-chip mark for some time before he would release his stranglehold-grip to fellow PokerStars Online Qualifier and Hungarian Tamas Lendvai.
Lendvai eliminated four players on his way to capturing the lead, but he too would struggle to hold onto his newly accumulated chips as Danny "Brotha D" Leaoasavaii fought his way back from less than 100,000 all the way to the chip lead. Known as the Godfather of New Zealand hip-hop, Leaoasavaii first doubled out of the red-zone when his
struck lightening on the river against Grigg's
after all the money went in preflop to see the board spread
. As the many Brotha D railbirds screamed in excitement, they would find more pleasure when his
held true against Lendvai's
, before outkicking the Hungarian's top-pair to sit atop the remaining players.
Of those players still battling it out, last year's eighth-place finisher Lance Climo would be unable to replicate his 2009 feats as his short-stack ninjaing would come undone after losing a race and then seeing his
unable to outdraw a dominated
to fall to the rail in 10th place – just one place shy of reaching back-to-back APPT Auckland final tables.
Final Table Line-Up (average stack - 484,444)

Seat 1: Tamas Lendvai (472,000)

Seat 2: Santi Soriano Ramos (347,000)

Seat 3: Noah Vogelman (576,000)

Seat 4: Tom Grigg (616,000)

Seat 5: Ropati Toleafoa (163,000)

Seat 6: Danny Silk (250,000)

Seat 7: Danny 'Brotha D' Leaoasavaii (636,000)

Seat 8: Leo Boxell (194,000)

Seat 9: Srdjan Mitrovic (632,000)
With a final table of nine now set it would be Leaoasavaii headlining with an amassed 636,000-chip stack. Fellow online qualifier and Auckland-based Srdjan Mitrovic sits just several antes behind as Grigg rounds out the top three with under 70,000 more than he started the day with.
Tournament stalwart Leo Boxell may be one of the short stacks with only 194,000, but he has countless years of experience under his belt – even reaching the APPT Sydney final table alongside Grigg last year before bowing out in third place. Throw in Day 1a chip leader Noah Vogelman (576,000), fellow qualifiers Santi Soriano Ramos (347,000), Danny Silk (250,000) and local Ropati Toleafoa (163,000); and it is still a guessing game for who will capture the $123,058 (NZ$170,000) first prize and title of APPT Auckland Champion!
With final table coverage kicking off at 1:00 p.m local time, the PokerNews Live Reporting Team will be on the floor for every rivered flush, turned straight and flopped set as we provide continuous live updates from the 2010 PokerStars.net APPT Auckland Main Event!
If you're not already doing so, be sure to follow us on Twitter for up-to-the-minute poker news and also become our fan on Facebook.