WSOP Europe Preview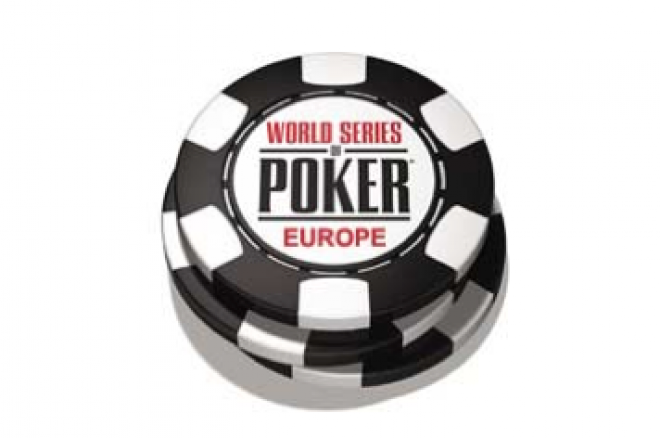 The World Series of Poker has shifted its focus to London this week where the WSOP Europe will kick off on Thursday, Sept. 14 at noon. The series has done well in bringing the WSOP brand to Europe since its inception in 2007. Back when it was started, there were only three events on the schedule. The two years after that saw four events each, and then this year will see five events. Although the jump from three to five doesn't seem like a lot, it's still nearly double. Considering the size of the venues in London and the current exchange rate, these fives events still offer a hefty tournament schedule for the week. They are also important because all the events have a WSOP gold bracelet waiting for the winner.
With three years under its belt, the WSOP Europe tournament series has generated a total prize pool of £15,166,890. A total of 2,924 entrants have come from the previous 11 events, a number that will only grow this year. In 2007, the average number of entrants for the three events was 207.67 players. That average grew to 261.75 players in 2008 even with the addition of one event. This number grew mostly because of the £1,500 No-Limit Hold'em event that was added. That event alone was a big success, drawing 410 players. In 2009, the average jumped again to 313.5 players, keeping the same number of events as the previous year.
With five events on the schedule this year and the number of participants growing each year, one has to figure the numbers will rise again. Many of the WSOP numbers in Las Vegas rose this summer, and there's going to be plenty of players who missed out on a bracelet who will be making the trip to London. If you figure the number to stay the same at 313.5 players per event, that means another 1,567-plus entrants, which is roughly half of what the WSOP Europe has received in all 11 events combined since it began in 2007.
The WSOP Europe schedule had a H.O.R.S.E. event penciled in during both the 2007 and 2008 years, but that was done away with last year. Those events were both £2,500 buy-ins that only generated 105 and 110 entrants. A £2,500 Pot-Limit Hold'em/Omaha event that took the place of this event in 2009 generated 158 entries. This time around, that event has been removed, as well, and there is only one non-hold'em event on the schedule, the £5,000 Pot-Limit Omaha. That event seems to be a favorite of many of the big guns who come to London, and it drags in about 160 players every year.
Even though the hold'em/Omaha split event was left off the schedule, the staff added two new events that are really going to draw some nice fields. A £2,500 No-Limit Hold'em Six-Handed event was added along with a £10,000 No-Limit Hold'em High Roller Heads-Up event. The first will draw much bigger numbers, but the latter will make up for that with the concentration of elite players it will bring out.
Moving on, let's take a look at who has done well here on British soil since 2007. We've plugged and chugged all the statistics for you, so we won't bore you with every single number. Here are some of the important things to know about who has done what at the WSOP Europe.
Most Cashes
| | | |
| --- | --- | --- |
| T-1 | Chris Bjorin | 4 |
| T-1 | Daniel Negreanu | 4 |
| T-3 | Ian Frazer | 3 |
| T-3 | Chris "Jesus" Ferguson | 3 |
| T-3 | John Juanda | 3 |
| T-3 | Howard Lederer | 3 |
| T-3 | Sampo Löppönen | 3 |
| T-3 | Andy Bloch | 3 |
Out of this group, only two players have cashed all three years: Chris "Jesus" Ferguson and John Juanda. Ferguson has done pretty well for himself during the series — cashing three times and making two final tables — but he hasn't quite been able to step into the winner's circle yet in London. Juanda won the WSOP Europe Main Event in 2008 when he bested a field of 362 players to take home £868,800. Howard Lederer came even closer than Ferguson, but fell short every time. Lederer is three-for-three on making the final table when cashing, but hasn't been able to get a win. One of the final tables, he finished in ninth place, but the other two were second- and third-place finishes to make his defeat that much worse. Despite both of their very close calls, Ferguson and Lederer appear to be two players to bet on every year at the WSOP Europe — and they're not even at the top of the list.
Daniel Negreanu and Chris Bjorin are tied with the most cashes, each hitting the money part of an event four times. Negreanu didn't do anything in 2007, but he has final-tabled the Main Event in London for the past two years, finishing fifth in 2008 and runner-up to Barry Shulman in 2009. Bjorin cashed three times and made two final tables in 2009, one of which was the Main Event where he took sixth place. These are the two players who seem to have the London soil on lockdown so look out for them again this year.
Most Final Tables
Top 5 Money Earners
| | | |
| --- | --- | --- |
| 1 | Annette Obrestad | £1,000,000 |
| 2 | John Juanda | £877,378 |
| 3 | Barry Shulman | £801,603 |
| 4 | Daniel Negreanu | £722,594 |
| 5 | John Tabatabai | £570,150 |
Annette Obrestad won the inaugural WSOP Europe Main Event for £1,000,000, which puts her at the top of the list. Even though many people think of Obrestad when they first heard the words "World Series of Poker Europe," her Main Event win in 2007 is her only cash at the WSOP Europe. Shulman and John Tabatabai also only have one cash each, but both still make it into the top five.
You'll notice that there's no Phil Ivey, Jeffrey Lisandro, Phil Hellmuth, Tom Dwan, Roland de Wolfe or many other big names mentioned so far. That brings us to our next list, which is the one of Underachieving Heavy Hitters. Take a look at this list and see how some of the biggest names in poker have fared in London over the past three years. The list is in no particular order.
Underachieving Heavy Hitters
| | |
| --- | --- |
| Phil Ivey | 1 final table - £13,750 |
| Jeffrey Lisandro | 1 final table - £11,000 |
| Gus Hansen | 1 cash - £41,630 |
| Phil Hellmuth | 1 cash - £6,188 |
| Tom Dwan | 1 cash - £12,713 |
| Dave "Devilfish" Ulliott | 1 cash - £21,142 |
| David Williams | 1 cash - £4,812 |
| Brandon Cantu | 1 cash - £4,305 |
| Allen Cunningham | 1 cash - £14,438 |
| Josh Arieh | 1 cash - £25,340 |
| Jani Sointula | 1 cash - £25,340 |
| Erik Seidel | 1 cash - £28,960 |
| Mike Matusow | 1 cash - £36,200 |
| Patrik Antonius | 1 cash - £27,150 |
| Roland de Wolfe | 1 cash - £11,700 |
| Ted Lawson | 1 cash - £11,700 |
| John Duthie | 1 cash - £10,140 |
| Padraig Parkinson | 1 cash - £16,500 |
| Vialy Lunkin | 1 cash - £5,660 |
| Ted Forrest | 1 cash - £8,580 |
| Erick Lindgren | 1 cash - £30,770 |
Even though all of those players only have one cash, they're still on everyone's radar and they don't go unnoticed when they sit down at a table. Ivey, Dwan and Antonius may be too busy with all the cash-game action to worry about these tournaments, but with all the bracelet bets Dwan and Ivey have out there, they'll surely be bringing their A-games to the felt and really going for the gold.
The World Series of Poker Europe kicks off on Tuesday and the PokerNews Live Reporting Team will be on hand for all five events to bring you the best coverage possible. Be sure to check back for that and as always, stay lucky.