The Nightly Turbo: iPhone Gets Real Money Poker, PokerStars Adds to its Roster, and More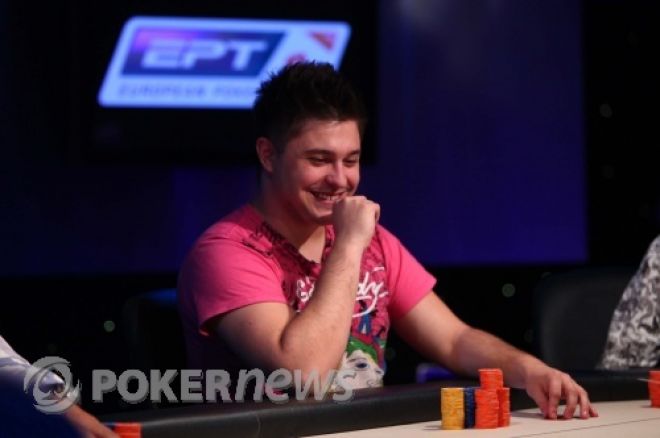 If you're looking to curb your poker itch while away from your computer, you iPhone users are in luck. We'll tell you all about the real-money poker game that is being offered on the iPhone, PokerStars newest addition to its Team Pro roster, and more in this edition of the Nightly Turbo.
In Case You Missed It
If you're looking to improve your pot-limit Omaha game, you're in luck. In this week's strategy article, Brian Rast goes over a PLO hand he played in the nosebleeds on Full Tilt Poker.
How's your fantasy football team doing? If you need some tips on who to bench and who to start, you need to check out the Pigskin Diaries Vol. 9.
Kristy Arnett is back this week, bringing you the scoop on all things happening in Las Vegas. Check out the latest Las Vegas Life with Kristy to see part two of Tony Dunst's guide to picking up women, and more.
What's going on in the gaming world outside of poker? Inside Gaming has the scoop.
It's Here! Real-Money Poker on the iPhone
Looking for a way to pass the time while on the subway or some place like that? Or maybe you're at a poker table playing a tournament and it's just not enough action for you. If this sounds like you, then you're in luck. Switchpoker.com has just been released and is a real-money poker site that can be played on the iPhone.
"Since the iPhone was launched, there have been calls by poker fans for a place to play poker on it," Conor McCarthy, co-founder of SawadeeSoft said.
Switchpoker was developed by SawadeeSoft Limited. Because Apple doesn't allow real-money poker games in its App store, the developers had to come up with a way to get around this, which they did. They've built the site to work via the browser rather than having a native app. The site offers no-limit hold'em in buy-ins ranging from €0.20 to €1,000. Sorry U.S. players, this one isn't for you yet.
Find out more at SiliconRepublic.com.
Maximum Exposure
PokerStars has announced that a new name has been added to its list of Team Pros. Maxim Lykov is the newest poker pro with a sponsorship deal from the online poker giant.
The Russian pro began playing in 2005, and it only took a year for his two $40 deposits to turn into a much bigger bankroll. He is now listed as one of the highest-earning Russian live tournament players of all time. In 2009, he won the European Poker Tour's first event in Kyiv taking on close to 300 players and winning $468,504.
You can find him playing under the screen name "Maxim Lykov" on PokerStars. Want to take him on? Sign up for a PokerStars account today.
Doubles Poker Semifinal
Last week, the field in the Doubles Poker Championship dwindled to its semifinalists. This Saturday at 9:00 p.m. EDT on GSN, the first two semifinal matches will air. The top two teams will advance to the finals where they will meet the top two teams from the second semifinal match.
This week, Teams B (Howard Lederer and Phil Gordon), E (Andrew Lichtenberger and Nick Schulman), G (Huck Seed and Allen Cunningham), and D (Greg Mueller and Vivek Rajkumar) will all hit the felt in hopes of making it to the finals.
Wondering who's going to make it through? You'll have to tune in to GSN Saturday night at 9 p.m. EDT to find out.
WPT Amneville
The ninth season of the World Poker Tour is hosting its fifth international stop in Amneville, France. It is the second stop of the year in France. The Main Event will take place at Seven Casino d'Amneville beginning November 2 and run through November 6.
This event will be the first major event hosted at the new Seven Casino d'Amneville in northeast France. To celebrate the event, the WPT is sweetening the prize pool. On top of the first-place prize money, the title, and the bracelet, the winner of WPT Amneville will also receive entry to the 2011 WPT World Championship at the Bellagio.
"We are looking forward to our second French WPT stop this year. There is a real buzz about French poker at the moment – the Grand Prix de Paris at the Aviation Club was a big success while international players have found poker in France attractive and have flocked to events all over the country," WPT President Adam Pliska said.
Online satellites for the event are running on PartyPoker now.
Follow us on Twitter and like us on Facebook.