The Nightly Turbo: Joe Sebok Rappels for Charity, PokerStars Gets Estonian License, and More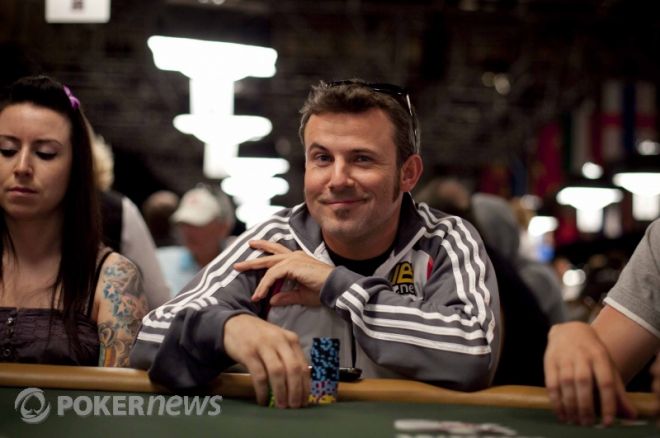 Joe Sebok is attempting something that makes us cringe just thinking about it - not the raising money for charity part, but what he's doing to draw attention to it. We'll tell you about that, and all about PokerStars' Estonian online gaming license in this edition of the Nightly Turbo.
In Case You Missed It
The debate of whether or not a World Series of Poker Europe bracelet should be valued the same as a WSOP bracelet will rage on. In our latest Op-Ed, Nicole Gordon gives you her point of view.
By now, you all know that Lynn Gilmartin travels around the world covering poker tournaments. With each new poker tournament comes another poker party. Lynn gives you a look at her favorites.
There's plenty of interest in poker, and there's plenty of exposure in sports. If an online poker site sponsors a sports team, then that equals lots of exposure for poker. Bodog is the latest site to go down this road, by sponsoring the LA Galaxy.
Sundays might be the biggest day on the virtual felt, but there are plenty of poker tournaments that run through the week. Read the Midweek Briefing to check out the results.
It's a Long Way Down Joe!
Over the Edge is a special-events company that helps nonprofit organizations raise money by providing the once-in-a-lifetime opportunity of rappelling over the side of a building. Participants raise money for the charity and by doing so they get the opportunity to go over the edge. OTE has a 10-year goal to help nonprofit organizations throughout North America raise $50 million.
What does this have to do with the Nightly Turbo? Well, we all know poker players are crazy enough to jump or rappel off a building (see: Daniel Neilson and Andrew Hinrichsen), so it was no surprise to us when we heard that Joe Sebok was headed to Las Vegas to take part in Over the Edge for Special Olympics Nevada. To date, Seebs has raised $1,165 for the charity, and Friday he'll be rappelling over the side of the Rio Hotel. Just the thought of being up that high is getting us a little queasy, but raising money for a good cause warms our heart. And the tweets that have ensued today between Seebs and JD Newitt about whether he'll make it or not made us laugh.
Want to donate? Head on over to Over the Edge for more.
Fully Operational
In August, PokerStars was granted an activity license by the Estonian government. It has recently become one of the first online poker sites to receive an operational license in Estonia. The new platform complies with Estonian laws and enables the country's residents to continue playing on the site.
"There are thousands of good poker players in Estonia and I am very glad that the license enables them to continue competing at the largest poker site with players all over the world," PokerStars Nordic and Baltic Director of Marketing Michael Holmberg said.
Want to play on the world's largest poker site? Sign up for a PokerStars account today.
World Poker Tour News
If you're looking for some poker action on your TV and you live in the U.K., for the next four weeks, you can catch the World Poker Tour London Poker Classic, Thursday at 12 a.m. on Five. Four episodes will air over four weeks, with two weeks dedicated to the Main Event and two dedicated to the £15,000 High Roller event.
On another WPT note, you still have time to send in your video for the WPT Foxwoods VIP Video Challenge. PartyPoker is offering three $10,000 buy-ins plus accommodation for the event that gets under way at the end of this month.
"There is still time for Palladium VIP's to secure a package for WPT Foxwoods for just submitting a video. All they have to do is explain why they deserve the package," said a PartyPoker spokesperson. Floris is the first confirmed winner, so that means that there are two packages left.
If you want instructions on how to enter, visit PartyPoker.com. Check out the entire WPT schedule on the World Poker Tour's website.
Deepstacked
The 2010 Deep Stack Extravaganza at the Venetian in Las Vegas will begin on October 28 with a $340 buy-in no-limit hold'em event and runs through November 24. Buy-ins range from $340 on up to the $2,500 three-day Main Event. There are pot-limit Omaha events, H.O.R.S.E. and Omaha Hi-Lo events on the 28-event schedule.
If you want to find out more, you're going to have to head on over to Venetian.com.
The Sunday Grind
While in Rosario for the Latin American Poker Tour, Kristy Arnett crashed an online poker grind sesh in poker agent Dan Frank's room. Kristy caught up with Frank, and PokerStars Team Pros Gualter Salles and Victor Ramdin. Kristy was not harmed in the making of this video, but a computer was.
Following us on Twitter is a really good idea. Another good idea? Facebook.