The Nightly Turbo: PokerStars and FoxSports Ink Deal, Daniel Negreanu's Latest Blog on Andrew Robl, and More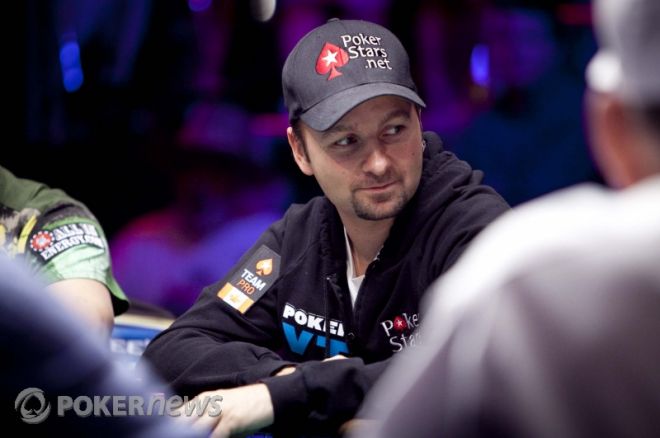 If you've got the midweek blues, we hope that this edition of the Nightly Turbo does the trick to cure them. If not, maybe a quick grind sesh on your favorite online poker site will do the trick. Before you do that, you should probably read the news anyway, just so you know what's going on - you did click on this. Tonight, we'll tell you about PokerStars' new deal with FoxSports, Negreanu's latest blog on Andrew Robl, and more. Enjoy!
In Case You Missed It
The $10,000 Regional Championship at the World Series of Poker Circuit Hammond began Tuesday with 114 players. Quite a few eliminations occurred throughout the day and the money bubble burst.Find out who's left in the final 24 in the WSOP-C Day 2 recap.
While in Hammond for the World Series of Poker Circuit, Kristy Arnett caught up with David Paredes to discuss some poker tournament strategy. Check out what he had to say about table image, bet sizing, and check-raising with small pairs in our latest strategy article.
For months now, every week, ESPN has aired its coverage of the 2010 World Series of Poker. We remind you each week, too, but that doesn't mean you remember (don't worry, some of us around here also have bad memories). Luckily, we can always count on one of us to watch it and bring you the recap.
Lately we've been taking a look at the November Niners of this year's World Series of Poker and how they got to where they are, as well as what to look for going into the Final Table. The latest profile is on John Dolan.
Gloria Balding went back into the video vault to dig up some of her favorite videos. Who better to start with than Phil Ivey. Check out Ivey League Interviews for the best of the best.
Teaming Up
FOX and PokerStars have partnered to bring an entire poker section to the FOX Sports website.
"FOX Sports is thrilled to team up with PokerStars.net. Poker enthusiasts are some of the most fanatical and engaged sports fans on the web today. We look forward to delivering the poker experience to our 26 million users," Vice President of Gaming at FOX Sports Interactive Jim Bernard said.
The PokerStars.net will provide a free-play poker client and host news, tournament results, poker strategy, and rules.
"FOXSports.com is one of the most popular online destinations in the world, with thriving sports, gaming and poker arenas that host the best live and editorial content on thousands of sporting and gaming events every week. This tie-in will see FOXSports.com and PokerStars.net combine the best live and editorial content with the web's best online poker games," Joe Versaci, PokerStars.net North America regional marketing director said.
Read more on NewsCorp.com.
Blog Wars
After Tony G's blog about Andrew Robl and the Big Game, Robl took to his blog to tell his side of the story. Robl feels as though both Tony and Daniel Negreanu were out of line on the show, with Tony calling the clock on him and Negreanu badgering him to straddle.
Negreanu was a childhood hero of Robl's and when they first met, Robl was amazed at how humble Negreanu was. But things have changed. "After the last few years since I met Daniel, I can no longer say I see him as humble and down to earth. Which is ironic because during these years I feel that the game of poker has passed him by. The moment he sits down in a game online — at any stakes — the game instantly fills with a 20 person wait list. More than that, Pros (both online and live) constantly lick their chops when he is at their table in both tournaments and cash games (I hear the talk)," he said in his blog.
The next day, Negreanu posted a blog post regarding the situation. He had apparently spoken to Robl on the phone prior to writing the blog and they "are cool and we squashed it. He explained to me why he didn't straddle, and I explained to him how it came off, etc., and we both agreed that we made valid points.
So, as far as I'm concerned, it's a dead issue and I think this all ended up working out better for him anyway. It certainly created a lot of drama and discussion which always makes for a good story line the next time he appears on the show with me or Tony G. He let me know he's OK with me needling him at the table, and I'm obviously fine with taking jabs from him, as well, as long as at the core it's all in good nature which I'm sure it will be."
Well at least these guys are a bit more civil than Matt Stout and Allen Bari.
Check out Negrenau's blog at Full Contact Poker.
Viva Brazil!
Newly minted Full Tilt Poker pro Felipe "Mojave" Ramos has just won the first event of the World Series of Poker Circuit, which began Tuesday at the Emerald Isle Casino in South Africa. The event was a $1,100 pot-limit Omaha rebuy event. Beth Shak was also at the final table of this event, she was eliminated in fifth place and was there to cheer Ramos on to his eventual win. There is one thing to note, however, the Circuit event in South Africa does not count toward point system tabulation or cumulative event award.
Ramos tweeted his progress and photos of after winning the event.
Congratulations Felipe!
Find out more about the WSOP-C at WSOP.com.
Au Revoir
It has been reported that Ladbrokes has decided not to continue with its plans to launch a sports betting joint venture with Canal+. The company believes that the tax conditions make the market "economically unviable."
The decision by Ladbrokes comes just after Unibet was awarded sports betting, poker, and horse racing licenses by the French regulator ARJEL. According to a Ladbrokes spokesperson, the fact that French authorities confirmed operators would also be required to pay VAT also impacted the company's decision. "Online gambling services in France are already subject to turnover-based taxes and payments to sport and it was recently confirmed that they would also be subject to VAT charges. Initial market size figures from ARJEL have also been below expectations," he said.
EGRMagazine.com has more.
Calling the Clock: Steve Zolotow
Kristy Arnett caught up with Steve Zolotow at the World Series of Poker Circuit in Hammond and decided to call the clock on him. How much would it take for him to shave off his facial hair? Who does he think is the hottest person to wear a Full Tilt Poker patch? Find out in the video below.
Like us on Facebook, and follow us on Twitter for up-to-the-minute news.