The PokerStars.net Million Dollar Challenge: John Elway Sacked, Jason Mercier Plays Defense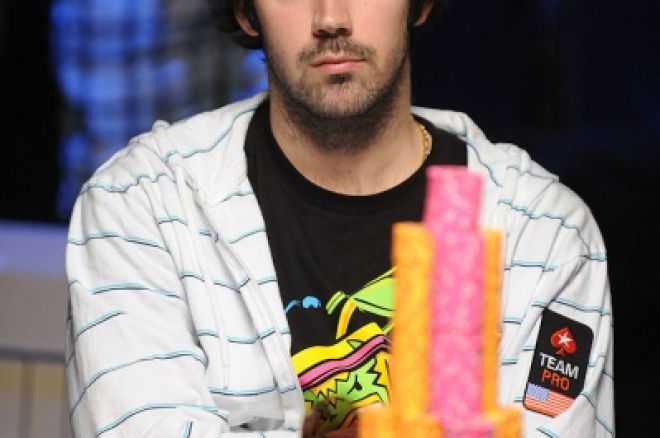 This week's episode of the PokerStars.net Million Dollar Challenge, Episode 4 of Season 2, saw Lauren Gallant, a pharmaceutical sales rep from Hoboken, New Jersey, take her shot at $1 million. "I've been waiting for this opportunity and can't believe it's actually here. I would love to buy our first house," Gallant said.
The Rules: The PokerStars Million Dollar Challenge is played in three rounds. In Round 1, the challenger is joined by Daniel Negreanu, who coaches them as they play heads-up against a celebrity or professional athlete. Although he can give the challenger advice, Negreanu cannot see their hole cards. In Round 1, the challenger is allowed a single timeout that pauses the action whenever called and allows a private strategy session with Negreanu. If a challenger manages to win Round 1, he or she will be awarded a trip to the Bahamas.
Round 2 works a bit differently because the challenger faces a Team PokerStars Pro. In addition, Negreanu is put in an isolation booth where he can see the board cards and the challenger's hole cards while speaking to them via a headset. On the other side of the felt, the Team Pro is given the power to invoke the "Dome of Silence" on two occasions of his or her choosing, cutting off communication between the challenger and Negreanu for the remainder of the hand. If the challenger emerges victorious, he or she will win $25,000, which can either be kept or risked by playing Negreanu heads-up for $100,000 and a seat at the season-ending final table where $1 million will be up for grabs. However, if the challenger risks it and loses, he or she walks away with nothing, and Negreanu will be awarded $10,000 to donate to the charity of his choice.
An Offensive Celebrity Defender: Lauren Gallant's journey to the million dollars began with a match against one of the greatest NFL quarterbacks of all-time in John Elway. The first selection in the 1983 draft by the Denver Broncos, Elway became a two-time Super Bowl Champion, was selected for the Pro Bowl nine times, and was inducted into the Pro Football Hall of Fame in 2004. Known as one of the best offensive players in NFL history, Elway took the role of defender as he played for the Elway Foundation, a charity that helps wounded soldiers.
First Hand: Gallant looked down at
and made the call from the button. Elway checked his option with
. The flop came down
, and Elway checked to Gallant who bet 800. "Your 1-0," Elway said as he mucked.
Timeout: Gallant limped with the
and then called a raise to 3,300 by Elway, who held
. Elway bet 3,000 on the
flop, and Gallant immediately called her timeout. Backstage, Negreanu told her to take the chance right then and move all-in because even if Elway had a big pair, she was still a favorite. Move all-in she did, and once again Elway folded.
Quote of the Week: "Forget about Lawrence Taylor, it's Lauren Gallant that's looking to sack Elway," host Chris Rose said headed into the first commercial break.
Hail Mary: Short-stacked, Elway looked down at
and moved all-in for his last 6,500. Gallant called the additional 4,500 and was ahead with her
. The flop fell
, giving Gallant a pair of kings and a stranglehold on the hand. The
on the turn left Elway drawing to a chop, but the
on the river was no help. Gallant won a trip to the Bahamas and advanced to Round 2.
From NFL Pro to Poker Pro: Gallant's Round 2 opponent was none other than Team PokerStars Pro Jason Mercier, who was playing for the Greater New Orleans Foundation. Mercier is a former World Series of Poker bracelet winner and rose to prominence by winning the San Remo Main Event in Season 4 of the European Poker Tour.
Shut Down Now: Gallant raised to 2,400 with
and was called by Mercier's
. The flop came
and Mercier checked, setting a trap for Gallant. Negreanu told her to bet about half the pot but added, "If he calls here we gotta give up." Mercier did call and Negreanu said, "That means he's got a little something, so we're gonna have to shut down now."
The
on the turn gave Mercier the nut flush, and he coyly checked to Gallant, who was wise to heed Negreanu's advice and checked behind. When the
was put out on the river, Mercier used the "Dome of Silence" and moved all-in. Gallant quickly conceded the hand, and Mercier picked up more than a quarter of her stack.
All-In and a Call: Gallant moved all in for her last 13,900 with
and received a call from Mercier who looked down at
. The
flop was no help to Gallant who was looking for a six or running hearts to stay alive. The dealer burned and turned the
, and Gallant threw her hands in the air as she took the lead. Her enthusiasm quickly vanished as the
gave Mercier his three-outer to take the match. Gallant's attempt at $25,000 came to an end while Mercier was awarded $5,000 for his charity.
A New Loren: The next challenger was Loren Watterworth, a mother of two who worked as a ICU nurse treating war veterans. "What I really love about the game of poker is that each hand that you play is its own game of wits and that when you get into the really, really big hands it's the same adrenaline rush I get when I'm working in the ICU." Watterworth's first game of wits would come against the celebrity defender, NBA great Gary "The Glove" Payton.
Payton Takes the First Hand: Watterworth looked down at
and raised to 2,000, which Payton called with his
. The flop fell
, and Payton bet out 2,000. Watterworth immediately announced a reraise and made it 6,000 to go. After a call, the
was put out on the turn. Payton, who improved to a bigger two pair, moved all-in and put the pressure back on Watterworth. After enduring some of Payton's smack talk, Watterworth folded her hand.
Swish for Payton: A few hands later, Watterworth raised to 5,000 with
, and Payton made it 8,000 with
. To make the call would cost Watterworth two-thirds of her stack. She promptly called her timeout to consult with Negreanu backstage. Her coach told her that her hand was good enough to make the call, but in the future she should stop raising and either just call or move all-in.
Watterworth returned to the table and called the additional 3,000. Payton then bet out 3,000 on the
flop. Watterworth went into the tank as Negreanu told her he didn't think Payton was overly strong. After thinking it through a little more, Watterworth wisely chose to give up the hand, saving her last 5,400 chips.
Watterworth Doubles: Payton limped in with
as Watterworth looked down at the
and moved all-in. Payton made the call, and Watterworth looked at her other card, the
, making her a 2-1 favorite to double up. "I'm gonna win anyway," Payton said. The flop came
and Payton's prediction was in dire straits. The
on the turn and
on the river changed nothing, and Watterworth doubled to 10,800.
Celebrity Defense: Both players limped preflop to see a flop of
and Watterworth immediately moved all-in. Payton called and showed
for king-high. Watterworth said, "I need help," as she turned over
for six high.
"Only a six will help her," Negreanu said. The
on the turn brought his pupil one step closer to elimination and the
on the river sealed the deal. Watterworth was eliminated in Round 1 while Payton won $5,000 for his charity.
Are you on Facebook and Twitter? So are we, so make sure to follow us on the one and like us on the other.