Around the World with Lynn Gilmartin: Los Angeles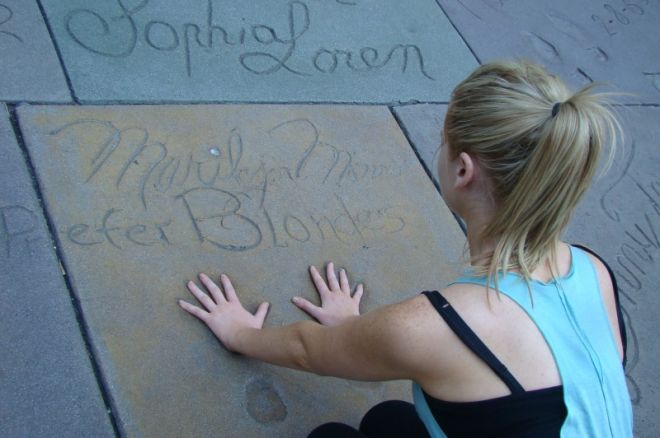 The fourth stop of the inaugural PokerStars.net North American Poker Tour heads to the Bicycle Casino in the City of Angels, Los Angeles, beginning November 12 with a $5,000 Main Event, as well as an invitation-only, televised $5,000 Bounty Shootout that's absolutely rippled with pros, guaranteeing you some great viewing from the rail. Whether you qualified online or you're still deciding to make the trek West, read on for a quick guide.
Getting There and Around
If you live close enough, consider driving to Los Angeles so you have your car handy. If you're flying in, I strongly suggest renting a car. It's such a huge, spread out city, making it hard to get around without one. I've never attempted LA without a car.
Los Angeles International Airport (LAX) is about 25 minutes from downtown LA and the Bicycle Casino in Bell Gardens. LAX is one of the biggest airports in the world (the fifth busiest to be precise) and the cause of plenty of my headaches in the past, so be sure to leave yourself lots of transit time. You can find driving directions on the Bike's website.
Accommodation
If you qualified for NAPT Los Angeles, then you'll be staying at the historic Millennium Biltmore Hotel Los Angeles, home to the very first Oscars in downtown LA. Hundreds of movies and TV shows have been filmed in its halls, including Iron Man, Mission Impossible, Wedding Crashers, and Ghost Busters. Even the likes of Alfred Hitchcock have lurked in the stairwells. The hotel is a 15-minute drive to the Bicycle Casino, with PokerStars.net offering continuous shuttle busses to and from the hotel and casino.
If you didn't qualify and are looking for a place to stay, then PokerStars.net has put together a dedicated team to help you book accommodations with special rates, so head on over to napthotels.com. If you're booking yourself, keep in mind that this is one of those exceptions where the closest hotel is most likely your worst option rather than the best. PokerStars.net's hotel of choice is at a distance from the host venue for a reason!
A Little Taste of Hollywood
You simply cannot visit LA without tasting all that it's known for – the glitz and glamor of Hollywood. Strut down the Walk of Fame and compare your feet to Marilyn's and stare in amazement at the tiny size of Frank Sinatra's hands. Watch the limos scale Rodeo Drive as you enjoy a coffee (that's all I could afford on that street), and if you really want to feel like the scum of the earth, pick up a star-spotting map and drive by the ridiculous mansions in Beverly Hills, snapping photos as you drive past the paparazzi vans camped out in front of Jennifer Aniston's house. OK, scrap the map, but a drive around The Hills is a must.
So you're pushed for time and want to sample all the LA has to offer in the tiny window of time you have before play begins. Well, Sunset Boulevard will give you a good sample. Start downtown to sample the seediness mixed with cool; pass all the riches of Beverly Hills and the famous Sunset Strip, go all the way to the Pacific Ocean in Malibu or Santa Monica. By the time you get to Malibu, you'll probably be hungry, so drop into Reel Inn for some seafood by the water without denting your wallet.
If you're busto and have all day free, take a trip to Universal Studios right in the heart of the city. I haven't been there in ten years, but I'm certain it is still a huge eye opener giving you a whole new level of appreciation for film and special effects while you scare the pants off yourself on the rides. If that's not your thing, then perhaps renting a pair of roller blades to join all the booty shorts on Venice Beach is.
I love to visit comedy clubs all over the world. I've never been to one in LA, but I have been to the Improv in Lake Tahoe, and Hollywood also has an Improv.. If Lake Tahoe had me holding my stomach in agony from laughing so hard, then I have no doubt LA will too.
Unfortunately, I will not be in LA this time around, but I'll definitely be following the NAPT live coverage. Instead, I am in what feels like a tropical heaven with the other half of the PokerNews Live Reporting Team covering the PokerStars.net Asia Pacific Poker Tour in Cebu, Philippines! You can find the simultaneous coverage of both events right here on PokerNews.
You can qualify for future NAPT & PCA events at PokerStars with our exclusive $2,000 added PCA & NAPT private tournaments, exclusive to Club PokerNews.