The Nightly Turbo: PokerStars Adds Fish and Chips to the 2011 PCA Menu, Live Poker Rooms for Delaware and Pennsylvania, and more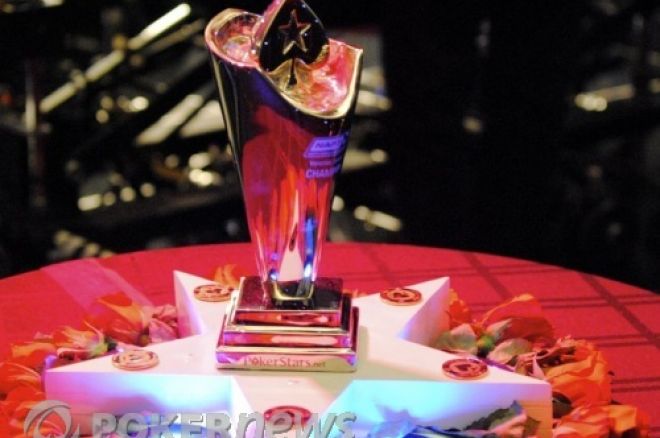 We know plenty of you are planning some ridiculous prop bets surrounding your turkey dinners tomorrow and probably don't have time to be clicking around the Internet looking for the top poker news stories of the day. That's where we come in. We're bringing you all the goodness in one place, kind of like a turducken.
Tonight, we'll tell you about the new event PokerStars added to its PCA schedule, the new poker rooms that have opened in Delaware and Pennsylvania, and more. We're also taking Thursday and Friday off; we'll be eating too much pumpkin pie to type. We'll see you back here on Monday, same time, same place. Don't miss us too much, and happy Thanksgiving!
In Case You Missed It
Harvey's Lake Tahoe, sixth stop on the 2010-2011 World Series of Poker Circuit, crowned its winner Tuesday. Want to know who braved the record-breaking snow storm, the 246-player field, and walked away with $86,789? You'll have to check out the WSOP-C recap.
The end of Day 1b of the PokerStars.com European Poker Tour Barcelona means that the entire field will be together in one room for the first time since play began. Check out the EPT recap to find out who's leading the pack into Day 2.
Thuy Doan sat down with us recently to discuss strategy. She recounts a hand she played against Phil Galfond in the 2010 WSOP for our latest strategy article.
The PokerStars.net North American Poker Tour LA crowned its winner last week, and that meant the end of Season 1 of the NAPT. How'd the fledgling tour do in its first go-round? We took a Look at the PokerStars.net NAPT's First Season.
Phil Hellmuth is hosting a charity poker tournament in his native Madison, Wisconsin, on December 18. If you'd like to find out more about the event, check out Hellmuth to Hold Charity Event to Benefit HospiceCare.
We went digging around in our Video Vault earlier, looking for some of our favorite videos, and we found some. This batch of videos has to do with a high-stakes poker player, who is very scarce with words — Patrik Antonius.
New to the Menu
We're not really sure how good poker players are at fishing — for real fish that is, but they'll get to show off their skills at a new event that has been added to the PokerStars Caribbean Adventure schedule. TheFish and Chips Showdown is a two-day event that will take place January 6 through 7, which will combine fishing and poker in a hybrid "Man vs. Fish" contest.
The buy-in to the Fish and Chips Showdown is $2,300. That will be divided into three prize pools: the fishing derby ($400 per player), the poker derby ($900 per player), and the overall champion ($1,000 per player). Players will be fishing within a 50-mile radius of the Paradise Island Marina. The champion will be determined by a ratio of one-third fishing and two-thirds poker.
2003 World Series of Poker Main Event champion and Team PokerStars Pro Chris Moneymaker will host the event. "I jumped at the chance to play such an unusual and unique event. Most poker tournaments take place indoors, which is fine, but I can't imagine a better way to enjoy paradise than to go fishing on the Caribbean Sea and follow that with poker action at the tables," Moneymaker said.
You can qualify for a $3,425 package to the event, but you'll need a PokerStars account.
Open for Business
Harrah's Chester, which is the site for a newly added stop on the 2010-2011 World Series of Poker Circuit, and Dover Downs have opened poker rooms in the wake of the recent legalization of table games by the Pennsylvania legislature.
Harrah's Chester opened its WSOP-branded room late last week. It houses 35 tables, which is more than its three neighboring counterparts in Delaware, and offers a variety of games.
Last week also marked the grand opening of the poker room at Dover Downs. The room, which opened July 12, houses 24 tables and operates 24 hours a day.
"The opening of the Crown Royal Poker Room is the next big step in our pursuit to offer full-scale gaming choices, and we really hit he mark with it," Ed Sutor, Dover Downs' president and CEO said.
If you'd like to read more about the new poker rooms in Delaware and Pennsylvania, check out DelawareOnline.com.
NASCAR Hits the Felt for Charity
On December 4, NASCAR driver Taylor Barton will launch his inaugural Charity Poker Tournament benefiting theTaylor Barton Foundation and Children Mending Hearts. The event will take place at the Palms Casino Resort in Las Vegas. To get in on the action, the buy-in is $330. There will also be $200 rebuys and a $100 add-on.
The winner of the event will win a seat to the 2011 World Series of Poker, sponsored by Lord Griffon Jewelry. Second place will receive a two-night stay at the Palms, dinner for two, massage, VIP entrance to Palms nightclubs, and airfare. And third place will get a World Series of BBQ experience complete with two nights at the Golden Nugget, two VIP invites, and seats to the Howard and Suzie Lederer Annual Charity Poker Tournament and after-party. Don't forget, the winner of this year's WSO-BBQ got the chance of a lifetime by playing his favorite poker pros on Poker After Dark.
The Taylor Barton Foundation focuses on stopping bullying in schools, and Children Mending Hearts assists homeless and at-risk youth around the world. No list of attendees has been released but there are sure to be NASCAR drivers, poker pros, and celebrities gracing the felts.
If you want to get in on the action, check out Barton's Facebook page for more information.
Another Poker Clothing Line
Now, we know what you all are thinking, "This clothing line is going to have tribal designs and one of the four suits on it." Well, you'd be wrong from what we've seen. RISE is a new action sports-apparel company inspired by poker and its players. Think more Burton and less Ed Hardy. RISE is launching its online store November 24; the product line includes jackets, hoodies, t-shirts and hats.
"We believe it's time to bring a serious lifestyle clothing line to poker," President and founder of RISE Noah Heller said. "Think about it. We're a worldwide community that's millions strong, and ferociously devoted to poker. Where are the jacket, shirts, hoodies, and hats that were made for us? We want to bring to poker a brand that embraces the competitive, risk-seeking lifestyle of the game and those who play it, much like the way Burton does for snowboarding and Hurley and Quiksilver for surfing."
Will poker players be rocking this brand on the tournament trail? Only time will tell. Check out the line at RiseClothing.com.
Popularity Contest
Gloria Balding caught up with PokerStars Team Pro Brazil's Andre Akkari and Alex Gomes at thePokerStars.com European Poker Tour Barcelona. She wanted to discuss with them which one is more popular - not because she wants to start a war, but because the two are both in a poll in a popular Brazilian magazine.
Follow us on Twitter for up-to-the-minute news.
Sign up to Everest Poker and earn 25 Summit Points to play in our exclusive €3,000 freeroll to the 3 Lander Poker Tour Grand Final at Montesino Pokertainment Centre in Venice next month.