PokerNews Op-Ed: Harrah's Rebranding to Caesars Entertainment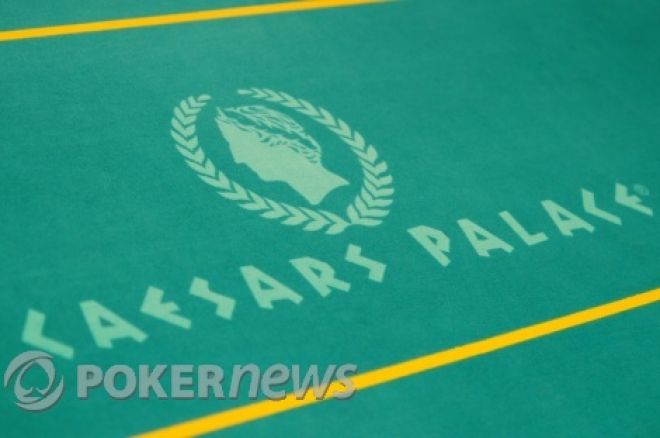 In the business world, building a successful brand is key to financial success. A brand is a company's public face and often is comprised of an identity, culture, name, and logo. Take McDonald's and its golden arches as an example. That is a brand recognized worldwide. With so much tied to a company's brand, it is often a risky proposition to revamp their image through rebranding. Nonetheless, that is exactly what Harrah's did in recent weeks by reinventing themselves as Caesars Entertainment Corporation.
According to Gary Loveman, chairman, president and chief executive officer for Harrah's: "In recognition of Caesars' status as the world's preeminent and most respected casino brand, we have changed the name of our parent company to Caesars Entertainment Corporation. The change reflects our evolution as the industry's leading provider of branded casino entertainment."
Apparently the change is part of a new strategy to focus on the "world's pre-eminent and most respected casino brand" that is Caesars. After all, Caesars Palace is Harrah's most prominent casino in Las Vegas and is the name used for its U.K.-focused online casino site. The question is, will Harrah's change to Caesars benefit their brand?
Sadly, a number of recent rebranding attempts by various companies have had little effect and essentially crashed and burned. While rebranding can certainly benefit a company, they must be committed to overhauling the company's goals, message, and culture to be successful. Simply changing a name or a logo will not cut it. Don't believe me? Take a look at the following companies who attempted a rebrand but ultimately failed.
SciFi Channel Becomes SyFy Channel
The name change came after the channel found they couldn't trademark the term "sci fi," but could rightfully own the "SyFy" variation. In addition, SyFy president David Howe explained another reason: "The thing that we got back from our 18-to-34 techno-savvy crowd, which is quite a lot of our audience, is actually this is how you'd text it... It made us feel much cooler, much more cutting-edge, much more hip." Unfortunately, the SciFi Channel found that the new SyFy name change was highly ridiculed, isolated long-time fans, and was actually a slang term for syphilis in many parts of the world. Epic fail.
Blackwater to Xe?
Remember back in 2007 when five private-security guards were indicted on charges stemming from a shooting in Iraq that left 17 unarmed civilians dead. If so, you might recall that they worked for the private-security firm Blackwater. In an attempt to escape their negative image that resulted from the shooting, the firm announced in February 2009 that they would be changing their name from Blackwater to to Xe (pronounced Zee). All the new name change managed to do was cause confusion as to what it meant and how to pronounce it. The dark cloud continued to hover over the company and the U.S. State Department refused to renew their contract in May 2009; in addition, the company's founder, ex–Navy Seal Erik Prince, was later implicated in a murder investigation. So much for a new image.
UltimateBet Becomes UB
In November 2009, UltimateBet.com announced that they would rebranding to UB.com with a completely new logo. The new name, which had been UltimateBet's nickname for 10 years, also came with upgraded software. "The launch of UB.com represents a turning point for our company. We have collected a big group of professionals that are passionate about poker to build or new UB brand. Our goal is to create products and services that poker players really want," Paul Leggett said .
There is no doubt that UB's change was more than just a name and logo change because it was accompanied by updated software and a new company philosophy; unfortunately for them, the hurdle they were trying to overcome was gigantic. While "Raise, Stack, Own" became the new mantra of UB.com, poker fans never seemed to forget about the superuser scandal that took place there and on Absolute Poker. In fact, many players believed the rebranding was a ploy by UB in to distance themselves from the cheating scandal. While UB is still a major player in the online poker market, they will likely never be as big, nor trusted, as they were prior to Russ Hamilton's cheating incident.
These are just a few examples of companies who merely changed their name and logo in hopes of positive change, but did not find success. Businessinsider.com even released a top ten list of failed rebranding attempts which included London's 2012 Olympic logo, Tropicana's new packaging, and Radio Shack's attempt to become "The Shack." UltimateBet's change to UB had the right idea by trying to reform the company's goals, message, and culture. Even though they haven't totally redeemed themselves, they've certainly repaired some of the damage from the cheating scandal. In all likelihood, their rebranding has kept the company afloat (with that said, I suppose it wasn't a total failure).
So does Harrah's change to Caesars Entertainment make logical and financial sense? According to Jan Jones, a spokeswoman for Caesars, the move will cost less than $1 million. This is a paltry sum for a company that was founded in 1937 and now includes over 50 casinos and hotels along with seven golf courses. However, how exactly the change will help alleviate the company's $634.4 million loss that it amasses through the first three quarters of 2010 remains to be seen.
Will Caesars Entertainment be reforming Harrah's goals, message, and culture? After all, that is what is needed for a successful rebranding. According to Loveman, it won't: "While our name is changing, our dedication to who we are as a company will remain the same. Our employees will remain dedicated to the innovation, customer-service excellence and corporate citizenship that have been hallmarks of our company for decades. This rebranding of the corporate name can open exciting new opportunities for us in the future."
If previous rebranding efforts have proved anything, it is that Caesars Entertainment will need to do more than just a name change if they hope to revitalize their company. Unfortunately, that does not appear to be in the cards.
For all that is PokerNews, be sure to follow us on Twitter and like us on Facebook!