The Nightly Turbo: Doyle Brunson Moving, Tony G Bringing Dog to Aussie Millions, and More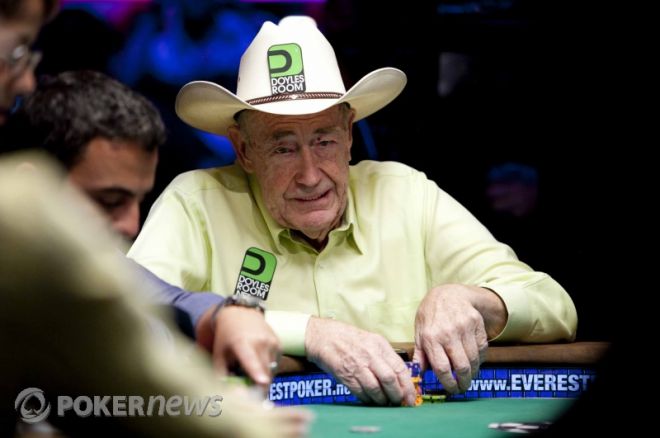 If you were looking for the top poker news stories of the day, look no further. Today, we're going to tell you what Doyle Brunson has written in his latest blog, whether or not Tony G's German shepherd Zasko will be making an appearance at Crown Casino for the Aussie Millions, and more.
In Case You Missed It
Looking to get out of the cold of the Northeast and win some big money?Check out the East Coast Poker article for a look at the upcoming tournament series at Borgata and Foxwoods.
Making a good fold can be crucial to helping you win a tournament. Just ask Galen Hall. In our latest strategy article, he recounts the huge lay down he made just before taking down the 2011 PokerStars Caribbean Adventure Main Event.
Another winner was crowned at the 2011 Aussie Millions Wednesday. Find out who took down Event #4 and who showed up for Event #5 in our Aussie Millions recap.
A new professional poker league was announced Tuesday, and we know you all want to find out more about it.That's why we talked to the league's commissioner, Annie Duke.
On the Road Again....Maybe
You can go ahead and file this one under things we thought we'd never hear (or read). In his latest blog, Doyle Brunson has revealed that he's considering moving from Las Vegas to California.
Brunson wrote that "Las Vegas is becoming more and more a not very desirable place for a poker pro to live." There aren't enough high-limit games to suit him. What with "the economy, the worldwide tournaments, and the Internet poker," he wrote, "the outlook for live cash games are bleak. Poker is on the verge of making a very significant change and in my opinion very bad change," he wrote in his blog.
He picked California because, he says, "there are a few mid-level games that are played regularly."
Read Doyle's Blog for more.
Here Boy!
With the $100,000 event at the 2011 Aussie Millions, we'd have to think that Tony G would be putting the finishing touches on his plans to bring his dog Zasko to the event. Well, in his latest blog on PartyPoker, the G says that Zasko was having some visa and security issues and would not be able to make it. What's he going to do instead? Well, Tony has found TJ, another German Shepherd to fill the void of Zasko not making it.
"As you well know by now I am not Phil Hellmuth so there will be no flashy entrance but you have to be impressed that the G has the weight to get a dog brought into the casino. He will just be there playing around – tilting my opponents and making the game a bit of fun," he wrote in his blog.
And how good are the dogs being taken care of you might wonder? Well, Tony was planning on feeding TJ the finest Wagyu beef from Nobu, but since the chef couldn't make it to the tournament, Tony has secured TJ's meal from another restaurant at Crown Casino.
Check out Tony's Blog for a photo of TJ and more on the event.
Football and Poker - Does it Get Much Better?
When we read the "celebrities expected to attend" list for the Adrian Peterson All-in Celebrity Poker Tournament, we began wondering how much name-dropping was going to happen from one specific poker player. The event is on Friday, February 4, at Gilley's in Dallas.
For $500, you can get a seat in the tournament, which includes drinks and dinner. If you just want to watch from the sidelines, that will run you $150 for the VIP Spectator ticket. The event benefits Adrian Peterson's All Day Foundation, which creates educational experiences and enrichment opportunities for under-served children.
Wondering who you'll be rubbing elbows with if you decide to go? Well, Phil Hellmuth will be there, as will footballers Larry Fitzgerald, Bernard Berrian and Tashard Choice. Chicago Bears defensive end Julius Peppers is also on that list, but seeing as "da bears" are in the playoffs, he might gearing up for a Super Bowl that weekend.
If you'd like to more information, check out SuperSundayHQ.com.
The Stars Come Out at Night
On February 19, the 9th Annual World Poker Tour Celebrity Invitational will be held at Commerce Casino in California. For the second year in a row, Chrysalis will be the official charity partner for the event.
Chrysalis is a nonprofit organiztion that helps economically disadvantaged and homeless individuals become self-sufficient through employment opportunities.
"Chrysalis is thrilled and honored to be named the beneficiary charity of the World Poker Tour Celebrity Invitational for the second year in a row. Last year's event was a tremendous success and allowed us to further our vital mission," Chrysalis CEO Mark Loranger said. "We look forward to partnering with the WPT once again and enjoying what will surely be an entertaining and successful event."
Mark Steines, host of Entertainment Tonight and his wife Leanza Cornett will be the celebrity co-hosts of the event. No celebrity list has been released but if the years past are any indication, the stars will be out in full force.
Head on over to WorldPokerTour.com for more on the event.
You Could Be Doing This
You don't have much left to audition for the PokerNews Hostess Hunt. And if you don't want to audition, you don't have much time left to vote for your favorite candidate.
If you're one of the winners, you'll get to do things like Call the Clock on poker players, much like Lynn Gilmartin did to Tony Dunst at the 2011 Aussie Millions. Check it out below.
Follow us on Twitter and like us on Facebook for up-to-the-minute news.
Want to rail the biggest games in the world? Not only will you get a $600 sign up bonus at Full Tilt Poker, new depositors also get to play in a $100,000 First Deposit Freeroll. - so you can play while you watch!