The Nightly Turbo: PokerNews Nominated for iGB Awards, More Sites Pull Out of Washington, and More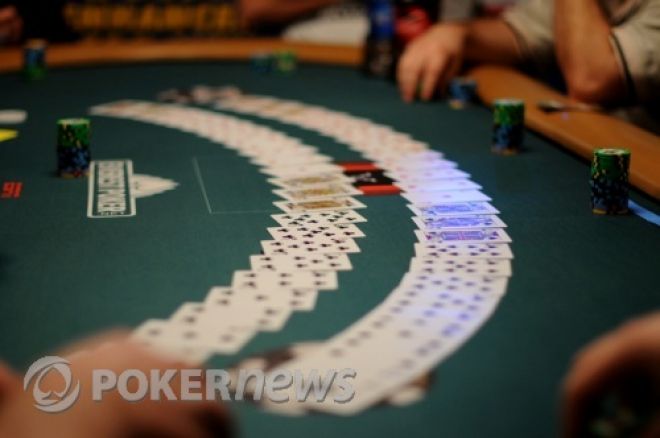 It's time for the Nightly Turbo again, the best place to get your poker news fix and get on with your day. In this edition, we're going to toot our horn a little, seeing as how we've been nominated for an iGB Award. We're also going to give Washington state players some more bad news, and tell you a few more tidbits of information. Enjoy!
In Case You Missed It
Chris Moneymaker is making waves at the PokerStars Caribbean Adventure. We decided to take a look back at some of our favorite Moneymaker moments in the latest edition of the Video Vault.
The 2011 Aussie Millions is under way in Melbourne and if you're one of the many that are making the trek Down Under in the next few weeks, you're going to want to know the ins and outs of the city and event, that's where Lynn Gilmartin comes in. Check out Around the World with Lynn for a look back at last years Aussie Millions.
In recent years, poker players have found their way onto your television screens in shows that have nothing to do with poker, and if Phil Hellmuth's tweet a few weeks ago is true, we'll be seeing him on Dancing with the Stars next season. Take a look at the top three best moments in reality TV involving poker players.
Couldn't stay up all night to finish railing the big tournaments this week? Don't worry about it, the Midweek Briefing has your results.
We'd Like to Thank....
OK, OK, maybe we're getting ahead of ourselves with an acceptance speech already, but PokerNews has been nominated for an iGB Affiliate Award. The iGB Affiliate Awards is the U.K.'s premier stage in the online gaming affiliate industry.
There are 14 categories, and PokerNews is up for an award in the Best Poker Affiliate category. The awards are taking place on January 27 at The Brewery in London, and tickets are for sale for £99 for affiliates, £2,000 for a table for 10 for non-affiliates and £250 per seat for nonaffiliates if you want to check it out solo.
If you want to check out all the nominees, head on over to iGBAffiliateAwards.com.
Outta There
We all know that Full Tilt Poker and PokerStars have pulled out of Washington because the state has made it illegal to make wagers online. Well, you can add two more sites to that list: VIP Sports and Matchbook.
In 2006, the Safe Port Act was passed, which included the UIGEA, making it illegal for U.S. banks to process transactions to and from known gambling operators. VIP Sports stopped accepting new clients from the U.S. in 2007, but existing clients were allowed to keep their accounts and continue using them as normal. Now, the company is pulling out of Washington because of its recent change of the law.
The same thing happened at Matchbook. All of the U.S. can continue to keep an account on that site, minus Washington residents. If you're holding a VIP Sports or Matchbook account in Washington, you'll be allowed to withdraw your money just like the Full Tilt and PokerStars players did.
If you want to learn more, you can, at SportsbookReview.com.
Nabbed
An individual who was recently profiled on America's Most Wanted was apprehended at Mohegan Sun last week by US Immigration and Customs Enforcement's Homeland Security Investigations. An Soon Kim was wanted for taking part in a wide-ranging human trafficking ring that was operating throughout the northeastern U.S.
"I am pleased that my agents in Hartford were able to apprehend this fugitive," Bruce M. Foucart, special agent in charge of ICE HSI in Boston said. "This is a clear example of the exemplary partnerships ICE HSI has here in Connecticut. Working with our law enforcement partners, which include the Connecticut State Police Casino Unit and the Mohegan Sun Casino authorities, we were able to track down this fugitive who will face charges in New York."
On Friday, the agents were alerted that Kim was at Mohegan Sun, and soon after, she was taken into custody right on the casino floor.
MMDNewswire.com has more.
ChipMeUp and PokerNews Strategy
If you are thinking of playing in the 2011 Aussie Millions, then you should probably think about listing your action on ChipMeUp. The Aussie Millions Main Event kicks off on January 23, so you don't have too much time left.
This year, PokerNews Strategy and ChipMeUp are combining to offer great deals for users. New PokerNews Strategy subscribers can pick up exclusive free shares in top PokerNews strategy pros such as Tony G, bracelet winner Josh "LitleBastrd" Tieman and many others just by signing up. Existing users get discounted shares too! So join up the best poker strategy site, with hundreds of videos from top pros.
ChipMeUp also has a host of superstar players listing their action. These include Jonathan "xMONSTERxDONGx" Karamilikis, who is hot off his $500k win in Sydney, 2009 Aussie Millions winner Stewart Scott, high-stakes specialist Jarred "flopnutsonyou"Graham, and many more. Investors can win big by buying shares for under $10.
Follow your investments on ChipMeUp.com and PokerNews.com for all the latest information.
G'Day Mate! Welcome to Aussie Millions
The 2011 Aussie Millions is under way at the Crown Casino in Melbourne, Australia. To make you feel right at home, Lynn Gilmartin gives you a look at the Crown Casino complex and welcomes you to her home town.
Follow us on Twitter and like us on Facebook for up-to-the-minute news.
You still have time for the final $2,500 Winner Poker Freeroll in the current series on January 18, just 10 points needed to play.