UB Online Championship Awards: A Look at the Best Performances From UBOC 6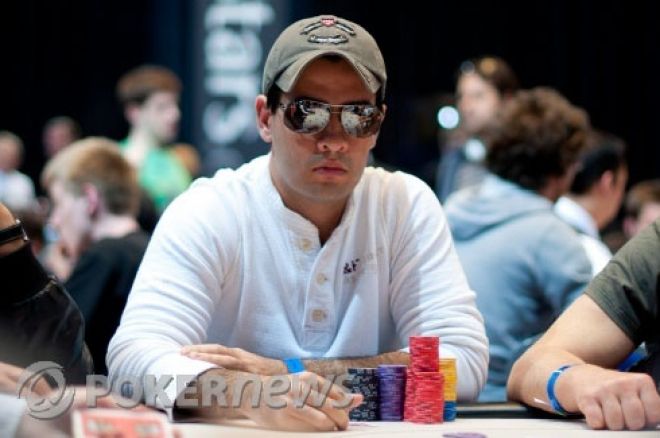 The sixth edition of the Ultimate Bet"+ Online Poker Series came to a close last Sunday. The 28 events generated a total prize pool of $5,139,125, and a plethora of well-known pros made deep runs throughout the entire series. We'd like to recognize some of the best performances over the two weeks, so here are your UBOC 6 Awards.
UBOC Champion: Thiago "THEDECANO" Nishijima
Thiago "THEDECANO" Nishijima crushed UBOC 6. He cashed five times, made two final tables and capped it all by winning the Main Event. His first final table came in Event #6 where he finished fourth for $4,964. He lost a big pot with queens versus aces preflop against Stephan "STEPOKER" Jacquet and was eliminated by KERVO5 soon after. Nishijima closed when he reached the Main Event final table, however. He eliminated all but one of his opponents at the final table, and in the final hand, Nishijima held
against IBIZADREAMS'
on a
board. The turn was the
giving Nishijima a leading pair of aces, and after the
fell on the river, Nishijima was shipped the victory and $231,339.
Honorable Mentions: BOOOOOOOM, Jon "PEARLJAMMED" Turner, ROLLEMM, ANYTIMEPOKER, Matthew "JARFISH" Jarvis
BOOOOOOOM, Jon "PEARLJAMMED" Turner and ROLLEMM tied for most cashes with six. Additionally, Turner final tabled Event #14 finishing third for $11,000 and ROLLEMM final tabled Event #2, finishing sixth for $10,922. ANYTIMEPOKER made three final tables, finishing ninth in Event #2 for $4,172, sixth in Event #10 for $11,565 and sixth in Event #27 for $5,500. Finally, November Niner Matthew "JARFISH" Jarvis cashed three times and made two final tables. He finished seventh in Event #3 for $5,772 and won Event #16 for $122,903.
Best Performance by a UB Pro: Brandon Cantu
Brandon Cantu held his own in UBOC 6, cashing in four events and making one final table. He finished fourth in Event #18 for $12,245 when he failed to win a race against the eventual winner; BLACONEGRO. He almost made the final table of the Main Event, but busted in 12th place when his
was crushed by CHADBROCHIL1's
.
Honorable Mention: Bryan Devonshire
Bryan Devonshire tied for fourth-most cashes with five and was the only other UB Pro to make a final table during UBOC 6, finishing fifth in event #21 — the event he hosted — for $3,100. Devo almost made a second final table in Event #27, but, according to his Twitter feed, he lost a flip, busting from the tournament in 10th place and bubbling the final table.
Best Performance by a Female: Vanessa "PRINCESSDONK" Peng
A handful of female players made final tables during UBOC 6, but Vanessa "PRINCESSDONK" Peng was the only one to make two final tables and cash three times. Peng was three-handed in Event #10 when she moved all-in with
. FINGERS13 called with
, the board brought a jack and Peng was eliminated in third place for $25,700. In Event #24 Peng found herself three-handed again and jammed with
on an
flop. Her opponent, BKQZBXT, called with
for a better two-pair, won the hand, and was forced to settle with another third-place finish and $16,267. Her other cash was in the Main Event where she finished 36th for $4,558.
Honorable Mentions: Christina "WHOAOHIIII" Lindley, CRZYVIETCHIK, SPEWERGIRL
Christina ""WHOAOHIIII" Lindley cashed twice during UBOC 6. She finished 41st in Event #15 for $990 and final-tabled Event #22, taking sixth for $4,626. CRZYVIETCHIK and SPEWERGIRL only cashed once, but they both made them count. CRZYVIETCHIK won Event #3, which was good for $36,003, and SPEWERGIRL finished second in Event #8 for $11,025.
Other Notable Performances
JBLAZE20 cashed four times and made three final tables. He won Event #13 for $36,990, finished sixth in Event #15 for $11,435, and finished sixth in Event #18 for $8,295. Ross "ZESTFULYCLEAN" Myers cashed five times and made one final table, finishing fifth in Event #22 for $5,590.
There were several other players who made final tables during UBOC 6 including David "DSANDS25" Sands, Steve "PIKAPPSTONER" Burkholder, Casey "BIGDOGPCKT5S" Jarzabek, James "FALCONPUNCH" Obst, Mike "1GOLEAFSGOEH1" Leah and Eric "BLIZAIR" Blair.
UBOC 6 is over, but the action is still fast and furious on UB so sign up today! For more PokerNews follow us on Twitter and like us on Facebook.