The Nightly Turbo: Tom "durrrr" Dwan Coaching Session, World Poker Tour Vienna, and More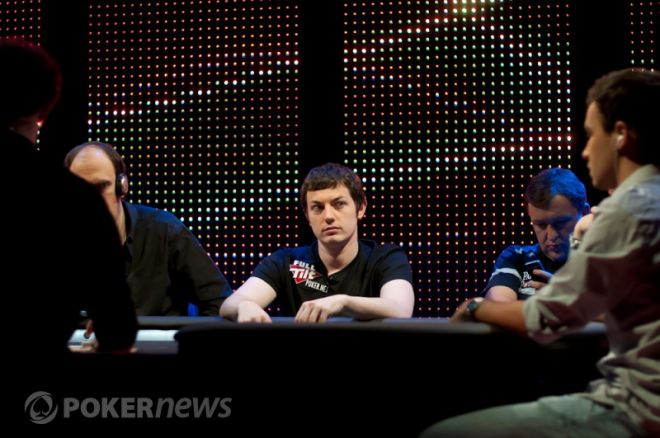 You may not have hit the $319 Mega Millions jackpot over the weekend, but you did hit the "top poker news stories of the day" jackpot by checking out the Nightly Turbo. In this edition, you'll find out how you could get a coaching session by Tom "durrrr" Dwan, an update from the World Poker Tour Vienna, and more.
In Case You Missed It
Grinding online and traveling the poker circuit can be hectic and tiring. In the latest edition of the Sunday Grind, Kevin "ImaLuckSac" MacPhee shows you his on-the-road grind station and gives you his tips if you're planning on being a traveling grinder.
Did you miss the newest episode of High Stakes Poker Saturday because you were too caught up with the March Madness games? Don't worry, we've got a recap of all the high-stakes action for you.
FSN's coverage of the ninth season of the World Poker Tour continued on Sunday night. If you missed the episode, you can catch up on the action from the Festa al Lago in the WPT recap.
Fourteen players added six-figure scores to their bankrolls Sunday. Want to find out who? Check out the Sunday Briefing for the results from Sunday's biggest tournaments.
Daniel Negreanu and Viktor "Isildur1" Blom battled on the PokerStars virtual felt Sunday in a rematch of the SuperStar Showdown. We know you know that Negreanu didn't do so well in their first match. How'd he do this time? You're going to have to read the SuperStar Showdown recap to find out.
Expert Insight from Durrrr and Others
Last week, we alluded to Phil Ivey teaching us to play poker, but we can't say more for sure because his website is still "Coming Soon!" That's OK, we'll move on - for now. If we can't have Ivey, we'll take Tom Dwan or Patrik Antonius.
Brandon Adams started a thread on TwoPlusTwo on Friday that outlined his new project, a company called Expert Insight. What does this have to do with coaching? Well, Dwan, Antonius, Ben "Sauce123" Sulsky, and Chris "GoMukYaSelf" Sparks have signed on with the site to offer coaching.
The calls with the pros will last one-hour over Expert Insight's audio-video technology — kind of like Skype. Antonius and Dwan are going for $3,000, according to Adams' post. There have been bids in the thread, but we can't be sure which are legit.
The a majority of the proceeds from the calls will be donated to Morris Jeff Community School in New Orleans.
The website launches on April 18. To find out more, check out Adams' thread on TwoPlusTwo.
World Poker Tour Vienna
The World Poker Tour is in Vienna, Austria, for its latest stop. In all, 555 players entered the event, creating a record for the largest WPT field on European soil. Arnaud Mattern, Vitaly Lunkin, Tony G, James Akenhead, Leo Margets, Bertrand Grospellier, and Dragan Galic are just a few of the notable pros to take part.
Pascal Lefrancois bubbled the official final table in ninth place when his ace-nine failed to hold against Dmitry Gromov's king-ten. The final table will kick off on Tuesday at 1300 CET (4 a.m. PDT) and will be live-streamed, hole cards and all, on the PartyPoker Blog with commentary provided by Mike Sexton and Jesse May.
WPT Vienna Final Table Lineup
| Player | Chip Count |
| --- | --- |
| Dmitry Gromov | 5,325,000 |
| Simon Ravnsbaek | 3,265,000 |
| Maksim Kolosov | 1,870,000 |
| Adinolfi Mario | 1,620,000 |
| Noll Maximilian | 1,360,000 |
| Isaia Alessio | 1,320,000 |
| Jenisch Markus | 980,000 |
| Stroiescu Valentin | 925,000 |
For more, head on over to the PartyPoker Blog.
Online Poker Legislation Efforts Being Noticed
On Monday, the Los Angeles Times ran a story summarizing the recent developments in the online poker legislation front. The piece touched on the Caesars Entertainment and 888 Holdings relationship, as well as the PokerStars and Wynn partnership that was formed last week.
"I'd be willing to bet that no major gaming legislation has ever passed in Nevada that has been opposed by the state's largest casinos,"I. Nelson Rose, Whittier Law School professor and expert in gambling law said.
A quote from MGM Resorts spokesman, Alan Feldman, pushed for regulation at the federal level, "Otherwise we end up with a patchwork of rules and regulations," he said.

If you need to catch up on the goings on, you can do so at LATimes.com.
Slide on Down
For those of you loyal Nightly Turbo readers, this bit is not news for you. If you're new to the Turbo, or missed this somehow, this is something we here at PokerNews HQ are striving for.
When Phil Galfond bought a pair of penthouses in a luxury condo building in New York, he faced a dilemma — how to join them. Stairs would have been our first thought, but that's why Galfond is featured in this Yahoo article. He decided to connect the two penthouses with a slide.
"The half-tube stainless steel slide starts on the top floor near the office, and lands below near both the living and dining areas. The sculptural slide is housed in a newly created 18' tall double-height space, which includes custom designed glass railings," Turett Collaborative Architects said. "The image of the stainless steel curves in front of the oversized window to the city beyond, to say nothing of the irrepressible glee of grown adults on the slide, is surprisingly poetic; with careful detailing, the playground element is an unexpectedly elegant addition to the space. Upon completion, the owner enjoys not only the newly combined total of 2,400 square feet, but also a new game room, office, putting green on the terrace, and of course, the slide."
If you want to check it out, Yahoo.com has photos of Galfond's slide. To let our boss know how much you want us to have a slide here at the office, tell him in our comments section below.
Calling the Clock: Erik Seidel
Kristy Arnett decided to catch up with Erik Seidel while at the World Series of Poker Circuit $10,000 Regional Championship in Rincon. Who does Seidel think will be the first player to win Player of the Year on the Onyx Cup tour? Why is he so awesome? You'll have to watch the video to find out.
If you aren't following PokerNews on Twitter, and you haven't liked us on Facebook yet, you're missing out. So why don't you go do that.
We have one more $15,000 Sunday Million Freeroll with PokerStars left to qualify for, where $1,000 will go to the winner and 260 tournament tickets are up for grabs, including 45 Sunday Million Tickets.