The Nightly Turbo: Poker Players Shave Heads, Online Poker Site Growth, and More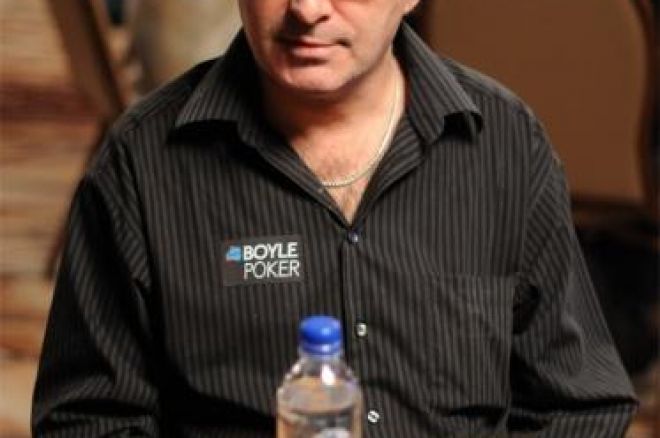 Tonight's Nightly Turbo brings you the reason why some of the top names in poker shaved their heads, stats on the online poker market, and how some lucky poker players will be living the dream.
In Case You Missed It
Most of the time, it's all poker here at PokerNews HQ but sometimes, we like to talk other things, still gaming-related of course. Carl Icahn supports Andy Beal, and the Party could get bigger. It's all in this edition of Inside Gaming.
The Doyle Brunson Five Diamond World Poker Classic got under way yesterday. There were quite a few big names that didn't make it out of Day 1 with any chips and there are quite a few going into Day 2 fighting for the chip lead. Find out who in our World Poker Tour Five Diamond recap.
What does online poker have to do with horse racing? The two are now allies in the fight to legalize and regulate online poker. Check out An Unlikely Bond for more.
Action in the nosebleeds on Full Tilt hasn't been as hot and heavy recently with "Isildur1" basically busto and many high-stakes pros focused on the World Poker Tour Five Diamond Classic, but there's a little action to keep the railbirds happy. Brian Townsend and Cole South did work on Isildur1 and Tom "durrrr" Dwan was spotted rebuilding his roll. The Online Railbird Report has more.
Buzz Cut
As you've just read, The Doyle Brunson Five Diamond World Poker Classic kicked off yesterday and we're sure you've already read the recap, so we won't tell you about it twice. We're just going to tell you about the awesomeness that went down at the Bellagio barber shop last night.
Back in September, Thuy Doan told us all about her diagnosis with cancer. Through her blog, we've read about her insurance troubles and her experience with chemo. Well, the acts that transpired last night, once again show that poker players have huge hearts. According to Barry Greenstein's twitter (@barrygreenstein), 16 poker players shaved their heads in solidarity for Thuy Doan.
Doyle Brunson, Eli Elezra, Barry Greenstein, Tom "durrrr" Dwan, Bertrand "ElkY" Grospellier, and Sorel Mizzi were among the poker players sporting freshly cropped dos. And when all was said and done, Thuy shaved Johnnie the barber's head as well.
This thread over on TwoPlusTwo has pics of your favorite poker players rockin the buzz cut.
Online Poker Growth
PokerStars and Full Tilt Poker reached a milestone last week. For the first time ever, their combined market share surpassed 60 percent, according to online poker traffic numbers measured by Pokerscout.com.
In the last year, PokerStars and Full Tilt Poker have seen a combined growth of 68 percent. Although they have an overwhelming piece of the pie, other sites have seen about a 12 percent growth as well. What's really important to note here, is that the online poker market has continued to grow. PartyPoker, Ongame Network, Everest Poker, and Bodog are among the sites that have seen a growth in numbers.
To put things in perspective, here are the hourly averages in a 24-hour period for the top ten biggest sites or networks for week 50.
1. PokerStars - 28,600
2. Full Tilt Poker - 19,200
3. iPoker Network - 5,100
4. PartyPoker - 4,600
5. Ongame Network - 2,900
6. Cereus Network - 2,550
7. Everest Poker - 2,400
8. IPN (Boss Media) - 2,150
9. Microgaming (Total)* - 2,050
10. CakePoker Network - 2,000
Check out CoinFlip.com for more.
UKIPT Crowns First Winner
The PokerStars.com United Kingdom Ireland Poker Tour kicked off its inaugural stop in Galway, Ireland and it just seems fitting that Irish poker legend, Padraig Parkinson was crowned the event's champion.
The €2,000 buy-in event saw 259 players hit the felt creating a prize pool of €471,380. Parkinson took home €125,000 for the win. "We couldn't have asked for a stronger final table line up to start the tour or a better winner. Padraig has always been a top tournament player and he's proved it again here; the fact that he's a native of Galway makes it all the more special. Everyone watching the event knew Padraig was going to win – after all he started celebrating 3 days early. The whole event had an amazing atmosphere and none of us can wait for the next event in Manchester," said UKIPT Host, Nick Wealthall.
Final Table Payouts
1. Padraig Parkinson (France) €125,000
2. Paul Marrow (United Kingdom) €82,000
3. Ben Lefew (United States, PokerStars Qualifier) €52,000
4. Michael Graydon (Ireland, PokerStars Qualifier) €36,000
5. Michael McFadgen (Canada, PokerStars Player) €22,000
6. Paul Dooley (Ireland) €17,000
7. Vinny Cosgrove (Ireland) €13,000
8. Cat O'Neill (Ireland) €11,000
9. Trevor Bulless (United Kingdom) €9,000
Visit UKIPT.com for all dates and stops left on the tour and sign up for a PokerStars account today and qualify for one of the remaining stops.
Live the Dream
The final event of Everest Poker's Live the Dream promotion is set to take place on Jan. 9, 2010. Over 200 players qualified online to attend the event in Vienna. Of the 200, ten players will win a one-year sponsorship deal with Everest Poker worth $100,000.
This is the Everest Poker's second edition of the Live the Dream promotion. Players will go through an exclusive selection process by a panel of judges in Vienna and they've also completed profiles on the Everest Poker Web site and will be judged on their blogging skills. On top of that, players will be judged on their online and live playing skills, their charisma, as well as their social skills.
In a twist that was not included in the first edition of this promotion, the players will be judged by other players in a "player's choice" voting system. The 10 finalists will represent Everest Poker at major tournaments around the world for a year.
Find out more at EarthTimes.org.
Follow us on Twitter for up-to-the-minute news, and also become our fan on Facebook.