Poker Community Getting Involved in Japan Disaster Relief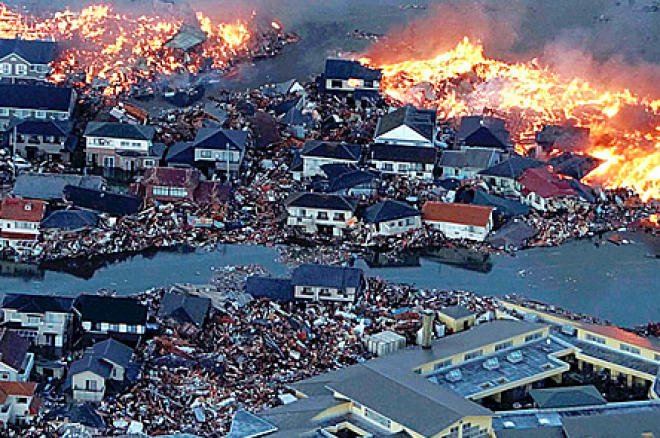 Anyone following the news in the past few days knows about the epic earthquake and tsunami that shook Japan. The devastation played out like a Bruckheimer-produced Hollywood movie with pictures only million-dollar special effects can copy. In reality, the images will cost more than a few million. The damage is so bad that preliminary numbers are not even on anyone's minds. The loss of life is.
We here at PokerNews have had the situation affect us personally. Many of our staff have traveled to Japan and have developed lasting friendships there with who are now coping with an experience few can imagine, and in some cases waiting for lifelong friends to get in touch. Way worse than any run-bad or bad beat.
With all the flack that poker seems to get about the "degen lifestyle," we wanted to turn the spotlight on the hearts of the players and community we call home. When the earthquake struck, the final table of the Main Event of The Big Event at the Bicycle Casino in Los Angeles was under way. Chad Holloway, who was covering the event for PokerNews reported that "During The Big Event Main Event here in L.A., the whole poker room basically came to a stop to watch the developments on TV. Not only that, Joe Hachem and Victor Ramdin, who were playing heads-up at the time, paused their tournament and contemplated pausing for the night in light of the events. They ended up finishing it up, but it was a really kind gesture."
Shortly thereafter, tweets started to pour in from all over the globe from players who were watching the devastation live and were astounded at the sheer enormity of what they were seeing. Visceral reaction toward the chaos aside, it was only a matter of time before poker players started to get involved and naturally, being that this generation of poker players lives and breaths on the Internet, the World Wide Web was set ablaze with ways to get involved.
Many players including Chino Rheem and Shane Schleger were posting the Red Cross text number, 90999, to raise awareness of how folks can get involved. The Red Cross 90999 text is an emergency service that makes it easy for people to donate - it adds a donation of $10 to your next phone bill with each text sent. In true Shaniac style, Schleger called on the poker community to spend money on something bigger than themselves saying, "And to repeat, if the money doesn't get to Japan, even if the Red-X squanders $8 of the $10, still better than most crap we blow money on."
Justin "BoostedJ" Smith threw out a challenge for everyone, not just the poker community, that he would donate $1 for every retweet of the Red Cross text of 90999. According to his tweets, the response was so great that his twitter recount broke, so he was going to have to do it manually. If anyone who has not already retweeted wants to do so, check out his Twitter page for more. Go ahead and do it, I am pretty sure the Full Tilt Poker Red Pro can handle the downswing.
UB's Maria Ho went so far as to give away a seat to her weekly $300 buy-in $50,000 guarantee tournament to the first person to ship her a twit pic of their $10 Red Cross text. When asked for comment, Ho replied, "The coverage on the devastation in Japan has been absolutely heartbreaking to watch and I think it's important for us to take action. Something that is quick and easy is texting the word "REDCROSS" to 90999 to make a $10 donation instead of spending it on your Starbucks run in the morning. But it's also important to remember that helping the relief effort does not have to be monetary, volunteering your time to go into your local Red Cross center to help put together disaster relief kits or going out and collecting items from donors would be a great way to help. But most importantly, we should remember that there is so much else going on in the world today between natural disasters, political turmoil, and social and gender inequalities that we should really step outside ourselves and find ways to get involved and help our global community."
Time and time again, the poker community has stepped up when disasters occurred, like this recent disaster in Japan and the awful earthquake in Haiti, but also consistently at charity tournaments all over the world. Many players, as we have seen in the past, even patch themselves up for a cause near and dear to them. The old adage of "to whom much is given, much is expected" rings true now more than ever.
If you want to get involved in Japan Relief here are a few sites that are providing relief in Japan. It should be noted PokerNews does not endorse these charities directly but are being included as organizations recommended for their own well-known track record in the relief community. Also, let us know in the comment section below of any creative ways you are getting involved, and not just in Japan relief, but in your communities as a whole. Think of a donation as a thank you card to the culture that has given poker players one thing they cannot live without — sushi.
The Red Cross: The mothership of emergency relief agencies, they have numerous offices around the world. This link is for the American branch, but localized branch websites also have a donation page. And remember texting 90999 will automatically donate $10 to the American Red Cross. Donate Here.
Doctors Without Borders: Known also by their French name, Médecins Sans Frontières, they are a medical aid group in over 60 countries. They already have a team in Japan assessing and treating the critically injured. Donate Here.
Save The Children: They are mobilizing resources to children and families affected by the earthquake and the following tsunami. Donate Here.
If you wanna be kept update on the happenings in the poker world be sure to follow us on Twitter and like us on Facebook.