PokerNews Interview: Catching Up with 1983 World Series of Poker Main Event Champ Tom McEvoy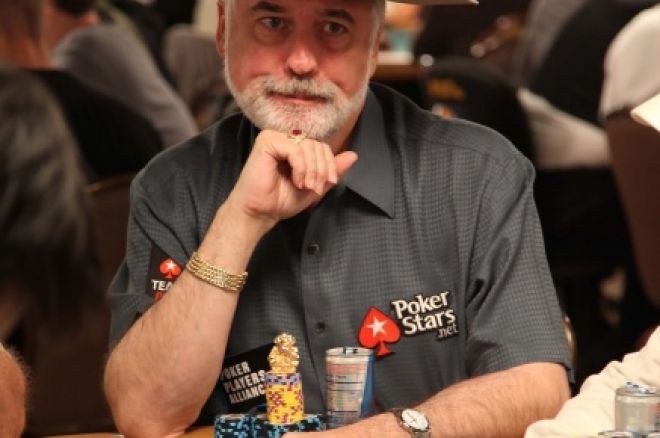 Tom McEvoy is best known as the man who won the 1983 World Series of Poker Main Event, becoming the first satellite qualifier to accomplish the feat. Playing professionally since 1978, McEvoy is one of the few veteran ambassadors remaining in the game. He has captured four WSOP bracelets, written over a dozen books, and took down the Champions Invitational at the 2009 WSOP. With over $2.9 million in career winnings, McEvoy is a member of Team PokerStars and is one of the leading candidates for future election to the Poker Hall of Fame.
PokerNews caught up with McEvoy at The Big Event in Los Angeles to discuss his role as a poker ambassador, the Poker Hall of Fame, and his contributions to the game.
We've noticed that you take copious notes during big tournaments, what can you tell us about that?
I track my chip count after each level, whether I'm up or down. Most of the time I just dump it afterwards. I like to keep an eye on where I'm at average chip-wise. I'm usually about half the average stack, so I do my own calculations on what I have to do to survive.
How do you feel about your poker ambassadorship over the past 28 years?
I'm very comfortable doing this. I kind of stepped in to that role indirectly right after I won the Main Event. Of course, it was nothing like it is now, it was more of a gradual transition as poker got bigger and bigger. Even before Chris Moneymaker won, I stepped up into that position. Of course, now there are a lot more players out there, a lot more people who have a more prominent spot in the industry than I do, probably because I'm from a different era, but I'm still active as a player and I'm hoping to win at least one more [big tournament] before I die [laughs].
In 2009 you won the Champions Invitational at the World Series of Poker. What did that win mean to you?
For me, personally, it was huge. I don't know if it made that much impact on other people, but it's a good thing to remind some of them that we [veterans] can still play. In fact, Doyle Brunson made a joke at the last table, he says, "Where's all the internet guys?" And Peter Eastgate was the only young guy under 30. Peter was the first one out. So it was definitely kind of old school.
Speaking of old school, I want to ask your opinion on Erik Seidel and his start to 2011?
Right now he is without a doubt the hottest player on the planet. He was always a great player, but he didn't always get the recognition I felt he deserved, although he certainly has now. He was already inducted into the Poker Hall of Fame last year. I was hoping to get inducted myself, but if I couldn't make it I'm glad he and Dan Harrington did because they would have been my personal selections. He certainly has proved himself, not that he needed to with eight bracelets and all his other titles. It's just awesome. I don't know if anyone can duplicate what he has done.
In the last couple years you've made some bids for induction into the Poker Hall of Fame, can we expect the same this year?
Well, I'll certainly try to get nominated. Everyone says it is only a matter of time, well let's see now, I'm 66 years old, I'm going to run out of time pretty soon [laughs]. Assuming I get nominated again, I think now that Seidel and Harrington are in the Hall of Fame it would certainly increase my chances. They have a weird voting system and it's not just Hall of Fame members, it's media members, and some of them like the younger, newer faces, so that hurts.
One of the things some people might not know about you is that you were very influential in getting smoking banned in poker room. Can you elaborate on that?
Big time, I was a fanatic. I was able to host the first non-smoking poker tournament in Las Vegas in 1999, and I was very briefly the card-room manager at the Horseshoe back when the Behnens, not the Binions, were still in control. I was friends with Benny Binion-Behnen, who is the grandson of the founder, and he was a heavy smoker. I made a deal with him that I'd give him poker lessons if he would let the World Series go non-smoking. So 2002 was the first year it ever went non-smoking, a lot of people don't realize that, it's not ancient history, it was nine years ago.
People were getting sick [from the smoke]. They used to call it the "Horseshoe Crud" because there was no ventilation system so people were sucking it in right and left and told to put up with it or not play. Not a good choice.
What are your upcoming plans for 2011?
Well, I'm very active with Deepstacks University and of course I'm still a representative of PokerStars. I will be at as many tournaments as I can, but I don't travel as extensively as I used to. I like being at home and not on the road so much, but of course I'll be very active in the World Series.
Click to view Tom McEvoy's career earnings, photo gallery and profile
Tweet and Poke your way to riches in our exclusive $11,000 Social Media Freerolls on Bulldog777. Open to anyone who is our friend on Facebook or Twitter.