The Nightly Turbo: Greg Raymer Sells NBC Heads-Up Shares on ChipMeUp, Davidi Kitai Wins WPT Celebrity Invitational, and More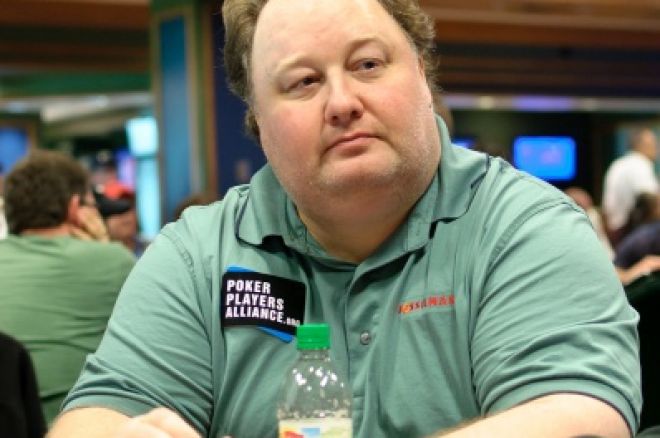 You could have bought Justin Bieber's for over $40,000 and just ended up with a glob of hair, but if you buy a piece of Greg Raymer's action, you could end up with cold, hard cash. We'll tell you how, bring you the results of the World Poker Tour Celebrity Invitational, and more in tonight's Nightly Turbo.
In Case You Missed It
The PokerNews Hostess Hunt is over and we're sure you're wondering who made the cut. Find out who's new to the team and why you'll be seeing our hostesses on PokerStars.tv in More PokerNews Ladies to Love.
We recently sat down with Josh Brikis to discuss how he got his start in poker, his new sponsorship, and more. Check out our latest PokerNews Interview for more.
The phrase FML has become such a popular phrase, we're pretty sure people don't even realize they're saying it anymore. We're also sure that no one sits and thinks about what the term really means. In the latest Around the World with Lynn, Lynn Gilmartin tells us why she quit using the phrase and why you should think about it too.
More information has come out regarding the UltimateBet superuser scandal. Travis Makar has released an email containing information regarding the "God Mode" program.
New Jersey could have become the first state to legalize Internet gambling, but that dream ended for the moment when Governor Chris Christie vetoed the bill that was introduced by State Senator Raymond Lesniak.
Raymer Sells Shares
The NBC National Heads-Up Poker Championship kicks off Friday at Caesars Palace in Las Vegas. PokerNews will be there providing updates and video interviews from the event, and while checking out the action on the Live Reporting Page is fun, having a sweat makes it even more exciting.
Greg Raymer has put up 40 percent of his stake in the NBC National Heads-Up Poker Championship on ChipMeUp. For $3 a share (which is 0.01 percent), you could have a vested interest in the outcome of the event, not to mention the potential of some extra cash in your pocket depending on where Raymer finishes.
Head on over to ChipMeUp.com for a potential chance of turning what you'd pay for a small coffee at Starbucks into $80.
Kitai Wins Celebrity Invitational
When the final six players of the World Poker Tour Celebrity Invitational final table were reached on February 20, play was halted until March 2. The TV final table was filmed Wednesday and Davidi Kitai was the last player standing at the end of play, taking home the title and $100,000, including a seat to the WPT World Championship. A total of $100,000 was raised for the Chrysalis organization, which helps homeless and low-income individuals.
"We couldn't be happier about the impact this money will have for Los Angeles' homeless and economically disadvantaged through the fantastic work of Chrysalis," John Griffo, Commerce Casino Director of Casino Development said. "WPT and Commerce Casino have a longstanding partnership in community giving through the WPT Celebrity Invitational. This event is a collaborative effort. Hundreds of people in the poker community, celebrities, Commerce Casino and the WPT come together each year to celebrate the game we love and promote a great cause. We look forward to many more events like this in years to come."
WPT Celebrity Invitational Results
1. Davidi Kitai - $100,000
2. Almira Skripchenko - $50,000
3. Dan Heimiller - $20,000
4. George Rechnitzer - $15,000
5. Damon Schramm - $10,000
6. Dinara Khaziyeva - $5,000
WorldPokerTour.com has more.
I AM NANONOKO
Team PokerStars Online and PokerNews Strategy's Randy "nanonoko" Lew has released a short documentary telling the story of how he got into poker and how he became Supernova Elite. The documentary was produced by PokerStars and Ryan Firpo of 918 Films.
Check out the Team Online Facebook page for information on the I AM NANONOKO competition. It's kind of like the Chuck Norris Facts game. Go show them how creative you are and win FPPs.
Rumor Control
While we wanted the hand we reported Wednesday involving Tom "durrrr" Dwan in Macau to be true because of the sheer epicness, we were a little skeptical about it. Sure enough, we had a right to be.
Dwan took to his Twitter account to dispel the rumor of the $11 million hand he won with ace-jack off, tweeting, "We play 10k-20k hong kong. There's straddles sometimes and crazy action... But 89m with ako- rly?" And adding, "No to clarify, that hand was obviously fake lol."
We retract our statement from Wednesday regarding Charlie Sheen learning from Dwan. We'd like to reverse it. Thank you.
Move Over New Jersey
While it's clear now that New Jersey won't be the first state in the U.S. to legalize Internet gambling, Iowa is moving forward with its plans. The controversial bill has moved to the Iowa Senate.
The bill is much like the ones being considered in Florida and California. The bill would allow only Iowa residents to play within the state's borders. An estimated 150,000 Iowans play online poker regularly. If the bill passes, the state could rake in $30 to $35 million in gaming taxes.
"If we don't make a move now, the federal government is going to make a move in the next few years, and we'll lose the revenue to the federal government," Senator Rick Bertrand said. "I think it's forward-thinking."
The DesMoines Register has more.
Like us on Facebook, and follow us on Twitter for up-to-the-minute news.
Prove your skills and play for $55,000 of added money league games in our weekly PokerNews Skills Challenge on Full Tilt Poker.