The Nightly Turbo: PartyPoker Big Game V, Hitting the Nuts, and More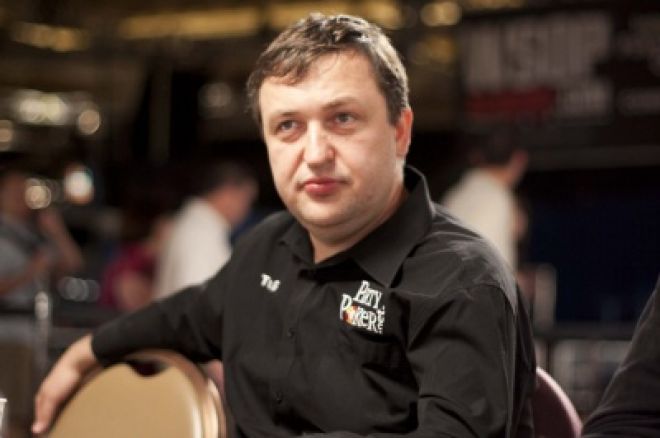 Tired of rewatching Lucky You when you need your poker movie fix? (Who are we kidding, you don't watch that.) But in case you do, you'll need to toss that and pick up Hitting the Nuts. We'll tell you where to find it, give you the details on the upcoming PartyPoker Big Game V, where you can get your shot at taking on Tony G and others, and more.
In Case You Missed It
Day 1b of the World Poker Tour Bay 101 Shooting Star kicked off Tuesday and 273 players took their seats in hopes to make it to Day 2 and collect some bounties. Check out the WPT recap to find out who's making it to Thursday's Day 2.
Ever wonder what some of the high-stakes regulars are thinking when they're betting multiple thousands of dollars on hands? We do, too, and that's why we discuss strategy with them, like in this hand analysis with David Benefield.
There is plenty of news in the gaming industry, what with the Sahara closing, and the Ho family drama in Macau. Don't know about it? Find out more in the latest Inside Gaming.
Full Tilt Poker announced the Onyx Cup Series on Monday. This sparked a debate between Rich Ryan and Chad Holloway. Is the Onyx Cup Good for Poker? Check out the debate and let us know what you think.
The PokerNews crew is fired up about the Onyx Cup, Twitter wars, and more. Find out what they had to say in the latest PokerNews Podcast.
PartyPoker Big Game V
Last year, the PartyPoker Big Game took place at the Les Ambassadeurs club in Mayfair, London. This year, there will be a change of scenery. The PartyPoker Big Game V will take place at Dusk Til Dawn casino in Nottingham from April 15 through 17.
Tony G, David "Viffer" Peat, Annette Obrestad, Jennifer Tilly, James Bord, Neil Channing and Sam Trickett are among those players who will take part in the 48-hour cash game.
"I'm really looking forward to playing in my home town of Nottingham – Dusk Till Dawn is a fitting venue for a prestigious event like the 48 hour cash game," Trickett said. "The line up is even sicker than last year, so I'll have to be on my A-game!
PokerNews will be there bringing you all the news and gossip from the set. We're also sponsoring the PokerNews Pots to spice up the game a little.
Wishing you could take part in the action? You can. Qualifiers are running on PartyPoker and nine $15,000 packages will be awarded.
For more on the event, head on over to UK.PokerNews.com.
Hitting the Nuts on DVD
If you're a frequent reader of the Nightly Turbo, you probably remember that we told you about the poker-themed comedy, Hitting the Nuts. (If you're not a frequent reader, we could tell you a thing or two, but we don't have time for that right now.)
Hitting the Nuts, the independent poker comedy, has won numerous awards at film festivals all over the U.S., and if you didn't get a chance to attend one of them and see it, you can soon watch it in the comfort of your home. The movie will be released on April 15.
"We made a ridiculous movie on purpose," director Joe Boyd said. "The poker community has been burnt by a series of unpopular, terrible movies over the last five years. I think people like this movie so much because it takes nothing seriously. It's a complete silly farce. It's like the movie Airplane…if Airplane was a fake documentary about poker."
The production company, Rebel Pilgrim Productions, has decided to self-distribute the DVDs and there is a limited number available. Pre-orders start March 16.
You can find out more about purchasing the DVD in the press release on the Rebel Pilgrim Productions website.
I Used to be Like You
Recently, Jesse May caught up with British poker phenom Sam Trickett for the latest episode of The Poker Show.
Trickett discussed the World Poker Tour National Series in Paris, teaching poker in Cape Town, and the $250,000 Super High Roller at the Aussie Millions, among other things.
He also recounted a moment he had with Phil Ivey while they were both in Australia for the Aussie Millions. While playing against Ivey during the $250,000 Super High Roller, Ivey was short-stacked and turned to Trickett and said, "I used to be like you, when I was 24 or 25. I used to win all of my all-ins." Trickett said he turned to him and said, "Are you really giving bad beat stories," giving Ivey a chuckle.
To listen to the entire interview, head on over to the PartyPoker Blog.
There's an App for That
Wouldn't it be nice to lounge back while you're playing poker online and use a remote control to make your bets instead of being tied down to a computer keyboard? Yes, we know you're thinking - but that invention is already out - the Poker Controller.
Well, if you've got an iPad, iPod Touch, or an iPhone, there's no reason to add an extra piece of technology to your bag. Poker Controls, the U.K. developer of the Poker Controller, has developed an app that will turn your iPad, iPod Touch, or iPhone into a poker controller.
The app comes with bet, check, and fold buttons, a plus/minus bet slider, x2, x3, x5, pot, and all-in buttons as well. You can also switch tables from the app, and sit in and sit out. There's also a mouse touchpad that is configured to the app, so you can play across different sites at the same time.
You can find the app on the iTunes store and read the press release on ResponseSource.com.
Rock Bottom
To a lot of you, the screen names of our bloggers that you're all familiar with from our Live Reporting are just that, screen names. Well, our PokerNews Team is multi-faceted.
Check out this music video that Dana "danafish" Immanuel starred in, which was shot and directed by PokerNews cameraman/editor Alexander Bradley. We guarantee checking it out will bring you some run-good.*
*not a real guarantee
Like us on Facebook, and follow us on Twitter for up-to-the-minute news.
Tweet and Poke your way to riches in our exclusive $11,000 Social Media Freerolls on Bulldog777. Open to anyone who is our friend on Facebook or Twitter.