Can a Live Poker Training Course Help an Experienced Player?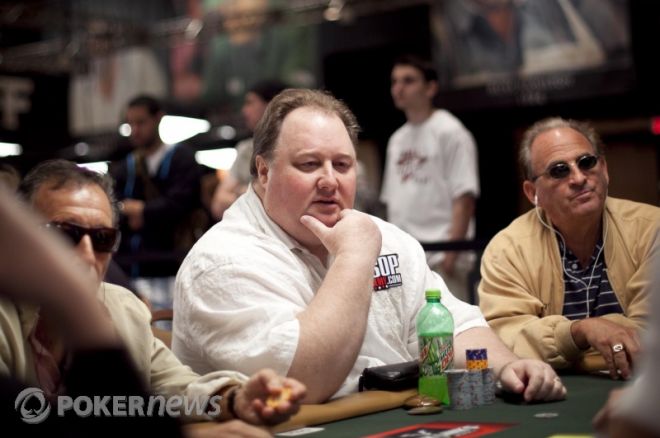 On Saturday, April 9, 2011, I had the opportunity to attend Greg Raymer's Fossilman Poker Training seminar at the World Series of Poker Circuit Harrah's St. Louis. While I was excited to spend an afternoon with the 2004 World Series of Poker Main Event Champion, I was skeptical about the course itself. I consider myself an experienced poker player, so I had doubts that a live training course could teach me anything I didn't already know. As it turned out, nothing could be further from the truth.
The course, which was valued at $299, was a full day of training consisting of a three-hour lecture, buffet lunch, and four hours of live-hand labs. Refreshments were provided, as were some mementos including a commemorative chip, a signed photo, and a signature Fossilman fossil. In addition, St. Louis native Dennis Phillips and local cash-game specialist John Adams joined Raymer as instructors for the day.
From the outset, Raymer made it clear the goal of the course was to make participants better poker players by improving their decision-making skills at the table. As I took my seat, I looked around the conference room and took note of the audience. There were about 25 people taking the seminar including four women, four "young guns" in their twenties, and about 15 men between 35 and 60 years old. My assessment was that most of them were novices or recreational players looking to take their game to the next level, while a few attendees, myself included, would be worthy of the "experienced" or "semi-professional" poker label.
Given the group's varying level of poker skill, I began to wonder just what demographic this course was meant for? Was it designed for newbies? Would an experienced player be wasting his time? Was I wasting my time? I decided to ask Raymer and this is what he had to say:
"Unfortunately you can't tailor a class so it's just one segment because if you break it down, let's say four experience levels from novices to most advanced with a couple of layers in between, you're going to have a hard time selling out your product. The live camps aren't as popular as the online training schools and stuff like that because, you know, that's convenient. [Live camps] have to be at this time, on this day, and you've gotta show up in person, you can't just go watch one video for half an hour. So, I try to make the class sufficiently advanced that good players will still get a lot out of it and the inexperienced players may feel a little bit overwhelmed by some of the things we talk about, but hopefully they'll still pick up on some of the most important things."
I decided to throw my skepticism aside and begin the seminar with an open mind. I must admit, as the day wore on, Fossilman Poker Training did an excellent job of catering to everyone. The instructors touched upon beginner topics such as tournament structures, starting stack, blinds, stack-size strategy, etc., but also mixed in some advanced topics such as buy-in vs. bankroll, Game Theory Optimal, and Game Theory Exploitative. While the former topics served as a fresh reminder of the basics, the latter really captured my attention and got me thinking about the game in a whole new light.
Before long, I realized that even though I was sitting side-by-side with players who'd recently discovered poker, I was still learning new information and strategies that could compliment both my tournament and cash games. I wasn't alone in my thinking. During lunch, I had the opportunity to speak with some of my classmates and was pleased to find that many felt the same way. One player, who had previously played poker for a living and won his seminar seat via a radio contest, admitted: "I really wasn't expecting to learn anything when I came here today, but it has turned out the opposite. Both Raymer and Phillips asked some good questions and many of the topics I hadn't even heard of before like Game Theory Exploitative. I like the idea of not playing optimally and instead making occasional mistakes on purpose if it means you get a better result in the long run. I'm really looking forward to incorporating that into my game. If it benefits me by $300, then it'll be worth it."
Looking back, I knew it was going to be a day of fun when one of the first things Raymer readily admitted was, "Luck is just shit that happens sometimes." Hearing that from a world champ not only got a good laugh, it grabbed our attention and set the tone for the day. Too often poker is about ego and destroying your opponents. Personally, every time I take my ego to the table, I end up playing poorly and making numerous mistakes. Attending a live training seminar was nice because it allowed me the opportunity to set my ego aside and admit to myself that maybe I don't know it all (something I wasn't prepared to do when the class began). On top of that, instead of trying to destroy the other players at my table, I got the chance to build some camaraderie as we set aside our competitive spirit in favor of learning and improving alongside one another.
I can't say that I'll be attending every live seminar available, they can be quite expensive after all, but I do believe such courses, like Fossilman Poker Training, hold considerable value applicable to players of all experience levels. If you're looking to spice up your game, you might want to consider a live training seminar. If you're like me, you'll be glad you did.
Have you ever attended a live training seminar? If so, tell us about your experience in the comments section below. In the meantime, be sure to follow us on Twitter and like us on Facebook.