Kyle Cartwright: Poster Boy for the WSOP-Circuit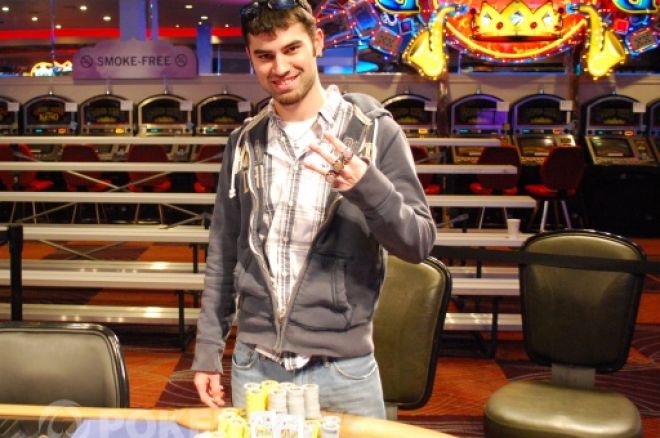 The revamped 2010-2011 World Series of Poker Circuit has turned out to be quite the success with attendance up from previous years along with an overall improved product. The hype and excitement surrounding the $10,000 Regional Championships, as well as the upcoming National Championship $1 Million Freeroll, has been palpable, but there always seemed to be something missing. Where were the circuit superstars? The breakout players?
That all changed last week when 23-year-old Kyle Cartwright took down the Harrah's St. Louis Main Event to claim his third gold ring and position himself as the poster boy for the WSOP Circuit.
Not since Dwyte Pilgrim has a player found such success on the WSOP Circuit. It all began in February when Cartwright, who had only $2,000 to his name, decided to play his first major live tournament at the WSOP Circuit Harrah's Tunica. Amazingly, he played four events at that stop and took home gold rings in two of them: Event #20 $345 No Limit Hold'em ($25,678) and Event #44 $345 No Limit Hold'em ($31,111). His performance earned him enough points to make him the Harrah's Tunica "Casino Champion", for which he was awarded a spot in the National Championship.
Two months later in St. Louis, Cartwright added another pair of cashes to his résumé. One was a minor 42nd-place finish in Event #5 $345 No Limit Hold'em for $751, but the other was a $142,290 score for a victory in Event #30 $1,600 Main Event. The latter win also came with a spot in the National Championship; however, since Cartwright had secured his seat in Tunica, the second spot will be awarded to another points-competitor from the National Leaderboard. Nonetheless, the fact that only 100 spots are being awarded and Cartwright won two of them is certainly an impressive feat by itself.
In the St. Louis Main Event, which drew 449 players and created a prize pool of $646,762 (the largest poker tournament prize pool in Missouri state history), Cartwright grinded a short stack on Day 1 to make it through to the following day. If we say he then caught fire, it would be an understatement: "After that first day, Sam Barnhart (the Tunica Main Event Champion) told me how he started day two with around the same amount of chips and he gave me confidence," Cartwright said. "That really helped me a lot going into day two."
At the final table, Cartwright's heater continued and it took him just three and a half hours to claim the title, perhaps the fastest final table in WSOP Circuit history. In heads-up play, Cartwright was facing off against Asheesh Boyapati and held over a 3-1 chip lead. In the final hand, Cartwright raised to 110,000 on the button and Boyapati moved all-in for around 1.6 million. Cartwright called and was in great shape.
Boyapati:

Cartwright:
The board ran out
and Cartwright became the WSOP-Circuit Harrah's St. Louis Main Event Champion, was awarded his third gold ring and claimed the $142,290 first-place prize.
"I feel like I have a small advantage for some reason. I'm not sure how to explain it but I think I do," Cartwright said about his WSOP Circuit experience.
Cartwright, a graduate from the University of Memphis, only has four WSOP Circuit cashes, all within nine weeks of each other and three of them victories in ring events. Quite the impressive feat considering the record for most rings is only four — a tie between Mark "Pegasus" Smith and Men "The Master" Nguyen, both of whom have been traveling the circuit for years. An even better comparison would be to Pilgrim, who also made his name on the WSOP Circuit.
Pilgrim's rise to fame came during the 2007-2008 season when he scored his first WSOP-Circuit cash at the Caesars Atlantic City stop. It was a modest $2,877 win for a 17th-place finish in Event #4 $1,000 No Limit Hold'em. Almost a year later, 364 days to be exact, Pilgrim won his first ring in the WSOP-C Caesars Atlantic City Event #4 $560 No Limit Hold'em, good for $83,955. Three weeks later, Pilgrim won the $5,150 Circuit Championship Main Event at Harrah's Rincon for his second ring and $125,775. His third and final ring came a year later in Event #8 $340 No Limit Hold'em at Harrah's Rincon during the 2009-2010 season. Although Cartwright hasn't been on the circuit nearly as long as Pilgrim, their victories in two smaller buy-in events, as well as a Main Event Championship, are eerily similar.
Pilgrim vs. Cartwright
| Player | Rings | WSOP-C Cashes | Earnings |
| --- | --- | --- | --- |
| Dwyte Pilgrim | 3 | 23 | $506,238 |
| Kyle Cartwright | 3 | 4 | $199,830 |
Saying that Cartwright is one of the best WSOP Circuit players of all time would be premature. Unlike Pilgrim, who has stood the test of time and proved himself proficient outside the Circuit, Cartwright is still new to the tournament scene. Sure, his victories are impressive and certainly warrant admiration, but he shouldn't be content to stop there. While he is well on his way to becoming a poker superstar like Pilgrim before him, Cartwright needs to keep up his momentum and gain more experience, and perhaps winning his fourth ring in the process.
He'll certainly have the opportunity to do so as he told PokerNews he plans to hit the remaining three stops on the schedule. Better yet, Cartwright could cement his WSOP Circuit legacy with a victory in the National Championship next month. That will prove easier said than done, however, given that Pilgrim will be one of 99 players standing in his way.
If you want to keep up on all the news surrounding the WSOP-Circuit and upcoming National Championship, be sure to follow us on Twitter and like us on Facebook today!
Executive Editor US, PokerNews Podcast co-host & 2013 WSOP Bracelet Winner.