The Online Railbird Report: Hansen Midweek's Biggest Loser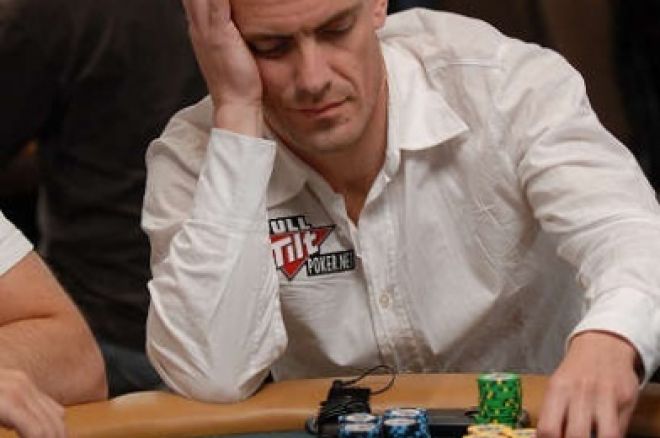 The action at the high-stakes tables on Full Tilt Poker was fairly subdued during the midweek, nonetheless, a few players created some rather sizable pots. One of those was Gus Hansen, who dropped $383,832 in eight sessions involving 666 hands, enough to make him the midweek's biggest loser. On the opposite end of the spectrum, Phil "OMGClayAiken" Galfond continued his 2011 heater by playing 10 sessions, totaling 1,751 hands, and booking a $407,709 win.
No Slowing Down for NoPasaran
On Tuesday, NoPasaran was busy at the $300/$600 pot-limit Omaha tables against the likes of Erick Lindgren, "cadillac1944", and "trex313." In one hand, which included these three players, as well as Andreas "skjervoy" Torbergsen and "LokoIsBack," NoPasaran raised to $1,600 from the cutoff only to have trex313 reraise to $6,300 in the button. Action folded back to NoPasaran who went ahead and made it $22,000 to go, which trex313 called. When the flop fell
, NoPasaran led out for $17,400, trex313 raised to $94,500, and NoPasaran called off for his remaining $36,593.
Trex313:

NoPasaran:
Trex313 had a pair of nines with a straight draw but was behind his opponent's flopped set. The turn and river were both run twice, but neither the
/
on the first run nor the
/
on the second helped trex313, so NoPasaran took the $154,086 pot.
NoPasaran's luck didn't stop there. In a hand at the same limits but against just trex313 ($109,748) and cadillac1944 ($72,624), NoPasaran ($280,964) raised to $1,400 on the button and drove out the former player while leaving the latter to make the call from the big blind, leading to a
flop. Cadillac1944 led out for $10,200 and was immediately reraised to $23,700 by NoPasaran. Cadillac1944 responded by moving all-in for $67,824 total, NoPasaran made the call, and the cards were turned up.
NoPasaran:

Cadillac1944:
Cadillac1944 was in big trouble against the NoPasaran's flopped full house, a situation that got even worse when the
left him drawing dead. The
was put out on the river for good measure, but the $145,548 pot was sent NoPasaran's way.
Hansen vs. NoPasaran
Gus Hansen took his shot at NoPasaran on the $300/$600 PLO tables over on Full Tilt during the early morning hours of Thursday in a session characterized by $100K+ pots. In one of their biggest hands, NoPasaran ($144,219) raised to $1,800 on the button, Hansen ($110,387.50) reraised to $16,200, Hansen three-bet to $48,600, and NoPasaran four-bet shoved for $144,219. Hansen called off for $61,787.50 more and the cards were flipped.
NoPasaran:

Gus Hansen:
Hansen was ahead with his pocket aces, but as we all know, anything can happen in PLO. The board was run twice with the first run coming
, allowing Hansen's aces to hold. On the other hand, the second run,
, gave NoPasaran a full house and the other half of the $220,775 pot. Chop it up!
We know chopped pots aren't that exciting, so as a consolation we'll tell you about another hand between the two. In this one, NoPasaran ($90,323) raised to $1,200 on the button, Hansen ($74,305.50) reraised to $3,600, NoPasaran called, and the flop came down
. Hansen, the first to act, led out for $7,200, which NoPasaran quickly reraised to $22,800. Hansen opted to move all-in for $70,705.50 and received a call.
NoPasaran:

Hansen:
Both players had flopped a flush, but NoPasaran's was superior. The turn and river were both run twice, but the
/
on the first run and the
/
on the second changed nothing, sending the $148,611 pot NoPasaran's way.
OMGClayAiken Rolls On
If you read the intro, you already know Phil "OMgClayAiken" Galfond emerged as the midweek's biggest winner with $407,709 in profit. Part of that came on Wednesday when he squared off against Gus Hansen at the $300/$600 PLO tables. In one of their more notable hands, Galfond ($61,799.50) was on the button and raised to $1,200 only to have Hansen ($31,799.50) exercise his option in the big blind and make it $3,600. Galfond made the call and the two watched the flop fall
, which Hansen bet to the tune of $3,600. Galfond raised to $18,000, Hansen moved all-in for $28,199.50 total, and Galfond called.
Hansen:

Galfond:
Galfond was ahead with a flopped two pair but still had to sweat the turn and river, which were set to be run twice. The
/
on the first run improved Galfond to a full house and secured him the first half of the pot, which was soon followed by the second half when the next run came down
/
sending the $63,599 pot to Galfond.
Who's Up? Who's Down?
Week's biggest winners (4/5-4/7): Phil "OMGClayAiken" Galfond (+$407,709), Rui Cao (+$257,072), trex313 (+$145,702)
Week's biggest losers: Gus Hansen (-$383,832), Andreas "skervoy" Torbergsen (-$382,856), Tom "durrrr" Dwan (-$140,786), cadillac1944 (-$138,005)
Year-to-date winners: Gus Hansen (+$3,100,874), Daniel "jungleman12" Cates (+$1,940,150), *Gavin "gavz101" Cochrane (+$1,903,042), Matt Hawrilenko (+$1,558,870), Phil Ivey (+$1,243,043)
Year-to-date losers: Tom "durrrr" Dwan (-$2,186,120), "kagome kagome" (-$1,619,644), "fishosaurusREX" (-$1,399,950), "cadillac1944" (-$1,336,308), "UarePileous" (-$977,929)
*on PokerStars
*data obtained from HighStakesDB.com
If you have the skills, we have $55,000 in added prizes. The PokerNews Skills Challenge at Full Tilt Poker is a series of money-added tournaments every Wednesday night, which culminate in a $20,000 Freeroll. Also, don't forget to follow us on Twitter and like us on Facebook.