The Nightly Turbo: Bodog Changes URL, Online Poker Traffic Report, and More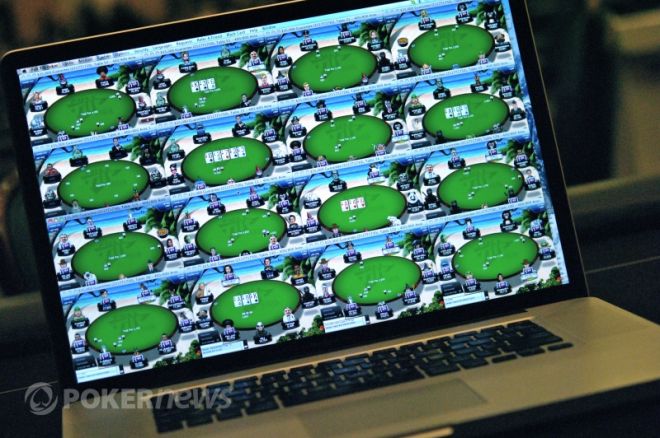 Blue or Black Monday. Whatever you call it doesn't change the fact that it happened. If you don't know what we're talking about, you should read about the latest domain seizures. Ten domains have been seized, but one, not even indicted, was changed Tuesday. Read on to find out which one, what the online poker traffic numbers are looking like, and more.
In Case You Missed It
Wondering how Taylor von Kriegenbergh is preparing for the 2011 World Series of Poker? Find out in our interview with him.
The 2011 PokerStars Spring Championship of Online Poker has handed out all of its SCOOP watches and prize money. Check out our Day 16 SCOOP recap to find out who topped the fields in the Main Events.
The World Series of Poker is just around the corner, which means we're closer to finding out how our rookie picks are going to do. In the latest WSOP Rookie Roundup, we take a look at Daniel "jungleman12" Cates.
The ninth season of the World Poker Tour is in the books. Here are our Top Five Moments from the season.
Bodog.eu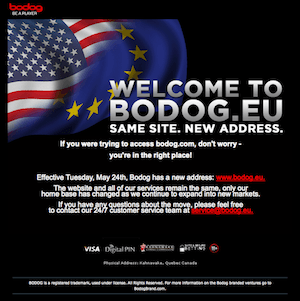 No, Bodog was not part of the latest round of indictments. The company has gone ahead and moved its domain from Bodog.com to Bodog.eu. The only message from Bodog on this change is on home page itself, which is the image you see right here. According to Bodog, the change was made to allow it to continue to expand into new markets, but we can't help but think it's a preventive measure — just in case.
As of Monday night, it was being reported that the newly indicted websites were beginning to show the seizure graphic. Instead of "seized by the FBI," which appears on the sites from the first round of indictments, these say "seized by the U.S. Immigration and Customs Enforcement - Homeland Security Investigations."
Online Poker Traffic Report
Online poker traffic is still dropping. According to PokerScout, it fell 2.6 percent last week. That drop is being attributed to a steep decline in Full Tilt Poker's traffic. The site dropped 11 percent for the week and has seen a 32 percent decline in year-over-year traffic.
The Cereus Network saw a 75 percent drop in traffic last week after it finally moved to block U.S. players. Since Black Friday, the Cereus Network has seen a 96 percent decrease.
The top four sites that are ranked, PokerStars, Full Tilt Poker, PartyPoker, and iPoker, first through fourth respectively, have all held their spots for the past 19 consecutive weeks on the charts.
The Merge Network, which has seen a 149 percent increase in year-over-year traffic, moved up from ninth to eighth place, jumping over PokerStars.fr.
In the last year, total online poker traffic has seen a 17 percent decrease.
If you want to check out more online poker traffic numbers and the traffic in real time, head on over to PokerScout.com.
Moving On to the Next Step
Last week, we told you that the Nevada Assembly OK'd an Internet poker bill. The Las Vegas Sun reported on Tuesday that the Senate Judiciary Committee approved Assembly Bill 258.
The bill aims to put Nevada casinos in the forefront if Internet poker is legalized by the federal government and allows the Nevada Gaming Commission to adopt regulations and grant casinos licenses.
"Internet poker is permitted outside the United States and is generating millions of dollars," said Assemblyman William Horne, sponsor of Assembly Bill 258. "The race is on who will do it first."
Later this week, the full Senate will vote on this bill and then it will head back to the Assembly for agreement on an amendment. If Congress or the U.S. Department of Justice legalizes online poker, Nevada Governor Brian Sandoval has stated he would back this legislation.

Head on over to LasVegasSun.com for more.
Another Online Poker Bill Coming
According to The Hill, another attempt at on online poker legislation could be coming soon. Rep. Joe Barton (R-Texas) plans to introduce legislation, which he is working on with the Poker Players Alliance, that would legalize and regulate online poker in the U.S.
During a press conference, Barton defended online poker sites by saying, "Poker is a game of skill." And even suggested the naysayers put up their own money and take on 2004 World Series of Poker champion Greg Raymer, who stood behind him during the press conference.
"Barton called the current law unenforceable and argued that online poker itself isn't illegal, so the government has instead targeted the deposits made by players. An estimated 10 million Americans played poker online until recently, including roughly 50,000 PPA members who depend on it for their livelihood."
If you want to find out more about the press conference and the D.C. fly-in, you can at TheHill.com.
Get a Passport
If you are a U.S. player, skip this. You won't like it. You won't be able to get it, and we don't want to make you upset.
PokerStars is running a promotion that will award Main Event Passports to any PokerStars run tour and even the World Series of Poker. Players can qualify for a Main Event Passport through cash satellites, FPP satellites, and steps satellites.
A Main Event Passport is worth $13,000 which includes the Main Event buy-in, hotel accommodation and cash. You get to choose which event you want to attend, whether you're an EPT, LAPT, APPT, or WSOP fan. Just so you know, if you choose EPT London or the 2012 PCA, the packages are worth more than $13,000, so you'll get more for your money.
Satellites are running now through July 3.
Want to find out more? Check out the Main Event Passport page at PokerStars.com.
Are you following us on Twitter yet? While you're at it, like us on Facebook.