Online Railbird: South Heads North While Hansen and Blom Book Wins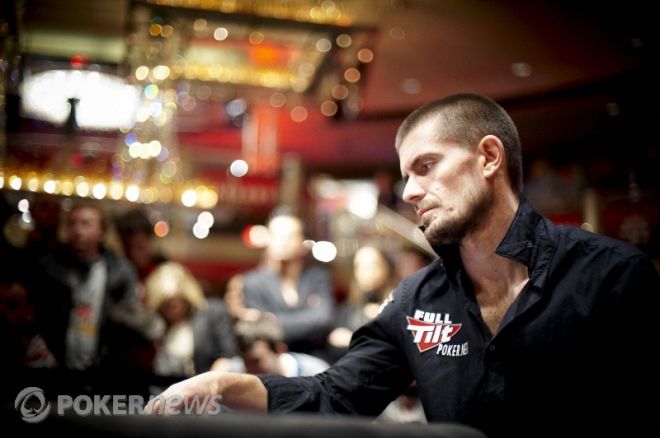 The high-stakes online action heated up over the past week, especially between two titans of the game - Gus Hansen and Patrik Antonius. If you recall, Antonius managed to overtake Hansen as the top earner for 2011 in the previous Railbird Report. As fate would have it, Antonius' time at the top would not last long. Hansen stormed back this week to win $1,166,372 in 6,642 hands spread across 52 sessions, making him far and away the biggest winner of the week.
On the other end of the spectrum, Antonius dropped $1,306,406 in 4,112 hands over 30 sessions. That allowed Hansen to reclaim the top spot on the 2011 online money list; consequently, Antonius dropped all the way down to the eighth spot. While they didn't have as influential weeks as the aforementioned players, both Cole South and Viktor "Isildur1" Blom managed some impressive results, as well.
Blom vs. Cochrane . . . Again
Last week, Viktor "Isildur1" Blom battled Gavin "gavz101" Cochrane in a back-and-forth match of heads-up pot-limit Omaha. The two continued their feud on Monday on the $50/$100 PLO tables on PokerStars, but this time with the caveat that they played six tables instead of their normal four. The two played two separate sessions, but it was the latter, which lasted nearly 3,000 hands, where Blom took a sizable lead. He ended up profiting $91,000.
In the largest hand between the two, Blom ($38,491) raised to $300 on the button only to have Cochrane ($24,600) re-raise to $900. Never one to back down, Blom made it $2,700 to go, Cochrane five-bet to $8,100, Blom called, and the flop came down
. Cochrane immediately fired out $16,199.50, Blom raised, and Cochrane called off his last $300.50.
Blom:

Cochrane:
Blom had flopped a mighty big wrap while Cochrane was in with naked aces, with an extra one in his hand to boot. The
turn completed the said straight for Blom and left Cochrane drawing dead as the
was put out on the river. The pot, worth $49,200, constituted a good portion of Blom's profits.
South Heads North
After the events of Black Friday, a number of pros hinted at the idea that they may relocate to a different country to continue their online pursuits. To say it is one thing; to do it is another. Enter high-stakes player Cole South, who recently relocated to Canada so he could once again play on Full Tilt Poker. What's more, South's preliminary results indicate that heading north might be a pretty good idea for online pros.
In his first session, South took on "Esvedra" in $200/$400 PLO action and ended up winning a little over $100,000. In the biggest pot between the two, Esvedra ($79,424.50) was on the button and raised to $1,200. From there, South ($155,682) exercised his option in the big blind with a raise to $3,600, Esvedra re-raised to $10,800, South called, and the flop fell
. After South check-called a bet of $16,000, the
hit the turn and South led out for $53,600. Esvedra, who only had $52,624.50 behind, made the call.
Esvedra:

South:
Both players had picked up a flush draw on the turn, but Esvedra's was the better of the two; however, as it stood, South was ahead with his lowly pair of fives. Amazingly, the
peeled off on the river and changed absolutely nothing. South's pair of fives was good enough to earn him the $158,849 pot.
As if things couldn't get any worse for Esvedra, he opted to play Russian player "NoPasaran" and dropped another $145,000. One of the biggest hands of that match began when NoPasaran ($96,171) raised to $1,200 on the button and Esvedra ($48,7467.50) called. When the
appeared on the flop, Esvedra check-called $2,000, and the
peeled off on the turn.
Once again Esvedra checked-called a bet, this time $5,600, and the
was put out on the river. Surprisingly, Esvedra led out for $13,200 and it was NoPasaran's turn to call. Esvedra rolled over
for a set of aces, but it was no good against the straight of NoPasaran, who was holding
. NoPasaran added the $44,000 pot to his stack.
Hansen Wins $410,000
On Thursday, Gus Hansen managed to notch $410,000 in profit. Nonetheless, Hansen's visit to the $300/$600 PLO tables on Full Tilt Poker to take on Patrik Antonius, Cole South and "ronnyr37617" did not contribute to that profit. In fact, Hansen ended up dropping $73,000 in the game, despite taking down the biggest hand of that day. In that hand, South ($116,718.50) raised to $1,333 on the button, Antonius ($223,622.50) folded from the small blind, and Hansen ($113,779.50) re-raised to $4,599 from the big. South made the call and the two watched the flop come down
.
Hansen bet out $9,798, South called, and the
was put out on the turn. Hansen continued his aggression with a bet of $29,394, only to have South move all-in for $102,321.50. Hansen called off his remaining $69,988.50 and the cards were turned on their backs.
Hansen:

South:
South had three pair with a flush draw but was behind the top set of Hansen. The river was run twice, but neither the
on the first run nor the
on the second helped South. Hansen managed to hold on to scoop the $227,859 pot.
South went on to drop $163,000 in the game, while both ronnyr37617 and Antonius booked $100,000+ wins.
Who's Up? Who's Down?
Week's biggest winners (5/20-5/26): Gus Hansen (+$1,166,372), Seb86 (+$168,704), kagome kagome +$156,714), *Ilari "Ilari FIN" Sahamies (+$145,294),
Week's biggest losers: Patrik Antonius (-$1,306,406), *Gavin "gavz101" Cochrane (-$230,158), Esvedra (-$224,874), FakeMonies (-$175,450)
Year-to-date winners: Gus Hansen (+$3,993,460), Daniel "jungleman12" Cates (+$1,952,000), *Gavin "gavz101" Cochrane (+$1,789,000), NoPasaran (+$1,616,000), Matt Hawrilenko (+$1,440,000), bixiu (+$1,406,000), Phil Ivey (+$1,336,000), Patrik Antonius (+$1,157,000)
Year-to-date losers: Tom "durrrr" Dwan (-$2,474,000), kagome kagome (-$1,736,000), Eugene "fishosaurusREX" Yanayt (-$1,399,000), cadillac1944 (-$1,336,000), UarePileous (-$853,000)
*on PokerStars
*data obtained from HighStakesDB.com
Stay up to date on all the latest news by following us on Twitter and liking us on Facebook.