World Poker Tour on FSN: The WPT Celebrity Invitational Part II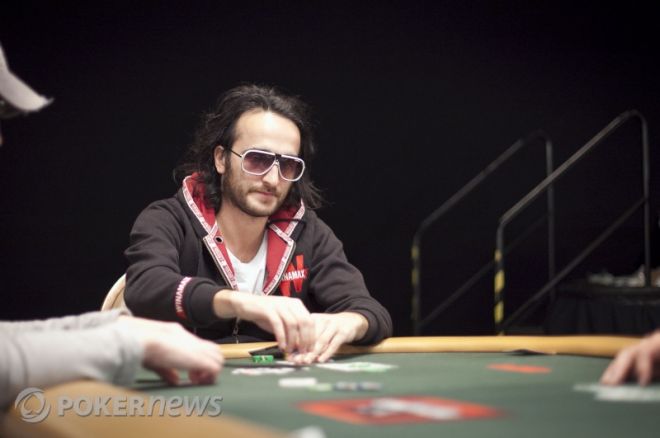 FSN continued its broadcast of the World Poker Tour's ninth season with Part II of the WPT Celebrity Invitational from the Commerce Casino in Los Angeles. Of course the event was held to support Chrysalis, a nonprofit organization that helps economically disadvantaged and homeless people become self-sufficient through employment opportunities. If you recall, Part I saw the eliminations of Dinara Khaziyeva in sixth place ($5,000) followed by Damon Schramm in fifth ($10,000).
In one of the last hands of Part I, Dan Heimiller opened for 120,000 with
only to have Davidi Kitai move all-in for 915,000 with
. Heimiller made the call and it was off to the races. The crowd and players were on their feet as the flop fell
, vaulting Kitai into the lead. The
changed nothing, and neither did the
river. Just like that, Heimiller lost half of his stack, and Kitai took over the chip lead with 1,925,000.
Here is how the final table looked heading into Part II.
WPT Celebrity Invitational Final Table
Seat 1: -empty-
Seat 2: -empty-
Seat 3: George Rechnitzer – 570,000
Seat 4: Dan Heimiller – 905,000
Seat 5: Davidi Kitai – 2,205,000
Seat 6: Almira Skripchenko – 770,000
First Hand: With the blinds at 30,000/60,000 with a 10,000 ante and the stack sizes relatively small, the players were essentially committed to force the action. In the first hand, George Rechnitzer, who did not play a single hand during Part I of the broadcast, limped with
only to have Dan Heimiller raise to 170,000 with
. The other two players folded and it was heads up to the
flop.
Rechnitzer grabbed his remaining 390,000 in chips and slowly slid them into the pot, and surprisingly, Heimiller laid down his ace. "I am in shock that a pro player would fold aces the way betting went before this hand. Unbelievable. I'm shocked by that," host Mike Sexton said. "Shocked I tell ya."
Are You Kidding Me?!?: Under the gun, chip leader Davidi Kitai moved all with the paltry
only to have George Rechnitzer look down at
. You would think Rechnitzer would insta-call with his short stack, but much to the amazement of Sexton and no doubt the millions of viewers, Rechnitzer laid down the hand and allowed Kitai to swipe the blinds and antes.
Rechnitzer Eliminated in Fourth Place: In the next hand, Almira Skripchenko moved all-in for her last 560,000 with
and again George Rechnitzer looked down at
. This time, however, Rechnitzer made the call. Skripchenko, a four-time chess champion, was in big trouble, especially so after the
flop added a flush draw to Rechnitzer's superior hand.
On the verge of elimination, Skripchenko needed some major help, which he received as the dealer burned and turned the
. Suddenly Skripchenko found herself a 3:1 favorite. The
on the river changed nothing and Skripchenko doubled to 1,160,000 while Rechnitzer was left with just 30,000.
Rechnitzer was eliminated on the very next hand, earning $15,000.
Ones to Watch: In the WPT's newest segment called "Ones to Watch," 10 young players were showcased at the Celebrity Invitational. During the segment, it soon became clear that many of the participants were not too focused on the game, instead preferring to have a good time and contribute to the jovial atmosphere.
Heimiller Eliminated in Third Place: Dan Heimiller looked down at
in the small blind and decided to move all-in for his last 760,000. Davidi Kitai needed to call 680,000 more from the big blind, which is what he did after peeking down at
. "That's the hand I was hoping you'd throw away," Heimiller said after discovering the bad news.
Heimiller stood from his chair and watched the flop come down
, giving him just a 5 percent chance of winning. However, the
on the turn gave Kitai two pair and left Heimiller drawing dead. After the
was put out on the river for good measure, Heimiller made his exit from the WPT Celebrity Invitational in third place, albeit $20,000 richer.
Along Came Polly: In regard to an interview with Davidi Kitai, co-host Vince Van Patten jokingly asked, "I'm confused, was that Davidi or was that Hank Azaria in [the movie] Along Came Polly?" We admit, they do sound very much alike.
Heads-Up Play: Davidi Kitai entered heads-up with 3,000,000 in chips to Almira Skripchenko's 1,450,000. However, Skripchenko was able to double into the chip lead after picking up
and getting it all in preflop against Kitai's
. The board ran out
and Kitai was suddenly behind.
The two continued to battle back and forth, throwing in raises and reraises to swipe the large blinds and antes. In one hand, Kitai limped with
and Skripchenko checked her option with
. When the flop fell
, Skripchenko check-called a bet of 100,000 from Kitai, leading to the
on the turn. It was the gin card for Kitai as he hit his gut-shot straight.
Skripchenko check-called another bet, this time 240,000, and the
hit the river! Skripchenko had hit trips and checked. Kitai bet 640,000, Skripchenko made the call, and Kitai once again claimed the chip lead.
Final Hand: Davidi Kitai looked down at
and instantly moved all-in. Almira Skripchenko nonchalantly called off her last 1.3 million with
and was a 57 percent favorite to win the hand. Her chances increased to 76 percent when the
hit the flop, giving her a pair of aces. All she needed to do was dodge a three, queen, or running cards to double. The dealer slowly burned and turned the
! Both players kept their composure as Skripchenko suddenly needed help on the river. Unfortunately for her, the
provided none and she was eliminated in second place for $50,000.
Meanwhile, Kitai became the WPT Celebrity Invitational Champion and captured the $100,000 first-place prize. To learn more on Kitai's victory, check out his winner's interview with Kimberly Lansing.
Tune in Next Week: FSN will continue its broadcast of the WPT Season IX next Sunday, so be sure to either check your local listings.
Past WPT Invitational Winners
| Season | Player | Earnings |
| --- | --- | --- |
| 1 | Layne Flack | $100,000 |
| 2 | Phil Laak | $100,000 |
| 3 | Alex Brenes | $100,000 |
| 4 | Barry Greenstein | $100,000 |
| 5 | Adam Weinraub | $100,000 |
| 6 | Van Nguyen | $100,000 |
| 7 | Freddy Deeb | $100,000 |
| 8 | Leron Washington | $100,000 |
| 9 | Davidi Kitai | $100,000 |
If you love poker, be sure to follow us on Twitter and like us on Facebook for up-to-the-minute poker news.