A Day in the Life of Jason Mercier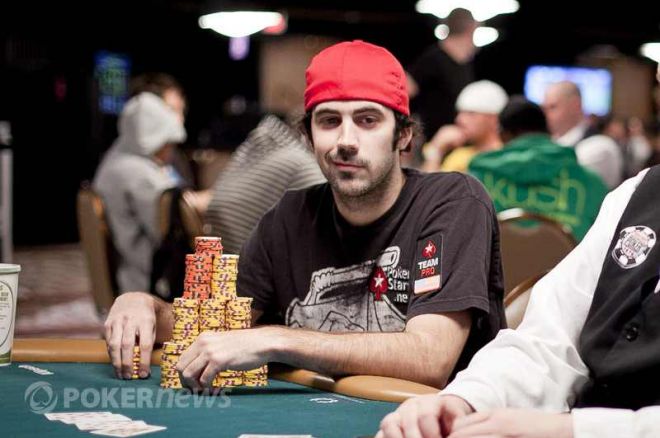 Wanna know what it's like to run good at the World Series of Poker? So do we. That's why we are going to take you inside a day in the life of Team PokerStars Pro Jason Mercier. He's already cashed four times at this year's WSOP and took home his second bracelet by winning the $5,000 Pot Limit Omaha- Six Handed event earlier this month. Two months ago he defended his NAPT championship title by taking down the $10,000 No Limit Hold'em High Roller Bounty Shootout for $246,000 at Mohegan Sun. Last month he shipped the European Poker Tour Champion of Champions event for $74,212.
We'll be following him around during a typical day for him at the World Series of Poker. You'll get to see what it's like to live a day in his shoes. All the madness that comes from the final tables, the prob bets, his friends, and of course everything that happens at the table.
2:09 p.m. PDT: Jason just woke up and is on his way to the Rio right now. We will be doing a Twitcam with him in 15 minutes. You can watch it live and send in your questions here.
2:47 p.m. PDT: We just finished up our first Twitcam of the day. Jason is seated at table #292 in the Amazon Room for the 2-7 Triple Draw Lowball restart. He's opening his bag and will begin play in ten minutes. You can watch a recording of our Twitcam below.
3:17 p.m. PDT: A view of Jason's table and his massive chip stack.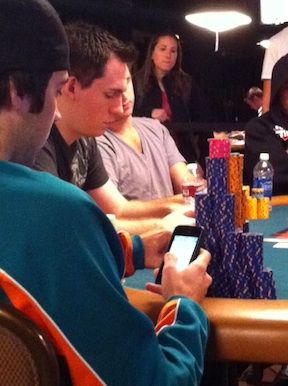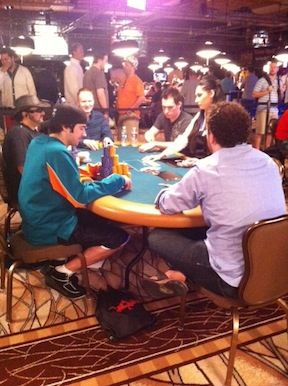 3:38 p.m. PDT: Jason is continuing to build his chip stack. He is up to 391,000 from a start of 358,000 chips. There are two tables left in the event and Jason just said he is at the tougher table. The table is not that talkative and the rail is slowly starting to gain a crowd. Many people have come by to take pictures of him and watch him from the rail. We asked him his method to building his chip stack as it is currently piled up like a mountain. He said this is just one of many designs. With all the chips he has we are sure he can build almost anything he wants.
3:56 p.m. PDT: The mood is quite serious here as we play down to the final table. Some of the only noises you can hear in the Amazon room is the shuffling of chips. Here's a recent hand that Mercier took down to take him up to over 400,000 in chips.
4:25 p.m. PDT: The tournament director just came by the table to color up the chips. Jason had one of the last 500 purple chips on the table so he automatically was able to double it up to 1,000. When the tournament director gave him the chip he said "Man you really do run good!" Jason just laughed.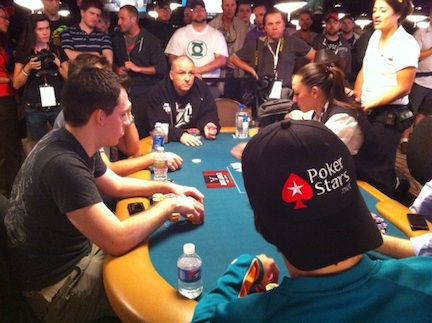 4:49 p.m. PDT: We decided to go through Jason's iPod while he is playing. His iPod is a complete mess. There are no playlists and about 10,000 songs on it. There is vast variety of artists from the All-American Rejects to Lil Wayne and even Justin Bieber. He is not allowed to listen to music since he's in the money but when he does these are some of his top played songs:
Down - Jay Sean (feat. Lil Wayne)
Show Goes On - Lupe Fiasco
Because of You - Kanye West
Role Model - Eminem
Successful - Drake
5:20 p.m. PDT: Jason constantly has people coming up to his table and talking to him. His roommate here in Vegas, Allen Bari, came over on his break from the $5,000 No Limit Hold'em Triple Chance event going on right next to us in the Amazon room. We asked him what it's like to live with Jason. He said Jason is very messy, but just in his room, and that it is not that bad because they are never home. Also, Allen is sick right now and has gotten Jason sick from living with him. Jason also has a guest, Darko staying with him on the couch. They have been friends since high school and he is staying with him for a week. Darko just said the only thing Jason doesn't like about him staying with him is that he wakes him up too early. I guess 1:00 p.m. is early to them.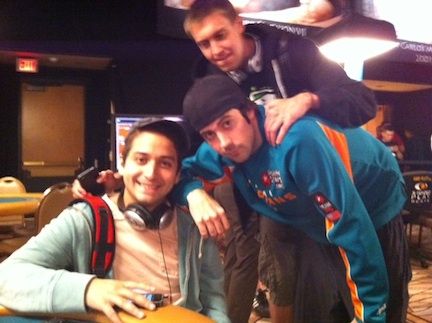 5:50 p.m. PDT: Things have calmed down now that Jason's friends have gone back over to play the $5,000 event in the section over. Allen was a little too caught up in chatting with us and didn't realize play had begun for his event. He jumped out of his chair and as he was on his way to his table he fell face first on the ground! He gave everyone on the rail something to laugh about. Things are quiet at the table with eight players left in the tournament. With one more elimination we will be down to the unofficial final table.
6:23 p.m. PDT: We just moved to the "Thunder Dome" here in the Amazon room with only seven players remaining. Jason just told us he is feeling really good about this tournament. He also already has a crowd gathering behind him. All we are hearing from his friends are "yeahppp" "yeahpp." We asked him what "yeahpp" means and he said, "what doesn't it mean?"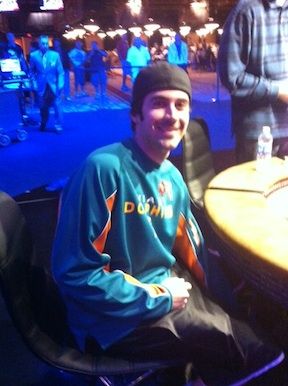 7:00 p.m. PDT: Jason just came to the rail after he lost a pretty big pot. He's down to 330,000 in chips. He is still feeling really good and has been texting his friends and parents to keep them updated and tell them to watch it live online. He is so happy he made the official final table because he will be collecting side bets from Daniel Negreanu, Frank Kassela, and Justin Smith.
7:20 p.m PDT: The final table is about to start and security has already came to the rail twice as Jason is yelling to his friends "get the beer off the rail!" He came over to have a talk about 2-7 strategy with Dan O'Brien and now the action is under way. His rail birds are continuing to accumulate with Brent Hanks, Matt Affleck, Adam Levy, Phil Collins, and Jason Somerville joining Dan, Allen, and Darko. It should be getting rowdy pretty soon.
7:30 p.m. PDT: Jason is not running well right now. He came up to tell us about a hand when he had
, had three draws, and drew to a pair every time against Elezra. The rail is quiet and Jason is focused on this tournament with six players left.
8:01 p.m. PDT: We are on dinner break now and we just sprinted through the Rio to get to Martorano's where Jason is joined by about ten of his friends. He orders the "poker player's special" which is a meatball and salad. He should have ordered more food because he ends up eating almost half of my chicken parmigiana. Every dinner break he goes through his Twitter to look at all the words of encouragement that people have left for him. He says that it really motivates him to go out and play well after the break. During dinner he talks a little bit about strategy and some hands that he played earlier in the day. Then we rush to get back to the Amazon room to continue play.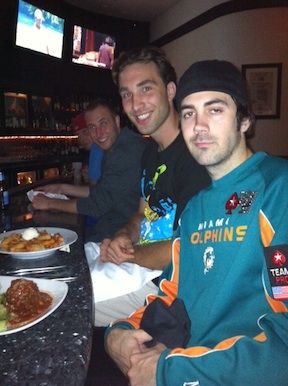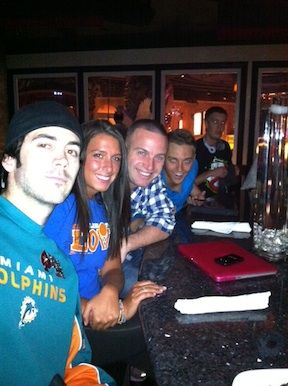 8:50 p.m. PDT: Walking back from Martorano's to the Amazon room, Jason is asked by more than one person for a picture. He never says no, and tells us that he always stops to talk with those who want to. He stops to take a few photos and his fans wish him good luck. He doesn't even rush them as he has only a few minutes before play resumes.
9:12 p.m. PDT: Here is the Twitcam video that we just recorded before Jason resumed play. You can watch it below.
9:20 p.m. PDT: A view of Jason's rail behind him. Calm right now as Jason is short stacked.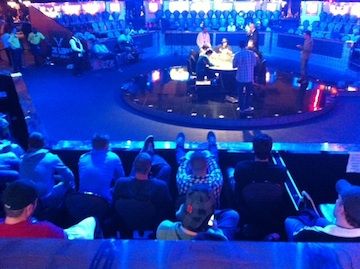 9:34 p.m PDT: Shortly after dinner Jason moved all in and just wasn't able to get there. He was eliminated in 6th place. He is still running pretty good this World Series as this is his third final table of the year. Now he is off to pick up his girlfriend, Erica, who is flying in from Florida to see him.