Five Thoughts: The Second Week of the 2011 World Series of Poker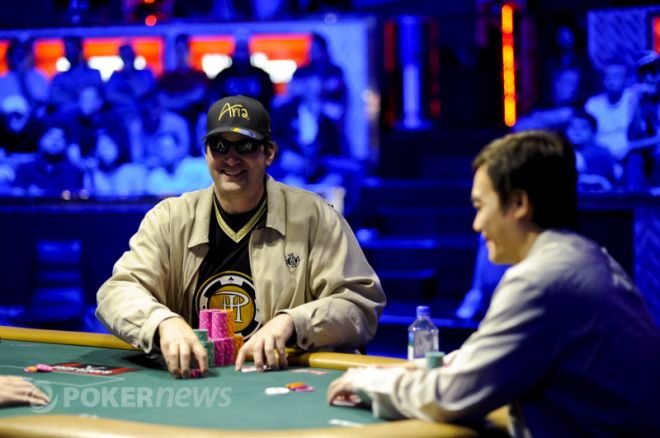 We're two weeks into the 2011 World Series of Poker, and over the past 14 days, 19 bracelets have been awarded to 19 players. In the past week alone, ten events came to a close, including two championship events; Event #11 $10,000 Omaha Hi-Low Split-8 or Better and Event #16 $10,000 2-7 Draw Lowball. In the latter, John Juanda denied Phil Hellmuth his 12th WSOP bracelet, which leads us to our first of five thoughts regarding the second week of the 2011 WSOP.
1. John Juanda is a monster
Despite entering heads-up play against Phil Hellmuth as a 3:1 dog, John Juanda was able to grind his way to the chip lead and deliver a knockout blow to the self-proclaimed Poker Brat. On the last hand, Hellmuth patted a queen-ten, Juanda was drawing with a live jack, and completed his jack-low when he pulled an
, giving him
.
Most of the attention is on Hellmuth because he was so close to what would've been his 12th bracelet (and first non-hold'em bracelet), but Juanda is deserving of a lot of credit. He recorded his 56th WSOP cash, reached his 27th WSOP final table, and won his fifth WSOP gold bracelet by winning Event #16. And don't forget that Juanda completely outclassed Hellmuth during heads-up play – he never let the initial chip disadvantage get to him.
"Watching Juanda/Hellmuth doesn't seem like a fair fight," Daniel Negreanu tweeted during the match. "If PH [Phil Hellmuth] wins this I'll be both uber impressed/shocked."
There was no shock in store for Negreanu, however, as Juanda, one of the best deuce-to-seven lowball players in the world, dominated Hellmuth and shipped the gold.
2. Phil Hellmuth will never win a non-hold'em bracelet
Phil Hellmuth is clearly proficient in mixed games; this was his 17th non-hold'em final table appearance at the WSOP and third in deuce-to-seven low ball. However, proficiency and mastery are two different qualities, and if Hellmuth is going to win a bracelet in a non-hold'em event, he's going to need to master a second game. The mixed games fields are tougher to beat, because while the hold'em events are minefields, the mixed-games fields are more concentrated with solid players. Even if Hellmuth gets through a smaller, 100-some player field in a mixed event, he will hardly ever be the best player at the final table. Event #16 was a prime example.
This isn't a knock on Hellmuth; he's one of the most important pro's in the game – especially in the post-Black Friday world – and when he succeeds there is a positive buzz within the poker industry. I simply believe that his mixed-game skills aren't up to par with some of his peers, and that he has a long way to go if he wants to conquer a non-hold'em bracelet event.
3. Prohibition never works
In 1919, the U.S. ratified the 18th Amendment, which prohibited citizens from manufacturing, selling, transporting or consuming alcohol. This led to speakeasies, bootlegging, organized crime, and an overall sense of animosity toward government. Thankfully, in 1933 the 21st Amendment repealed prohibition, and alcohol began flowing legally again.
Here at the WSOP, we had a problem with prohibition, as well. Initially, spectators at the ESPN Main Feature Table (aka the Thunderdome) were not allowed to have food or drink while watching the action. This was very counter-effective, however, because everyone knows every good rail needs to be well-lubricated with copious amounts of adult beverages. I understand that super producer Mori Eskandani is worried about his very expensive, very elaborate stage – and drunk twenty-somethings are prone to breaking things – but if he wants to produce good television, he's going to allow the rail to get rowdy.
Thankfully, during Event #16, Vice President of Caesars Interactive Entertainment Ty Stewart raised his own beer to the sky before lifting the ban on food and drink. This is truly paramount for final tables going forward, so the next time your sweating a friend, horse or even a random in the Thunderdome, crack one open for Stewart and Eskandani for making the right decision.
4. Is Patrik Antonius gunna have to Djokovic?
Patrik Antonius crushed Brandon Adams this past weekend in their highly anticipated high-stakes tennis match by a score of 6-0, 6-1. Adams put up a good fight, but Antonius was just too good, shipping $30,000 from Adams for the victory.
"The match itself was the worst thing that's ever happened to me," Adams told us on the PokerNews Podcast. "I was so deeply disappointed."
Is there anything Antonius isn't good at? He's a shark on the felt, an ace on clay, and a devilishly handsome man – not to mention he is married to the stunningly beautiful Maya Geller. It's getting to the point where I find myself rooting against Antonius because he's just so damn good at everything. Adams informed us that he's looking to book a rematch with the Finnish archetype, and if they do I'll certainly be in the professor's corner.
5. Moar Sam Grizzle
Our own Sarah Grant did one of the greatest interviews of all time with the one and only Sam Grizzle. Fingers crossed, he'll be making a few more deep runs so we can hear more gems.
For frequent updates on everything in the poker world, follow us on Facebook and Twitter.