Inside Gaming: Zynga IPO, New Hard Rock in AC, and New Gaming Sponsor for Aston Villa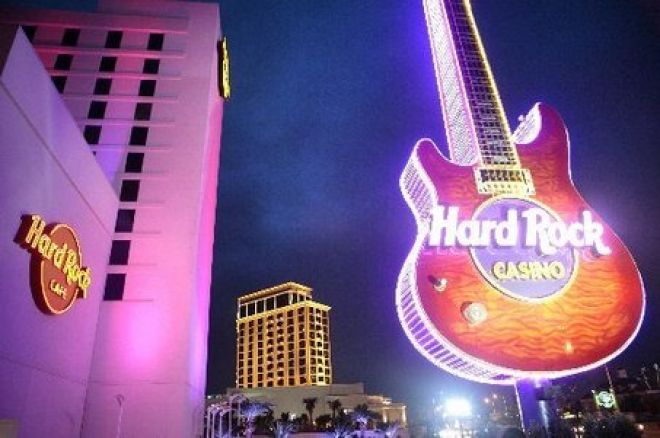 When you've read your fill about the latest Full Tilt Poker drama, and you're ready for some more optimistic news, here are a few stories from the week about gaming and casino companies looking toward the future. Zynga Inc., responsible for the Texas HoldEm Poker game on Facebook, is expected to launch a $1 billion IPO Wednesday. The Hard Rock is taking steps toward developing a new hotel-casino in Atlantic City. And Genting Group is the new sponsor of Brighton's Aston Villa soccer team.
Zynga to Announce $1 Billion IPO
Zynga Inc., a developer of games for Facebook including Texas HoldEm Poker, is expected to announce a $1 billion initial public offering on Wednesday. Morgan Stanley will be the lead underwriter of the offering, Bloomberg reported. Goldman Sachs and Bank of America will also be involved. Spokespeople for Zynga have yet to comment.
Zynga, based in San Francisco, hosted the giant PokerCon in Las Vegas in March, adding to the speculation that Zynga could become a bigger player in the online poker world in the future. If regulation happens in the U.S., Zynga will have both a large player base and lots of available capital to bring to the fight for market share.
Zynga is launching its IPO as part of what Bloomberg described as the "largest wave of Internet IPOs since the dot-com heyday in 2000." LinkedIn Corp., Pandora Media Inc., and Yandex NV all went public in recent months. Zynga's sales from products like its popular poker game and Farmville are expected to reach $1.5 billion in 2011, making it one of the few new-wave tech companies with proven profitability.
Vator News suggested that by "capitalizing on the social media-happy public markets," Zynga could boost its valuation from $10 billion to $15 or $20 billion. Venture capital firms Foundry Group, Union Square Ventures, Kleiner Perkins Caufield & Byers, Institutional Venture Partners, and Andreessen Horowitz all stand to profit from the IPO. Digital Sky Technologies, based in Russia, and Google Inc. also have stakes in the company.
Hard Rock Submits Plans for Atlantic City Development
Hard Rock International is seeking approval to build a a $275 million boutique casino resort on the Atlantic City Boardwalk. Last week AC Gateway LLC, which owns land at the southern end of the Boardwalk, submitted plans and renderings to the New Jersey Department of Environmental Protection. Developers are required to obtain a Coastal Area Facility Review Act (CAFRA) permit before starting waterfront construction.
The plans detail two phases of construction. First, Hard Rock will open a 54,800-square-foot casino and a 208-room hotel. Later it will add 27,500 square feet of gaming space and 642 rooms. The completed development will have a Hard Rock Cafe, spa, and outdoor and indoor pool complexes. The documents submitted for CAFRA approval include environmental impact studies covering everything from wildlife to air quality to storm runoff.
The Hard Rock's proposed development will be the first "boutique" hotel and casino in New Jersey. Discussions about the project began in March 2010 but had to wait for the state to pass a law permitting properties with as few as 200 rooms to offer gambling. Until the law was changed in January 2011, hotels could only operate casinos if they had 500 or more rooms.
A new, trendy casino resort could help lift Atlantic City out of the economic doldrums, say some gaming analysts.
Read more about the proposed development and its potential impact in the Philadelphia Inquirer.
Genting to Sponsor Aston Villa Soccer Team
International casino operator Genting Group announced a deal last week to become the primary sponsor of Aston Villa F.C., a British soccer team, for the next two years. New Aston Villa home and away jerseys will feature the Genting Casino logo along with other team-casino tie ins. Genting operates more than 40 casinos throughout the U.K., as well as several online gaming sites.
Peter Brooks, Genting's Executive Chairman, said in a press release, "We are delighted to be partnering with a football club with such an esteemed heritage as Aston Villa. The English Premier League is the preeminent football league with a vast international following – while Genting is a leading leisure and hospitality group also with a huge international presence. Importantly, we have been associated with Birmingham since the 1970s and look forward to strengthening our relationship with this great city. So this sponsorship is a natural fit and marks an important milestone in Genting's development as we continue to expand our presence both within the UK and internationally."
Genting's Malaysian parent company owns the Resorts World brand that is currently breaking gaming records in Singapore and the Philippines. The same day Genting announced the deal with Aston Villa, it was leaked that the casino company sold 1.28 billion yuan of three-year 3.95 percent bonds to raise capital for an unknown project.
Bloomberg has that report.
Be sure to follow us on Twitter for up-to-the-minute news.
*Photo courtesy of Nola.com