Inside Gaming: Chilly Forecast for Vegas Casinos, Second Chance for Hard Rock, and Chinese Bail Out for Caribbean Casino Project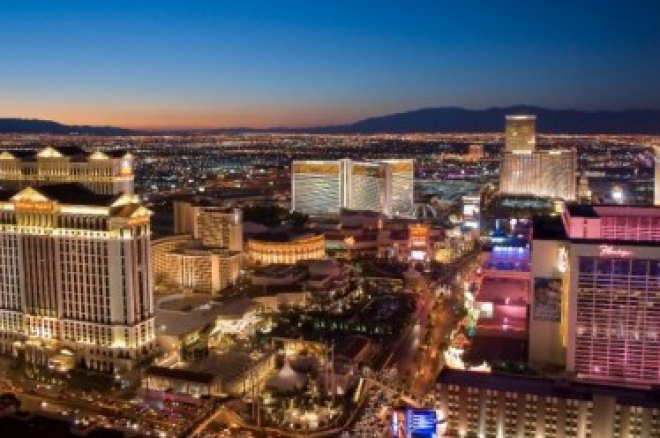 This week in the gaming world, Moody's issued a report predicting at least another year of hard times for Las Vegas casinos. Other industry insiders are concerned that rising oil prices spell even bigger problems for the recession-pounded city. The Hard Rock Hotel, one of the casinos hit hardest by the economic downturn, faced involuntary foreclosure earlier this month after being assessed a $650,000 fine for drug-related gaming violations. But thanks to a last-minute deal to change both the property's ownership and operating company, the Hard Rock gets to rock on a little longer, at least as long as it behaves. And developers broke ground on a $3.4 billion resort in the Bahamas, just a short swim away from Atlantis. The complex seemed doomed after Harrah's pulled out in 2008, but Chinese government-run companies stepped in as the project's primary contractor and financier.
Vegas Investors See Shadow, Fear Impact of High Gas Prices
The Las Vegas Strip has at least another year of winter, predicted financial groundhog Moody's Investors Service. In a report published on Thursday, Moody's said Vegas casinos likely won't see an upturn toward profitability until 2012, primarily because of the glut of hotel rooms.
"The Las Vegas casinos have a high mountain to climb to grow earnings to anywhere near their previous peaks, as citywide hotel room rates remain below 2005 levels," said Peggy Holloway, Senior Credit Officer at Moody's. "Excess room supply will weigh on operators' ability to raise room rates, the second most important source of profitability for casino operators after gaming, in the near term."
In addition to high unemployment, rising taxes, and a weak housing market, international turmoil could give Las Vegas even more to worry about. Gas prices are rising quickly because of fears that the unrest in Libya and elsewhere in the Middle East and Africa will cause an oil shortage. Gas prices directly impact the number of tourists who drive to Las Vegas from California and other nearby states. Rising fuel costs also lead to increases in air fares, and paying more at the pump means would-be visitors will have less money to spend on discretionary expenses like travel and entertainment, and locals will have less to spend on gaming. "Las Vegas is a place that is very dependent on (consumer) discretionary income," said Stephen Brown, director of the Center for Business and Economic Research at the University of Nevada, Las Vegas.
The average price of regular gasoline in Las Vegas reached $3.368 on Friday, a $0.05 increase from the previous day and a $0.35 increase from a month ago, reported AAA's Daily Fuel Gauge Report. "I think the increase in gasoline prices has caught everybody off guard," said Michael Geeser, AAA Nevada spokesman. He is concerned about a repeat of 2008, when gas prices passed $4 a gallon and "You could get a room on the Strip for anything you wanted," because demand for hotel rooms was so low.
Read more about the Moody's Report from the Las Vegas Review Journal, and find out more about gas-fueled economic fears from Casino City Times.
Hard Rock Luck Hotel Gets New Owners in Wake of $650k Drug Fine and Foreclosure Attempt
Last month was a rocky one for the Hard Rock Hotel. Earlier in February, the hotel casino was fined $650,000 for on-property drug violations and then had to defend itself from a lender's attempt to foreclose on the property. To keep the Hard Rock's doors open, operator Morgans Hotel Group put together a last-minute deal to transfer ownership to two new companies. The Nevada Gaming Commission and the state Gaming Control Board fast-tracked the complicated licensing process and approved the deal on February 24. Under the approved terms, Warner Gaming LLC of Las Vegas will manage the casino while Brookfield Asset Management Inc., a real estate management company based in New York, will take over ownership of the property and infuse capital. Morgans will no longer have any stake in the Hard Rock and gave up its gaming license on Monday.
As part of the deal, the Hard Rock restructured its $1.25 billion in debt to a revised debt obligation of $898 million. The $178 million owed to Brookfield was converted into an equity stake. Warner Gaming, founded by former Station Casinos Inc. COO William Warner, promised regulators that he would carefully monitor the hotel's security and surveillance programs and personally oversee conduct at the property's nightclubs.
In mid-February, the Hard Rock was issued the largest drug-related casino fine in Nevada history when undercover detectives found it easy to procure pot, cocaine, and Ecstasy from employees of the Hard Rock's Vanity night club. A casino host even facilitated the purchase of cocaine in the property's parking garage. The Hard Rock could have lost its license for such violations but instead was assessed a substantial $650,000 fine.
The Hard Rock's raunchy reputation, exacerbated by a reality television show depicting the debauchery of its Rehab pool parties, flies in the face of gaming regulators' attempts to clean up Sin City's image. "The Hard Rock is a difficult brand to have in a gaming environment," said UNLV casino management professor Jeff Voyles. "I think they have pushed the limits on what's appropriate. It's been a thorn in (regulators') sides for a long time." The Gaming Commission made it clear that the Hard Rock's new ownership will be on a tight leash.
Read more about the Hard Rock's new owners in the Las Vegas Sun, and find out what the drug fine means for Las Vegas.
Chinese Government Revives $3.4 Billion Caribbean Mega-Resort Project
International investors and Bahamian dignitaries gathered last week to break ground on the $3.4 billion Baha Mar resort on the Bahamas' Cable Beach. The new resort will be located less than 15 kilometers from the region's other massive casino resort, Atlantis on Paradise Island. Baha Mar, the brainchild of Swiss businessman Sarkis Izmirlian, has been in development for five years. Harrah's, which has since been renamed Caesars Entertainment, abandoned the project in 2008. After some uncertainty about the project's future, two firms run by the Chinese government stepped in to help restructure the Baha Mar concept.
"What a long road it has been. A road of challenging twists and gratifying turns," said Izmirlain, who now lives in the Bahamas. "While there were some naysayers along the way, we never doubted the viability of this unique prospect. Those who doubted must have been talking about other projects."
China State Construction Engineering Corp., a construction company run by the Chinese government, is the primary building contractor for the six hotels, 100,000 square-foot casino, 200,000 square feet of meeting space, and 50,000 square feet of shops that make up the Baha Mar complex. Another state-run entity, the Export-Import Bank of China, is now Baha Mar's primary financier.
The groundbreaking ceremony highlighted the partnership between China and the Bahamas with traditional dances from both cultures and overtly political speeches. Li Ruogu, Chairman of the Export-Import Bank of China, said, "Since the outbreak of this global economic crisis three years ago, major Western economies suffered from the worst recession in the last eight decades, but other developing companies, including Caribbean countries, also have been it hard. Thanks to China's positive and reactive measures, China has scored an early recovery from the crisis and sustained fast economic growth."
To address concerns from local politicians about foreign contractors being brought in to reap the benefits of such a large project on Bahamian soil, $400 million was set aside for the hiring of local contractors. "Even if we wanted to have all Bahamian construction labor, there is no workforce that's qualified to deliver this project," Baha Mar president Don Robinson told the Casino City Times. Izmirlian, on the other hand, emphasized the role that Bahamian workers could play in the project and the training programs that would be available for guest services employees. "Not often in our lifetime will we be able to create a project that will so profoundly benefit so many lives in our community and reset the bar for tourism in the Caribbean and in this hemisphere," Izmirlain told the crowd at the groundbreaking. "Today begins the rebirth of the Bahamian Riviera."
Read about Baha Mar by the numbers at Casino City Times.
We are tired of tiny freerolls; no doubt you are, too. If so then check out our $34,000 Monster Pot Freeroll series with Poker770 – only a $20 deposit and 20 poker770 points to qualify.