Inside Gaming: Industry Visionaries Unveil Vegas-Style Plans for Europe, AC, and the High Skies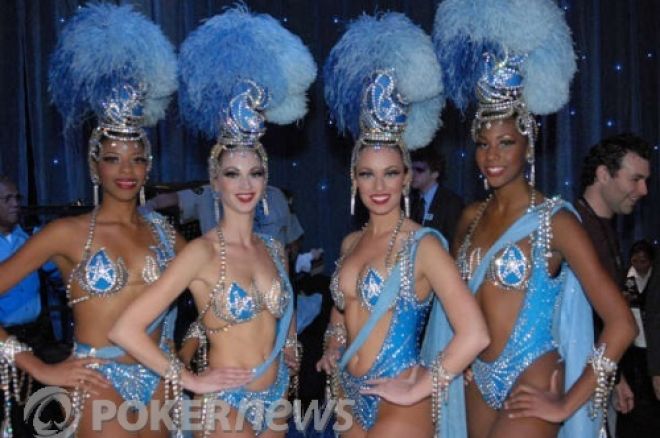 It's been a week full of big dreams in the gaming world. Executives have been busy sharing their visions for the next big thing in gambling, some visions more believable than others. The Sands unveiled its vision for a $20 billion mini-Las Vegas strip in a new gaming hotspot few predicted. Investors in Atlantic City are back on track with the the $2.4 billion Revel Casino project that seemed like only a dream for the last two years. And a former Boyd Gaming exec shared his plans for a new Vegas charter airline that could redefine the mile-high club.
Spain Needs Place to Make It Rain, Sands Predicts
The hunt is always on to find the next untapped goldmine in the gaming world, and the Las Vegas Sands Corp. has made it its mission to set the pace. Sands Chairman and CEO Sheldon Adelson introduced the West to Macau, then followed that huge success with a possibly even more successful mega-complex in Singapore. Last week he announced that the Sands conquistadors are moving from Asia to Europe and planting their flag in an unexpected location - Spain. The Sands plans to build a $20 billion strip of casino resorts in either Madrid or Barcelona.
Most executives would get laughed at for suggesting such an enormous project without so much as a city picked out. Based on past experience, however, the gaming world has to assume Adelson means business when he says, "I want to do a mini-Las Vegas in Europe." He wants to call it "Europe Vegas" or "Euro-Vegas." Adelson shared the vision from a press conference in Singapore, a convenient reminder that the Sands built a behemoth out of nothing before and can do it again. At the press conference, Adleson also told reporters that the company has requested additional land from the Singapore government to expand its new $6 billion Marina Bay Sands complex.
The Sands says it is discussing its Euro-Vegas plans with officials from both Madrid and Barcelona. The vision includes up to 20,000 hotel rooms and would create 180,000 jobs. Adelson will meet with contractors in two weeks and is gathering a large enough team to break ground on several resorts at once. Before construction can begin, Spanish government officials must agree to land concessions and guarantee approval of building plans. "We need the support of the government," Adelson said. "We can't draw up a plan, give it to the building department and wait six months to get an answer."
Read more about the Sands' adult answer to Euro-Disney in the Las Vegas Sun.
Atlantic City Celebrates Revel Resumption
Five years ago, Revel investors dreamed of a $2.4 billion luxury casino resort shaped like a wave on the Atlantic City boardwalk. When the money ran out in January 2009, most Atlantic City patrons simply dreamed that the half-built eyesore at the north end of the boardwalk would wash away. But the original dream is suddenly back on track as Revel Entertainment Group announced last week that it had secured the additional $1.15 billion needed to resume construction. The resort is now slated to open in mid-2012.
Morgan Stanley, which owned 95 percent of the project, halted construction in 2009 and abandoned the sinking wave last April after writing off the majority of its $1.2 billion investment. Several of Revel's developers refused to give up on their brainchild and continued to look for funding without Morgan Stanley's help. They found rescue in the form of two very large private loans and a $261.4 million state tax reimbursement plan.
Revel CEO Kevin DeSanctis credited New Jersey Gov. Chris Christie with pushing the project forward. DeSanctis said that Revel is adding 2,100 construction jobs to the southern New Jersey market. Once the casino is open, it will provide 5,500 full-time positions.
Revel in the financial details at Bloomberg.com.
LV Air CEO Shares High-Flying Vision
LV Air CEO Sean Smith has lofty plans for his new company, a charter airline that will partner with casinos to ferry high rollers back and forth between New York and Las Vegas. Smith discussed his business concept Monday in the Las Vegas Sun, telling reporters that beginning in August, LV Air will fly four direct flights a day between JFK International Airport and McCarran International Airport. With the addition of LV Air's flights, there will be 2,495 seats arriving in Las Vegas daily from JFK.
"The goal is to fill Las Vegas hotel rooms with players, conventioneers and vacationers from the Northeast by drawing a straight line between the customer at his home to the casino floor and back again," Smith explained. LV Air plans to contract with casinos to buy seats to offer to their valued customers in the New York area. Smith said he is in talks with several potential partners and hopes to have deals in place by May.
The niche airline will provide gamblers with Vegas-style luxury from the moment they begin their trip. Smith, a former Boyd Gaming executive, described a host of amenities and conveniences that LV Air will offer travelers. He says patrons will be able to check into their hotel rooms and receive room keys at the same time they check in at the airport in New York. Bags will be delivered directly to their rooms, where flyers should arrive relaxed after a direct flight equipped with WI-FI, iPads, club music, mood lighting, and meals prepared by Las Vegas celebrity chefs.
"The way I look at it, there is a window of opportunity after the city lost around 18,000 seats coming into the market when airlines cut flights," Smith said. "Our flights may not be the lowest priced, but definitely the most exciting to Las Vegas."
Be sure to follow us on Twitter for up-to-the-minute news.