The Nightly Turbo: Nevada's Internet Poker Bill, 888's New Ambassador, and More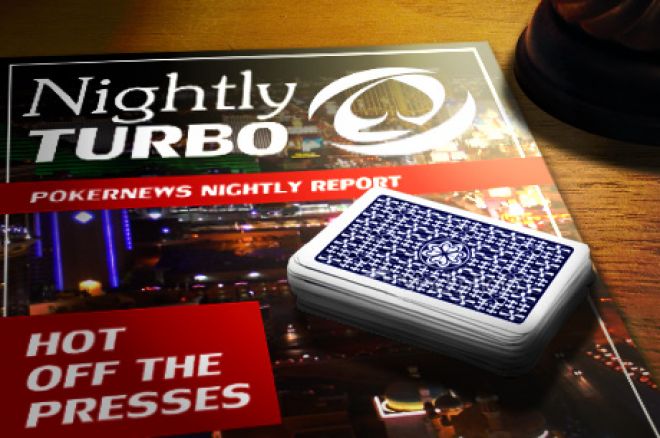 The Heat lost Sunday, meaning that the Dallas Mavericks won the NBA Championship. Nevada is also winning, in that the governor signed an Internet poker bill. We'll give you more details on that, who 888 signed as its newest ambassador, and more in this Monday edition of the Nightly Turbo.
In Case You Missed It
FSN continued its coverage of the World Poker Tour on Sunday, with the winner of the LAPC being crowned. Want to know who took down the event? Check out the WPT recap.
There were plenty of winners online Sunday. Five of whom earned six-figure paydays. The Sunday Briefing has all the results from Sunday's online majors.
Wondering what went down on Day 13 of the 2011 World Series of Poker? Read the recap.
Phil Hellmuth was denied his 12th WSOP bracelet Saturday night. Is he still the poker king?
Sandoval Autographs Internet Poker Bill
Included in the 36 bills Nevada Governor Brian Sandoval signed last week, were two bills into law that could change things for Nevada casinos.
One of the bills, Assembly Bill 294, will allow electronic gambling inside hotel rooms. Currently, guests are not allowed to use electronic gambling devices in hotel rooms or sleeping areas, but according to surveys, guests want mobile gaming in their rooms.
While you may be concerned about that, this next bit is the piece you, as a poker player, are looking for. Sandoval also signed Assembly Bill 258 into law. This bill has directed the Nevada Gaming Commission to adopt regulations that would allow Internet gambling in Nevada if the federal government legalizes it. This means that eventually the NGC could issue licenses to casinos, allowing them to offer online poker.
Want to read more? Head on over to the Las Vegas Sun's website.
Football Legend to 888 Ambassador
888.com has announced its newest ambassador, Santiago Cañizares, who is best known as goalkeeper for Valencia CF and the Spanish National Team. He has become an official European brand ambassador for 888.com and all of its brands.
"The partnership agreement with Santiago Cañizares will bolster the 888 brand presence in Spain and beyond, and we are delighted to have a sportsman of his caliber on board. We are fully confident that our exclusive partnership agreement with Cañizares will be beneficial to our brands; 888casino, 888poker and 888sport," said Itai Pazner, Senior Vice President of 888.com.
Cañizares' endorsement deal will run for one year, and he will be an integral part of 888.com's Spanish and European marketing strategy for 2011 - 2012.
Check out the press release for more on Cañizares' endorsement deal.
High Roller Arrested; Has Ties to Black Friday Defendants
Jeremy Johnson was arrested at the airport in Phoenix, Arizona, while en route to Costa Rica. Johnson, who is from Utah, was arrested on a mail-fraud charge but has ties to Las Vegas casinos, and Internet poker companies.
Last year, Johnson and his companies were sued by the Federal Trade Commission for a $289 million Internet scam. While developing the case, the FTC found out that Johnson was a high roller at Wynn Las Vegas and has also played online at Full Tilt Poker, where he lost $1.536 million. Not only that, but he did business with the Internet poker companies and had ties to Chad Elie, who's name you might recall from the Black Friday indictments. Johnson also did business with SunFirst Bank in Utah, which is part-owned by John Campos, another defendant in the Black Friday indictments.
There is also a civil case against Johnson in Las Vegas, which led to his assets being frozen. A receiver was appointed to preserve them. Last month, Johnson's attorneys requested the receiver of his assets release them to cover living expenses and legal fees, but the receiver opposed the motion. Attorneys for the FTC also opposed the request, noting that "Johnson's continuous business relationship with the Vowell brothers – the brothers with whom the Johnson defendants worked to process electronic checks for the online poker entities PokerStars and Full Tilt Poker," as one of the reasons for opposing the request.
VegasInc.com has more.
Pinnacle Poker No More
Pinnacle Sports has announced that as of June 15, it will no longer offer a poker room to its customers.
According to a statement: "The Entraction Poker Network has advised us that due to recent updates to EU gaming regulation, our current Curacao license is no longer accepted within their network. The steps required to remain within the Entraction Network will necessitate a significant commitment for Pinnacle Poker. Given that our current focus is on developing our leading Sportsbook and Casino products, we have decided not to pursue the necessary changes."
According to Pinnacle, its sportsbook and casino players will not be affected since the licensing, regulation, and management of those platforms are separate.
SportsbookReview.com has more.
How Good are Your Taste Buds?
Nicky Pickering decided to test the taste buds of some poker players over the weekend. Angel Guillen and Matthias De Meulder were her two victims. Guillen was the only one to guess right, but only got one of the four right. His prize? You'll have to watch the video to find out.
If you're not following us on Twitter, you should be. So click this and then click follow.