The Nightly Turbo: Online Poker Traffic, Playtech Positions Itself, and More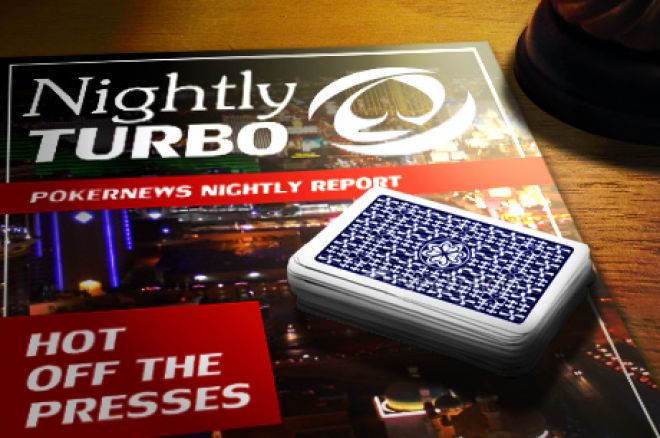 If you want to quickly get caught up on the top poker news stories of the day so you can finish railing your favorite World Series of Poker event, you've come to the right place. Keep reading for the latest online poker traffic report, news on how Playtech is positioning itself, and more.
In Case You Missed It
If you missed any of the action on Day 21 of the 2011 World Series of Poker, you should be ashamed of yourself. You should probably get caught up on the goings on in the daily WSOP recap.
Ever wondered what a day in the life of a poker player at the World Series of Poker was like? OK. Maybe we're the only ones. Either way, Jordan "Jymaster11" Young let us follow him around for a day.
The Maloofs don't own as much of the Palms as you think. Read Inside Gaming to find out how much they own and the fate of Station Casinos.
A Look at Traffic Numbers
Another week, another look a the online poker traffic numbers. It's a good thing PokerScout is around to help us figure these stats out. According to the minds and machines at PokerScout, online poker traffic slid 0.9 percent last week. And we have to say, with the World Series of Poker off and running, it's something that should be expected.
Last week, Full Tilt Poker saw an increase in traffic, but that was short-lived. In the online poker traffic update for the week of June 20, Full Tilt Poker saw a decline in traffic of 3 percent. Out of the top 10, five sites had declining stats, but it wasn't the top four, they haven't wavered in the past three weeks.
As for year-over-year stats, the Merge Gaming Network is up 103 percent, 888poker is up 87 percent, and Bodog is up 27 percent. The Cereus Network is down 95 percent year-over-year, Full Tilt Poker is down 38 percent, and PokerStars is down 22 percent.
There are way more stats than those mentioned here, so head on over to PokerScout.com for more.
Playtech Enters U.S.
In 2006, the UIGEA forced European-based gaming software development company Playtech out of the U.S. According to the Financial Times, after five years, Playtech is coming back in hopes of positioning itself to enter the online gaming market if it is legalized in the U.S.
Playtech, its partner Scientific Gaming, and the California Online Poker Association have signed a licensing agreement that will provide "play for free" poker games to COPA members. The California Online Poker Association is a group of Indian tribal governments and card rooms that are licensed to provide land-based poker in California.
Investec analyst James Hollins said, "We see California as the key state in terms of poker liquidity and COPA a highly attractive licensee within it. Playtech is therefore very well placed for potential US poker legislation, in our view."
According to Mor Weizer, Playtech's CEO "the license is expected to become one of its top five revenue generators as and when online poker becomes regulated in California."
Find out more at FinancialTimes.com.
Poker People Deserve Respect
On Sunday, a piece on poker and the World Series of Poker by Norman Chad ran on WVGazette.com.
He discusses the state of poker in the U.S., saying, "Frankly, we're tired of getting pushed around and treated like outcasts when we're doing nothing wrong. Poker is as American as baseball and apple pie, and the game involves math, psychology, money management and a variety of other nuanced skills that make hitting a 90-mph fastball look simple."
He calls out Bob Costas for calling poker players degenerates, gives his thoughts on the difference between the WSOP and the Major League Baseball World Series, and says "We catch our cheaters and label them cheaters."
He then goes into the details of his run in Event #25, the $1,500 Seven Card Stud Hi-Low-8 or Better event, where he finished 12th.
Head on over to WVGazette.com for more.
Live Poker Betting
Winmedia Ireland Limited, a TV production company, announced its new live poker betting technology. The company has been producing poker programming for ten years and in 2003 came up with the idea of live poker betting. Eight years later, the technology has been developed that will make live poker betting available.
"What's new and unique about this is that people can see the live game and place bets from the shuffle up and deal. By showing the hole cards later clients can gain more player information for the future and as a bonus the second stream keeps viewers online for an extra hour as they will all want to see exactly what happened," said Winmedia's Ian Langstaff in the press release.
"We can cover any poker tournament on our dedicated final table set and with our TV expertise can also produce a TV show for distribution as well as the live and delayed video stream. We can also supply a live and delayed perpetual poker stream from our secure studio as a betting /poker feed. The studio can be used for the final live table of online tournaments. The final 8 players can be sent to the studio and treated as VIPs as well as playing on TV."
Two streams will be available: a live stream with a myriad of statistics but no hole cards, and a delayed stream on continuous replay one hour after the live stream.

Find out more in Winmedia's press release.
There's No Other Dish
Sarah Grant caught up with Dave "The Devilfish" Ulliott at the 2011 World Series of Poker and there's not much we can say about this video, except that you have to watch it.
Be sure to follow us on Twitter for up-to-the-minute news.