The Nightly Turbo: Online Poker Bill, RFID Poker Table, and More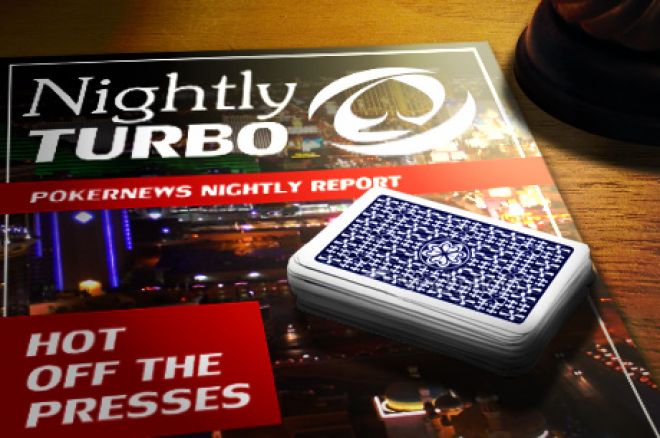 It's Friday and we probably would have linked the word Friday with Rebecca Black's song, but it's been taken off of YouTube. What news are you going to take into the weekend with you? Well, we'll tell you about a bill to legalize online poker that could be introduced next week, some news on an RFID poker table, and more. Have a great weekend, and remember, there's no hope with dope.
In Case You Missed It
You obviously know how the 2011 World Series of Poker action is faring, but what about the high-stakes online scene? Find out who the biggest winners and losers of the week were in the latest edition of the Online Railbird Report.
Did you miss any of the action from Day 17 of the 2011 WSOP? Well why don't you catch up on it all with the WSOP daily recap.
Intrastate online poker was legalized in Washington, D.C. in April.Find out more about the plans and when intrastate online poker will be launched.
It's a Long Long Journey to the Capitol City
Last week we told you about a bill that was being worked on by Representative Joe Barton that would legalize online poker.
According to The Hill, the bill could be introduced as soon as next week. The bill would not just legalize online poker, but create a new federal regulatory body that would govern the online poker sites. The Hill has confirmed with a spokesman for Barton that the draft of the bill is near completion.
The bill would allow poker sites to be registered in states where gambling is already allowed and players in all 50 states would be allowed to play. Each state would have opt-out power and would be allowed to ban online poker if it so chose.
So how does this bill become a law? It first has to go through the House Energy and Commerce Committee.

Read more about this bill on TheHill.com.
High Tech Table
A few days ago, Genting Poker announced that it was in the process of testing its first RFID poker table. It's being tested at Circus Casino Liverpool before the live stream of the Genting Poker Players Championship.
While the RFID table may look like a regular table, according to the press release, it has a system of RFID electronics that will track the movement of playing cards and will superimpose the information onto a live feed. This technology will also know which cards were dealt and will not need hole-card cameras.

Want to find out more about the RFID poker table? Read the press release at CasinoCityTimes.com.
Southern Charm
On Wednesday, Boyd Gaming Corp. added to its Mississippi roster of casinos with the completion of the purchase of the IP Casino Resort in Biloxi. As part of the $278 million deal, Boyd Gaming agreed to donate $10 million to the Engelstad Family Foundation. The money will be distributed over the next five years to various local charities.
"This acquisition is an exciting opportunity for our company," said Keith Smith, president and chief executive officer of Boyd Gaming. "It is an excellent fit for our existing business and provides further geographic diversification by giving us a presence in a leading regional destination market."
LVRJ.com has more.
Poker en Espanol
Next week, Mega TV will launch the Latino Poker Series, the only Spanish-only poker television show in the U.S. market.
"I stumbled upon Poker by watching some of the tournaments on English-speaking language TV. Soon thereafter I noticed a good friend of mine and family members playing as well. I started a home poker game every Thursday night, and this led to a natural involvement in the making of the Latino Poker Series show," said William Riveron, Executive Producer and CEO of the Latino Poker Series. "This is the right time for the show. I'm involved with players and media that know how to make it happen, plus my years of experience in marketing, production and sales, not to mention my love for the Hispanic market. 'Latino Poker Series' is an untapped, but proven model."
The half-hour show will kick off Monday June 27, and run Monday through Friday at midnight. Danny Rivera will be commentating the action and will be joined by hostess Yami Quintero and color analyst Artie Rodriguez.
"Mega TV is honored to be part of this unique and sensational project, first of its kind on the Spanish-language television market of the US. The passion for the game of Poker on English-language television has really caught the attention of millions of viewers, and each week more people continue to discover and enjoy these tournaments," said Jose R. Perez, VP of programming for Mega TV. "This is the first time there is Spanish – language televised poker tournaments in the U.S. We are very pleased that Latino Poker Series has chosen Mega TV as the launch pad. Mega TV again confirms its commitment to bring premieres and original programming to the Spanish-speaking audience in the US."
PRNewswire.com has more.
Calling the Clock: Bolivar Palacios
Lynn Gilmartin caught up with Bolivar "Ramux" Palacios at the 2011 WSOP and decided to call the clock on him. Who's the most overrated poker player? What kind of car does he drive? Find out in the video below.
Be sure to follow us on Twitter for up-to-the-minute news.