The Online Railbird Report: Alexey Makarov & Rui Cao Thrive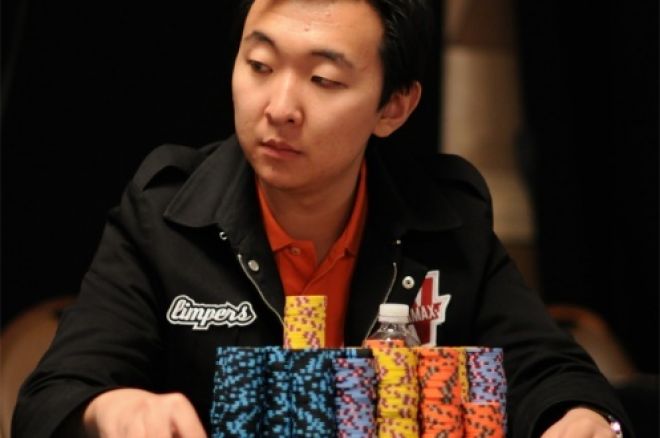 This edition of the Online Railbird Report will catch you up on all of the high-stakes online action over the past two weeks, just in case you missed it. While the 2011 World Series of Poker has dominated the headlines, that hasn't stopped the action on the virtual felt. In fact, ever since the events of "Black Friday," it seems more and more high-stakes cash games are popping up on PokerStars to compliment those on Full Tilt Poker.
So what's been happening in the online realm? Over the past two weeks, Rui "PepperoniF" Cao has emerged as the biggest winner after profiting $417,954 in 52 sessions comprised of 3,783 hands. What's more, Cao is planning on using that momentum to take on an online poker legend (You can read more on that below). On the opposite end of the spectrum, "Esvedra" was the biggest loser having dropped $210,999 in 3,284 hands over five sessions.
PokerStars' SuperStar Showdown Returns
It was five days prior to online poker's infamous "Black Friday" that Victor "Isilidur1" Blom participated in the most recent SuperStar Showdown. Now that things have had the chance to settle down a bit, PokerStars is ready to move forward with the next installment of the Showdown, that will see Blom take on Rui "PepperoniF" Cao this Sunday, June 19.
The duo will play two tables of no-limit hold'em and two of pot-limit Omaha, both at $50/$100 stakes. Rui is up over $1.7 million so far in 2011, so we imagine this will likely be one of Blom's toughest matches to date. If you want to check out all the action, visit PokerStars on Sunday at 1200 EDT (1900 GMT). You can also check out the PokerStars Blog for more details.
Updated SuperStar Showdown Breakdown
| Date | Opponent | Profit/Loss | Record |
| --- | --- | --- | --- |
| Dec. 19, 2010 | Isaac "philivey2694" Haxton | -$41,701 | 0-1 |
| Jan. 2, 2011 | Antanas "Tony G" Guoga | +$44,280 | 1-1 |
| Jan. 30, 2011 | Daniel "w00ki3z" Cates | +$51,196 | 2-1 |
| Feb. 13, 2011 | Eugene "MyRabbiFoo" Katchalov | +$111,750 | 3-1 |
| March 20, 2011 | Daniel "KidPoker" Negreanu | +$150,000 | 4-1 |
| March 27, 2011 | Daniel "KidPoker" Negreanu | -$26,500 | 4-2 |
| April 3, 2011 | Scott "urnotindangr" Palmer | -$5,425 | 4-3 |
| April 10, 2011 | Scott "urnotindangr" Palmer | +$66,607 | 5-3 |
| June 19, 2011 | Rui "PepperoniF" Cao | ??? | ??? |
| Total SuperStar Showdown Profit: $350,207 | | | |
Alexey "NoPasaran" Makarov Visits the PLO Tables
It seems players from the U.K. and France are winning bracelets every few events at the 2011 World Series of Poker. That has opened the door for the Russians to dominate the virtual felt. One such player is Alexey "NoPasaran" Makarov, who sat down at the $300/$600 pot-limit Omaha tables at Full Tilt Poker on Monday, June 13.
Makarov, who is also known as "LuckyGump" on PokerStars, took on "Esvedra" in heads-up action over four sessions that combined for 1,814 hands. In the end, Makarov emerged victorious and profited $227,000. In one of their more notable hands, Esvedra ($98,966) was on the button and raised to $1,800. Makarov ($93,086.50) three-bet to $5,400, Esvedra called, and the flop came down
. Makarov proceeded to check-call a bet of $7,000 and watched as the
hit the turn.
This time it was Makarov who took control of the action by leading out for $13,200, a bet that Esvedra called. With around $51,000 in the pot, the
was put out on the river, prompting Makarov to bet $43,800. Esvedra, who had $73,366 behind, made the call only to muck when Makarov rolled over
for queens full of sixes. Ship the $138,800 pot to Makarov.
In another hand between the two, Makarov ($70,482.50) made it $1,200 to go on the button only to call Esvedra's ($61,026.50) three-bet of $3,600 from the big blind. The latter player then led out for $4,000 on the
flop and Makarov called.
The
turn inspired Esvedra to fire out $10,400, which was quickly raised to $33,600 by Makarov. Esvedra responded by moving all-in for $53,426.50 total and Makarov made the call.
Esvedra:

Makarov:
Esvedra had turned the wheel, but it was no good against the six-high straight of Makarov. The meaningless
was put out on the river as the $122,053 pot was added to Makarov's stack.
In a final hand between the pair, Esvedra ($85,497) was first to act, opening for $1,800. Makarov ($136,547.50) exercised his option in the big blind by three-betting to $5,400, Esvedra made the call, and the flop fell
. Makarov led right out for $10,800, Esvedra called, and the
hit the turn.
Again Makarov bet, this time $32,400, and again Esvedra only called. When the
appeared on the river, Makarov bet all-in and Esvedra curiously folded, leaving himself just $36,897 behind. The $97,200 pot was sent in Makarov's direction.
Who's Up? Who's Down?
Week's biggest winners (6/4-6/16): *Rui "PepperoniF" Cao (+$417,954), *le kork (+$262,341), Alexey "NoPasaran" Makarov (+$239,570), *Terken89 (+$207,833), *therooster35 (+$201,848), XWINK (+$152,848)
Week's biggest losers: Esvedra (-$210,999), Hopelessduo (-$177,322), *Ilari "Ilari FIN" Sahamies (-$156,520), FinnishNightmre (-$146,749)
Year-to-date winners: Gus Hansen (+$3,941,000), Daniel "jungleman12" Cates (+$1,952,000), Alexey "NoPasaran" Makarov (+$1,875,348), *Gavin "gavz101" Cochrane (+$1,861,000), Matt Hawrilenko (+$1,440,000), bixiu (+$1,406,000), *Rui "PepperoniF" Cao (+$1,395,471), Phil Ivey (+$1,336,000), Patrik Antonius (+$1,157,000)
Year-to-date losers: Tom "durrrr" Dwan (-$2,474,000), kagome kagome (-$1,497,000), Eugene "fishosaurusREX" Yanayt (-$1,399,000), cadillac1944 (-$1,336,000), Esvedra (-$1,028,708), UarePileous (-$853,000)
*on PokerStars
*data obtained from HighStakesDB.com
Stay up to date on all the latest news by following us on Twitter and liking us on Facebook.