PokerNews Jet Set: Melbourne, Australia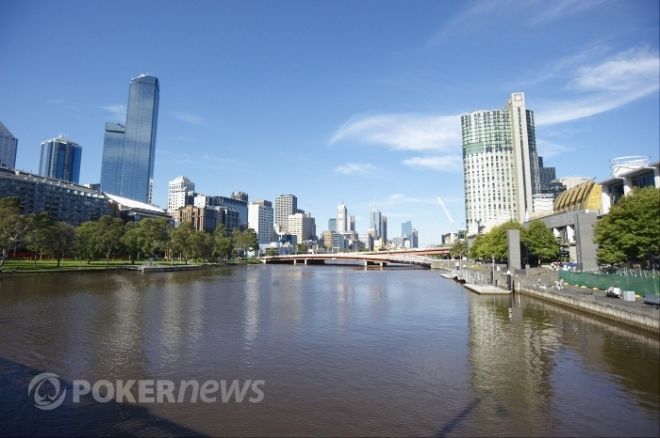 It's about time the PokerStars.net Asia Pacific Poker Tour graced the felt of Australia's biggest and best casino. Crown Melbourne is the gold-class venue for poker Down Under and is the host of the world-famous Aussie Millions. With more than 70 tables generously spread across and exclusive poker room, and surrounded by some of the city's best bars, restaurants, entertainment and four and five-star accommodation, lined across the stunning setting of Southbank, there's really not much more you need.
Luckily, Melbourne is famous for a lot more than just the stereotypical Australian beach-side lifestyle. Nightlife? Check. World-class dining? Check. Culture? Fashion? Sports? Check, check, check. I say that because at this time of year, the weather is not exactly the warmest; but who needs that when you'll be spending your days inside a poker room, right?
The Vitals

Weather: The heart of winter offers up an average of 11-12 °C which is in the mid 50s for those of you in the U.S.
Language: Despite what some may think after a couple of past experiences with American's being surprised at "how good my English is," - we speak English. The Queen's head is even on the back of our coins.
Currency: The Australian dollar is roughly 95 cents to the U.S. dollar.
Voltage: 220-240 Volts – that means to be careful when bringing any U.S.-purchased appliances. They are more than likely to blow up if you stick them in our walls.
Getting There and Around
Almost every major international airline flies into Melbourne's Tullamarine Airport, which is a 25-minute drive from the city, provided you don't arrive during peak traffic hours. Catching a taxi will cost roughly $60 AUD to take you to your hotel, or you can hop on one of the many bus services for around $16 AUD.
Ensure that you do research on whether your country of citizenship needs a visa or not. Most foreigners just require the Electronic Travel Authority, which can be easily applied for online.
A Local's Recommendations
Eat: World Bar. I love this place, and it's a short walk from the casino. It has such a cozy feel to it complete with indoor fireplaces and live music, and it's in a gorgeous spot by the river. The food is amazing and the bar offers 99 wines and 80 beers from all over the world. Rococo in St. Kilda is brilliant for tapas, and you might just happen to be in the area if you trust my following advice for drinks.
Drink: Whether it's day or night, summer or winter, St. Kilda Beach is a great spot to head to for a drink. At night, drop in to any bar along Fitzroy Street and you're guaranteed to share the dance floor with some of the most stunning girls in the city. For a "Sunday arvo" session in the sun, Vinyard on Acland Street is the best spot for a crowded but atmospheric beer outside by the beach. If you prefer a bit of space, then Metropole on Fitzroy Street would suit you a little better. And you could even pick up some gourmet, wood-fired pizzas for only $5 each during the week.
Stay: Crown. For extravagant luxury, the five-star Crown Towers is your spot. If you're more on the modern end of the spectrum, then the Crown Promenade or the newly opened Crown Metropole are both impressive, not to mention super convenient, with the Crown Poker Room just downstairs. Which leads me to…
Play: Crown Poker Room, duh.
See: The Great Ocean Road. If you've driven along California's Highway 1, Victoria's Highway 1 is our equivalent. If you can't "keep right" on our roads in a rental car, there are plenty of day-trip tour companies, too.
Shop: Chapel Street in South Yarra. This is the fashion hub of Melbourne and a great place for some of the best cafes, restaurants and bars in the city. At night this area can give a slight reflection of the Jersey Shore, but if you thrive off that and want even more, then head to Lygon Street – Melbourne's "Little Italy" – for some of the best Italian food and slicked hair you'll ever come across.
PokerStars.net APPT Melbourne kicks off on July 29 and runs through August 1 and PokerNews will be there to provide all the live updates from the felt at Crown Poker Room.
Follow us on Twitter for up-to-the-minute news.