The Nightly Turbo: WSOP Live, FS + G Global Poker Index, and More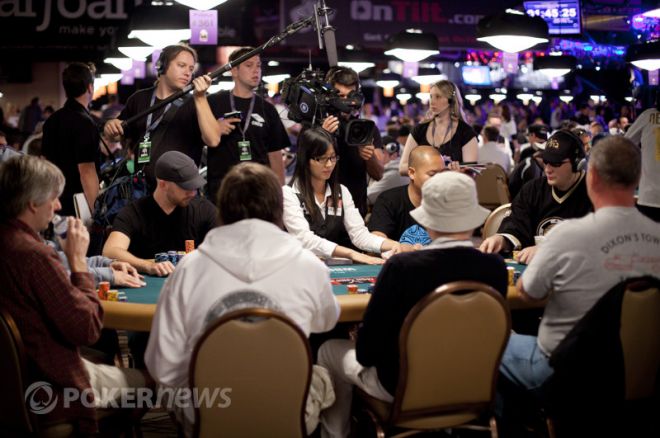 If you're looking for the top poker news stories of the day, then you've come to the right place. We've been telling you for days about the live stream of the World Series of Poker, so we figured we'd remind you one more time. We'll also tell you about Federated Sports and Gaming's Gobal Poker Index, and more.
In Case You Missed It
If you're looking to file a civil forfeiture claim regarding your online poker account, you don't have too much time left to do it. Find out what you have to do to file your claim.
Wondering what are Lynn Gilmartin's favorite videos from week seven of the 2011 WSOP? You can find out in her latest article, Around the WSOP with Lynn.
WSOP Live!
On Thursday, ESPN launched its live coverage of the 2011 World Series of Poker Main Event. The unedited "live" coverage will run every day through July 19. Each day, the coverage kicks off on ESPN3.com five minutes after the "shuffle up and deal." The coverage then picks up on ESPN2 at 4 p.m. PDT.
"From unprecedented live coverage to a greater emphasis on analysis and a stunning poker arena, we are introducing a variety of new elements to ESPN's presentation of the World Series of Poker that will enhance our multiplatform coverage and bring fans even closer to the action at poker's premier event," said Doug White, ESPN senior director of programming and acquisitions in a press release.
Now to the fun stuff that was also in the press release. Here's a look at some interesting facts about ESPN's coverage.
4.5 miles of cable
10 days to build the WSOP lighting truss structure
85 LED video panels throughout the room
150 people involved in the WSOP telecasts
700 lights used on-set
Watch the 2011 WSOP Main Event live on ESPN3.com.
FS + G Global Poker Index
Federated Sports + Gaming announced the launch of its Global Poker Index on Thursday. The Global Poker Index, or GPI, is "a patent pending system that ranks and tracks the weekly performance of the world's top 300 live tournament poker players." USA Today Sports and GlobalPokerIndex.com will house the GPI rankings, as well as EpicPoker.com.
"This system is revolutionary for poker and will provide a clear-cut, statistically definitive means for comparing the live tournament accomplishments of top players," said Annie Duke, commissioner of the Epic Poker League. "Many of the world's best players are not well known outside of the avid fan base. The Global Poker Index will not only create excitement around the rankings of the more established players, but will also put a focus on a new generation of young players."
Finishing-place, buy-in, and aging factors for each qualifying tournament is used to get a player's composite GPI score.
It's not just that, find out more at GlobalPokerIndex.com and check out the press release.
License Time in the UK
John Penrose, gaming policy and regulation minister in the U.K., recently announced a change to online gaming regulations. According to the announcement, all on- and offshore online gaming operators will be required to obtain a license from the Gambling Commission to continue to offer online gaming to U.K. players in the future.
"It means anybody based anywhere in the world who wants to sell gambling services to any consumer based in the UK will, in future, have to have a Gambling Commission licence," Penrose said.
There were no details on the tax system of the new regulations, but, according to EGRMagazine.com, the reform will be based on the point of consumption and not the point of supply.
Because there would need to be a change in primary legislation, James Hollins of Evolution Securities believes full implementation would occur in 2013 or 2014.
Read more at EGRMagazine.com.
Health PSA of the Day
We care about your health. Really, we do. If something happens to you, then you won't be able to read the Nightly Turbo, and we're pretty dependent on you for reading this. So if you were in Las Vegas for the 2011 World Series of Poker and happened to stay at Aria from June 21 through July 4, then listen up.
Cases of Legionnaires' disease have been reported among guests who stayed at Aria. In a letter to guests, Aria officials wrote, "In cooperation with the Southern Nevada Health District, Aria Resort is contacting guests who may have stayed with us from June 21 to July 4 at a time when water tests detected elevated levels of Legionella bacteria in several of our guest rooms."
Legionnaires' disease is a respiratory illness similar to pneumonia. Symptoms can develop within two to 14 days and include high fever, chills, coughing, fatigue, muscle aches, and headaches.
According to health officials, the bacteria wasn't detected in the most recent tests at Aria.
Find out more at LasVegasSun.com.
Float Like a Butterfly, Sting Like a Bee
We're not sure if the saying holds true in poker, but Aussie boxing legend Jeff Fenech is holding strong in Day 3 of the 2011 World Series of Poker Main Event. Lynn Gilmartin caught up with him to find out how his day was going.
Follow us on Twitter for up-to-the-minute news.