2011 PokerStars.com EPT Tallinn Day 5: Ronny Kaiser Wins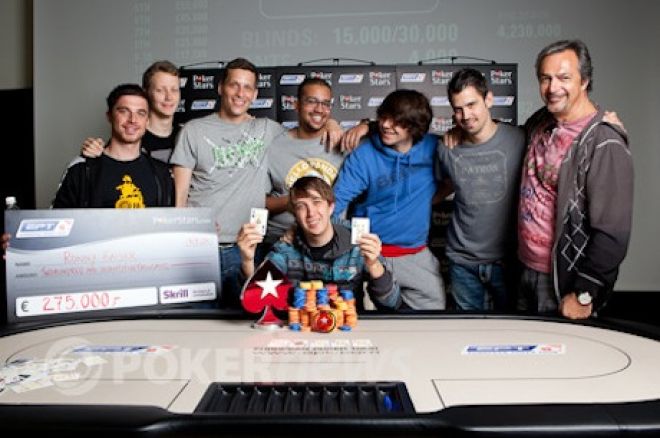 Ronnie Kaiser became Switzerland's first PokerStars.com European Poker Tour champion after he ran over the EPT Tallinn final table in four and a half hours. He defeated Grzegorz Cichocki in a short heads-up battle to claim his maiden major title and a check for €275,000.
In the final hand Cichocki raised to 60,000 before Kaiser three-bet to 165,000. Cichocki had around one million chips behind and verbally declared "all-in." Kaiser jumped up a little in his seat before announcing a call.
Cichocki tabled
to Kaiser's
and failed to catch up through the
board.
Cichocki started heads-up very well and took the majority of the early pots, but that changed quickly. Kaiser, an extremely talented player, started to run as well as he played, and that combination is almost an unstoppable force. He showed a bluff with eight-high and got maximum value with pocket aces and two-pair. Before he knew it he had stretched into a 7 million to 1.5 million chip lead. The pressure seemed to take its toll on Cichocki and he made his stand with that final hand.
Cichocki went a long way to making the heads-up battle in the early stages of Sunday's play. He raced out of the blocks and was quickly into the chip lead. It wasn't long before Kaiser reclaimed his position as table captain and his assent back to the top started when he eliminated Arvi Vainionkulma in eighth place.
Vainionkulma was freerolling after winning the Skrill (Official Payment Provider Sponsor for EPT Season 8) Last Longer contest Friday that gave him his whole buy-in back in his Moneybookers account. His
couldn't find a pair on the board to overtake Kaiser's pocket fours.
The eliminations came at a frenetic rate from there on in. Sami Kelopuro went out in a blaze of glory as he tried to river-bluff Kaiser with ace-high. Unfortunately, Kaiser had turned a straight and called the all-in to claim the dangerous scalp.
Stuart Fox was resigned to finishing sixth after he was crippled by Jani Sointula (
to
) but to his surprise and delight, Erlend Melsom got unlucky with ace-king versus the ace-queen of Sointula, before Fox had to move all-in. The PokerStars qualifier had most of his stack in the big blind the very next hand and he fell to Kaiser when his pair of eights was no match for Kaiser's trip kings.
There was a plateau in play as chips were vacuumed by the big stacks of Kaiser and Cichocki. The latter gained a lot of chips in a 1.7 million pot versus Sointula. He flopped a straight and got three streets of value out of the Finn, who call-mucked on the river. Left short, he temporarily got back in the game after doubling through Kaiser, but moments later the two were all-in again. Kaiser's
stood up to the test of the Finn's
.
In the very next hand, Estonia's final representative, Raigo Aasmaa, was following Sointula out of the door. He three-bet all-in from the big blind with
but walked into Cichocki's
. It was over by the turn when Cichocki made a flush.
In less than four hours of play, EPT Tallinn was down to heads-up, and we know how that panned out. Here's what Kaiser had to say about his victory:
"It's very nice to win. I've been the chip leader for three days, but I've got deep before and always finished 20th. This time I thought, 'I should win this.'"
On having Cichocki on his left for the last two days:
"It was funny. We were next to each other for two days, but the first big pot we played was when were heads up. It wasn't deliberate, we just busted all the other guys. It wasn't a conscious decision to avoid him, I wasn't scared."
"I said that I'll be the first EPT winner from Switzerland. I'll be playing EPT Barcelona for sure." Maybe first EPT double winner?
That's it for this stop on the European Poker Tour. In a few weeks, the team is headed to Barcelona for the second stop on Season 8. Until then, follow all the LAPT coverage on the PokerNews Live Reporting Blog.
Follow us on Twitter for up-to-the-minute news.