Pigskin Diaries Week 1: We're Back!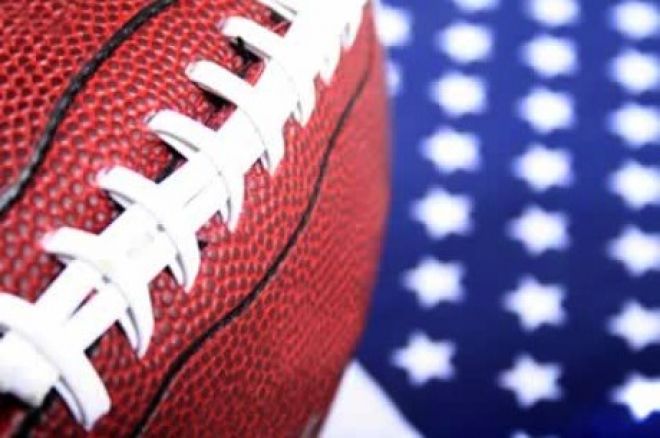 Football is back baby! After a torturous and confusing lockout, a hurried and frenzied signing period, and another uninspiring preseason, the National Football League regular season is under way. Many thanks to Aaron Rodgers, Drew Brees, and whoever scripts NFL games for last night's gem — it was truly an instant classic. Let's be honest, outside of Green Bay, Wisconsin, who wasn't rooting for Brees to drive 80 yards for a score?
Everybody who bet the Packers, of course.
Without further ado we present to you our picks for the first week of the 2011-2012 NFL regular season. We started off 1-0 last night, so let's try and continue our winning ways.
Philadelphia (-4.5) @ St. Louis
This game is scary because of how much the public loves the Eagles, and we were on the fence until we heard that Jeremy Maclin will suit up at wide receiver for the birds. Maclin was battling an "unknown illness" during the preseason, but Maclin believes he is 100 percent, according to PhillySportsDaily.com, There's also a chance that fellow receiver Steve Smith, who is recovering from microfracture surgery, will also play, giving Michael Vick all the weapons he needs on offense. Sam Bradford is poised to take a big step forward in his second year, but I'm not sure that he and the Rams will be able to keep up with the high-octane Eagles attack.
Fantasy: Last season, only Peyton Manning and Drew Brees had more pass attempts than Bradford. Rams offensive coordinator Josh McDaniels loves to throw the pill and the Rams should be down most of the game, making Bradford, Mike Sims-Walker, Danny Amendola, and Lance Kendricks interesting plays.
Pittsburgh (+1.5) @ Baltimore
This game is far too important to be played on opening weekend — it could very easily determine who wins the AFC North. The Steelers are loaded on both sides of the ball, boasting a fast, hard-hitting group on defense, and an up-tempo, efficient squad on offense. Unless the wheels fall off at some point, Pittsburgh will be a team that we ride all season. On the other side of the field, the Ravens are somewhat uninspiring. Both Ray Lewis and Ed Reed are beginning to decline because of age, while Pittsburgh defenders like Lawrence Timmons and James Harrison are just now entering the prime of their career. At quarterback, Ben Roethlisberger is leaps and bounds better than Joe Flacco, who is turning out to be more of a "game manager." Big Ben is capable of airing it out against this Ravens defense, especially here in September when the weather is more favorable.
Fantasy: Start your studs. Just because Rashard Mendenhall and Ray Rice are playing good defensive teams doesn't mean you should automatically bench them. Unless you have three top-ten running backs, they should be in your lineup.
Cincinnati @ Cleveland (-6.5)
Betting against Andy Dalton could potentially become our new favorite pastime. Conversely, Colt McCoy is an incredibly accurate and gutty quarterback who is capable of leading the Browns to an above five hundred season. Believe that.
Fantasy: Avoid all Bengals, including Cedric Benson. For the Browns, keep your eyes on rookie Greg Little. He's not a starter yet, but in the coming weeks he could easily become a flex player.
Detroit @ Tampa Bay (-1.5)
We need a refresher. Can someone tell us which one of these teams won ten games last year? Now which one is the most overhyped team in the NFL? The Lions are super talented (we have Calvin "Megatron" Johnson on nearly all of our fantasy teams), but there is no more room on the bandwagon. The hype went way too far with this team, and this line reflects that. We always like to try and fade the public. If all of the money is on one team, like it is here, often times we're going to bet on the other side. There is no way the Bucs should be giving less than three points at home against the Lions, but because everyone is so pro-Detroit the line is skewed. Fade the public, fade the hype, and bet Tampa Bay.
Fantasy: Josh Freeman had a breakout season in 2010, making him a viable starting quarterback even in ten-team leagues, but the Lions front four will create problems for him on Sunday. You may want to bench him if you have other options at quarterback.
Atlanta (-2.5) @ Chicago
If the Falcons were at home we'd be doing The Dirty Bird without hesitation, but Atlanta is a bit soft outside of the Georgia Dome (see Week 1 of last year). The Bears are a complete mystery. Offensive coordinator Mike Martz successfully gutted the offense by removing the pass-catching tight ends (Greg Olsen and Desmond Clark) and bringing in one of his favorite receivers (Roy Williams). Jay Cutler remains a question mark, as well. We're not buying into the Falcons hype either though. Despite finishing with 12 wins last year they were embarrassed in the playoffs, and we still don't trust their defense. This feels like a stay away game.
Fantasy: Ryan should probably be benched — this game has Michael Turner written all over it.
Indianapolis (+9) @ Houston
Has Houston ever been favored by nine points or more and covered? (That's not a rhetorical question. We genuinely don't know.) Kerry Collins isn't Peyton Manning, but he's not Curtis Painter either. Collins is very competent, and with the weapons the Colts have, this won't be a blowout. Matt Schaub, Andre Johnson, and Arian Foster are certainly capable of lighting up the scoreboard, but something stinks about this line. Let's take the Colts and hold on for dear life.
Fantasy: Reggie Wayne, Dallas Clark, and Joseph Addai are the only Colts you should consider starting.
Tennessee (+2) @ Jacksonville
So you're telling us we're getting points with Chris Johnson against a team that cut its starting quarterback this week? Where do I sign?
Fantasy: Maurice Jones-Drew is the only Jaguar with significant fantasy value.
Buffalo (+6) @ Kansas City
The Bills are actually a fairly talented team, but because they're stuck in the AFC East, they can never escape with a respectable record. Ryan Fitzpatrick is an above average quarterback, Fred Jackson is a gritty, tough back, and Stevie Johnson is a legitimate deep threat. These two teams met last year at Arrowhead Stadium, and Kansas City squeaked out a three-point win. The Chiefs, who won the AFC West last year by the hair on their chinny chin chin, struggle against good teams, and the Bills shouldn't be taken lightly. We like Buffalo to win outright — and to be a pest all year.
Fantasy: Fred Jackson could have a very nice game, especially in point-per-reception leagues. Dwayne Bowe is a start but keep an eye on him — he regressed mightily at the end of the 2010 season.
Seattle (+5.5) @ San Francisco
Tarvaris Jackson, or Alex Smith? Can we pick neither? Please? No?
This game has change the channel written all over it, and we would stay away, but if you absolutely have to wager on it, then take the Seahawks points. No outcome would surprise me, so having that extra cushion is always nice.
Fantasy: Frank Gore is a beast and should always be in your lineup, and the only other playable Niner is Vernon Davis. For the Seahawks, Sidney Rice and Marshawn Lynch can be in your lineup, but Lynch is safer than Rice because of Jackson's erratic play at quarterback.
Carolina @ Arizona (-7)
Here's lookin' at you, Kevin Kolb. Last year, Derek Anderson, Max Hall, and John Skeleton all failed miserably at getting Larry Fitzgerald the ball, but he still had 90 receptions. I think they finally have an NFL quarterback in Arizona, which will make the team immeasurably better. The Panthers are returning a handful a solid veteran players, especially on defense, but is Cam Newton really capable of competing at the next level with only five weeks of training camp under his belt? We think not. Unless DeAngelo Williams and Jonathan Stewart dominate the game, the Cardinals should be able to beat the Panthers by more than a touchdown.
Fantasy: Greg Olsen will be Newton's security blanket when he can't get the ball down field, giving him a chance to be a fantasy stud this and every week.
Minnesota @ San Diego (-8.5)
This feels like the year that Norv Turner finally gets it together. The Chargers led the NFL in total offense and defense last year, but missed the playoffs because of horrible special teams play. With the new kickoff rules they won't have to worry about kick returns, and their offense will improve with the return of Vincent Jackson and a healthy Antonio Gates. The Vikings lost a key offensive weapon in Sidney Rice but traded for veteran quarterback Donovan McNabb. They will rely on Adrian Peterson more than ever, which is worrisome because the running back position is so injury-prone. We're expecting Philip Rivers and the Chargers to make a statement on Sunday — a 42-10 final isn't out of the realm of possibilities.
Fantasy: Mike Tolbert is much more reliable than Ryan Matthews, especially in PPR leagues. Not only does he catch the ball more frequently out of the backfield, but he also gets the bulk of the carries near the goal line.
New York Giants @ Washington (+3)
Sexy Rexy time! Rex Grossman will start the season as the Redskins signal caller, which is probably best because he has more in-game experience than backup John Beck. Say what you will about Grossman, but he once led a team to played in the Super Bowl. The most exciting offensive player on Washington is Tim Hightower, though, because he has a shot to be one of Mike Shanahan's "guys." Hightower is a one-cut back with a decent burst who is capable of making plays out of the backfield. For the Giants, the preseason has been terribly disappointing. They lost their first-round pick Prince Amukamara for half of the season, defensive end Osi Umenyiora and linebacker Jonathan Goff have been sidelined with knee injuries, and defensive back Terell Thomas will miss the entire season with a torn ACL. Plagued with injuries, the team limps into the season against a division rival with nothing to lose and everything to gain — never a good proposition. We also like home dogs, which makes this pick pretty simple.
Fantasy: Santana Moss has more upside with Grossman than Beck, so play him while you can. For the Giants, Eli Manning, Hakim Nicks, and Mario Manningham could be boom or bust. We're cautiously optimistic about the trio, but things look grim in New York.
Dallas @ New York Jets (-5)
*HOMER ALERT*
For those who don't know, I am a huge Jets fan. My family has had season tickets since 2000, and I was named after former quarterback Richard Todd. Yeah, it's that serious. All bias aside, though, the Jets have an edge over the Cowboys because of their play at cornerback. Darrelle Revis is capable of shutting down either Miles Austin or Dez Bryant completely, and Antonio Cromartie has the height, speed, and length necessary to cover Jason Witten when he breaks off of the line. Up front, gang green boasts one of the best rush defenses in the league and should be able to contain Felix Jones and Tashard Choice. The biggest concern is on offense. Rex Ryan's brother Rob Ryan is Dallas' new defensive coordinator, and he, like Rex, will dial up blitzes the entire game. If Mark Sanchez can protect the ball, and Shonn Greene and LaDanian Tomlinson can move the chains, the Jets should be able to control the clock — and the game.
Fantasy: Start your studs on Dallas. Greene and Santonio Holmes are the only players on the Jets that should be in your lineup.
New England (-7) @ Miami
In the past, the Dolphins were always capable of sneaking away with a win at home against the Pats. This year, the game is the first Monday Night Football tilt of the season, and with everyone watching, nothing is going to sneak by Bill Belichick and Tom Brady. This has all the makings of a typical Pats route with the final score looking something like 45-13. There will be things to look for though, like (1) How Reggie Bush fares as a feature back and whether Daniel Thomas spells him frequently, (2) Whether Chad Ochocinco a factor, (3) What effect Stevan Ridley has, and (4) Whether the Pats defend the same without Brandon Meriweather?
We fully expect this to be a blowout, but even still there is a lot to learn from each and every NFL game.
Fantasy: Aaron Hernandez and Rob Gronkowski are both playable tight ends, with Hernandez having more upside.
Oakland @ Denver (-3)
The Broncos will be a much more balanced team this year with John Fox at head coach, and its defense will improve mightily now that Elvis Dumervil is back and healthy. For the Raiders, it's the same old same old minus all-world corner Nnamdi Asomugha. For the first time ever (college included), Jason Campbell will start the season with the same offensive coordinator that he had the previous year. This is great for him because he knows the playbook and the terminology, but the team is still very average. Neither of these teams are exciting (what a horrible choice for primetime), but the Broncos are more stable (get it?), so we'll lay the three points.
Fantasy: All Darren McFadden owners should also own Michael Bush. Even if you have to trade a better bench player, it's worth it because Bush's upside if McFadden suffers and injury is astronomical.
Season Record: 1-0
This Week: 1-0
Follow us on Twitter for up-to-the-minute news.
All betting lines are from Covers.com, and are accurate as of 11 a.m. EST
*Photo courtesy of EbonyBird.com