The Pigskin Diaries Vol. 20: Super Props and the Super Bowl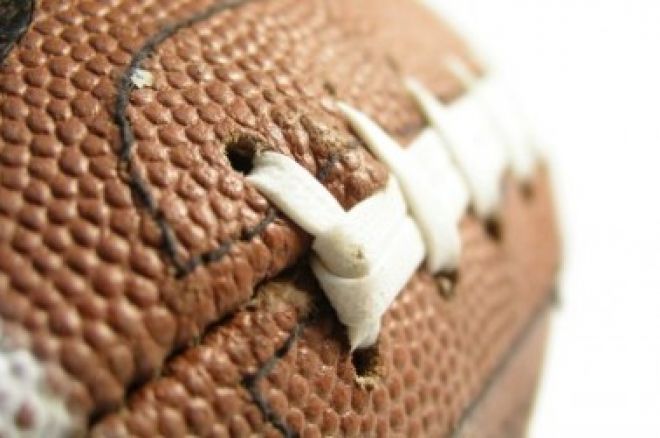 The Pittsburgh Steelers and the Green Bay Packers meet in Super Bowl XLV on Sunday, and there are hundreds of props to throw money at. These aren't your ordinary red/black bets either. You can bet on anything from Fergie's outfit at halftime to the number of times FOX shows Cowboys owner Jerry Jones. Shown below is a list of 15 props we like – some are serious, some are not – and, of course, our pick for the big game.
1. How long will Christina Aguilera hold the note "Brave" at the end of the National Anthem? Over (-140) or Under (EVEN) 6 seconds?
Aguilera sang the National Anthem before Game 7 of the 2010 NBA Finals and she held the note for exactly 6 seconds. This isn't the NBA Finals though; this is the Super Bowl. "Brave" is the biggest note on the biggest stage and, if Aguilera is smart, she is going to squeeze every second she can out of it.
2. What will be the result of the coin toss? Heads (-105) or Tails (-105)?
Tails never fails. D'uh.
3. Will there be a score in the first 6 minutes and 30 seconds of the 1st quarter? Yes (-130) or No (EVEN)
It's going to take these teams a few minutes to get going, and if Pittsburgh gets the opening kickoff, they're going to take their sweet time to keep Aaron Rodgers off the field. In three of the last five Super Bowls, it has taken over 6 minutes and 30 seconds for a team to score. In one of those games, Chicago Bears kick returner Devin Harris took the opening kick back for a touchdown — and the next score didn't come for another 9 minutes.
4. Who will score the first touchdown in the game? Ben Roethlisberger (14-1) or Aaron Rodgers (14-1)
The player who catches or runs for a touchdown gets credit for this prop – so why are we picking a quarterback? Both Roethlisberger and Rodgers ran for touchdowns in their respective conference championship games and are very dangerous out of the pocket. Moreover, the value of these bets is too good to pass up. Rashard Mendenhall (5-1), Mike Wallace (8-1), Hines Ward (12-1), Heath Miller (10-1), Greg Jennings (13-2), Donald Driver (12-1), James Jones (12-1), James Starks (17-2) and John Kuhn (12-1) all have worse odds, yet only Roethlisberger and Rodgers touch the ball on every play.
5. Total receiving yards for Hines Ward: Over 42.5 (-125) or Under 42.5 (-105)?
In his last seven games, Ward's receiver yards look like this: 13, 115, 34, 38, 45, 25, 14. He's no longer a big presence in the passing game, thanks to Wallace's emergence, Miller's consistency, and the growth of rookies Emmanuel Sanders and Antonio Brown, yet the public still see's him as a number one receiver. This number is way too high and the under is clearly the right play.
6. Total rushing/receiving yards for John Kuhn: Over 17.5 (-115) or Under 17.5 (-115)?
This game is going to be a nightmare for all three Packer running backs, and Green Bay could definitely abandon the run if the Steelers jump out to an early lead. Kuhn has rushed for only 8 yards during the playoffs and will have to catch a big pass or two to make the over.
7. Total passing yards for Aaron Rodgers: Over 275.5 (-135) or Under 275.5 (+105)?
The entire public is going to bet the over here and that's exactly why we love the under. Rodgers has only thrown for over 275.5 yards once during the playoffs (against a very average Atlanta team), and the last time the Steelers gave up more than 275.5 passing yards was Week 10 against the Offensive Player of the Year Tom Brady.
8. Total receiving yards for James Jones: Over 39.5 (-125) or Under 39.5 (-105)?
This is a bit of a shot in the dark, but if there is a Packers receiver with an upside its Jones. Jennings, Driver and Jordy Nelson are way too high at 82.5, 45.5 and 42.5 yards respectively while Jones is a legitimate receiver with a much smaller line. Rodgers tends to distribute the ball equally, so take the player with the best value.
9. Total tackles/assists for Clay Matthews: Over 4.5 (-115) or Under 4.5 (-115)?
Matthews is a pure rush linebacker and in the six games he failed to record a sack this season, he only made over 4.5 tackles twice. This is important because Roethlisberger is extremely tough to sack and if the Steelers run the ball frequently then Matthews wont even be on the field. Again, this one of those lines where the public bets the over because Matthews is a household name, when in reality the under is clearly the right play.
10. How many times will FOX mention Brett Favre on TV during the game? Over 2.5 (-160) or Under 2.5 (+120)?
The key here is that either Joe Buck or Troy Aikman have to say "Brett Favre" in its entirety for it to count. "Favre," "The Old Gunslinger," "Number Four" and "The Guy Who Sends Inappropriate Text Messages" do not count toward the total. We assume that if they do mention Favre it will be brief and they will use his surname more than his full name.
11. Which will be higher on February 6, 2010, Ben Roethlisberger's Completions or Paul Pierce's Points?
On Sunday, Paul Pierce plays the Orlando Magic, a very bad team on defense, but Pierce is averaging only 16 points per game against the Magic and 19 points per game overall. Roethlisberger's completed 19 passes or more in six of his last eight games and the Steelers are much more of a passing team than people give them credit for.
12. Will a punt hit the scoreboard? Yes (+750)
One time!!!
13. Will a Steelers player do the Aaron Rodgers championship belt celebration during the game? Yes (+115) or No (-155)?
When Rodgers was on the Packers practice squad, he would gesture like his was wearing a wrestling belt if he made a big play. He kept the celebration when he became the starting quarterback, and now every time he makes a big play, he shows off the fake belt. During the course of the season, a few defenders have mimicked the celebration, and the Steelers have enough swagger on defense with LaMarr Woodley, James Harrison and Larry Foote that this bet is a near lock if one of them sacks or even tackles Rodgers. The only hard part is going to be catching the elusive quarterback.
14. Will there be a defensive or special teams touchdown? Yes (+140) or No (-170)?
There are a handful of defensive playmakers on both teams who are capable of taking a turnover to the house. Even Green Bay's 337-pound defensive tackle B.J. Raji recorded a pick-six against Chicago in the NFC Conference Championship game. The big fella picked off Caleb Haine in the fourth quarter, ran 16 yards into the end zone and then performed the most disturbing dance in history.
15. What color will the Gatorade be that is dumped on the head coach of the winning team?
Blue (5-1)
Clear/Water (2-1)
Lime Green (5-1)
Orange (3-1)
Red (15-2)
Yellow (3-2)
Yellow is the original Gatorade color and it's also the Gatorade color that Steelers head coach Mike Tomlin was splashed with two years ago. If history is any indication and we assume that the Packers drink a random Gatorade color on their sideline, then it's clear that yellow is the play.
Ok, enough with the prop bets, it's game time.
Pittsburgh Steelers (+3) vs. Green Bay Packers
For most of the Steelers players this is their third trip to the Super Bowl, and experience is a major factor. During the two weeks leading up to the game, there is a lot of room for distraction and the Packers dealt with a lot of drama in regards to their team photo. Jermichael Finley and Nick Barnett were put on injured reserve during the regular season and were originally scheduled to miss the photo shoot until they complained on Twitter. Rodgers fired back saying that the two should be rehabbing in Green Bay rather than at their homes outside of Wisconsin, and after some more bickering, the schedule was changed and the two will be in the photo. Steelers players publicly guffawed at the situation. Experience is paramount on the field, as well. Jitters and nervousness will most likely linger on the Green Bay sideline, and if Pittsburgh jumps out to an early lead, it will be interesting to see how Rodgers and his teammates react.
The Steelers' running game will ultimately be the deciding factor in the game. If Mendenhall can consistently move the chains then Pittsburgh will dominate the flow of the game, keep their defense fresh and keep Rodgers off the field. Despite losing rookie all-pro center Maurkice Pouncey in the AFC Conference Championship game, Mendenhall ran for 121 yards and a touchdown against the New York Jets who were ranked third in run defense. He set the tone by leading the Steelers on a nine-minute scoring drive to open the game and converted a handful of key third downs throughout the contest.
Green Bay's offense is electric and they could certainly move up and down the field, but if Pittsburgh slows the game down then they have a clear advantage.
Steelers 20 Packers 17
MVP: Rashard Mendenhall (15-2)
Betting lines provided by Bodog and accurate as of 10:00 a.m. PST. Remember to follow us on Twitter for up-to-the-minute news.