Las Vegas Life with Kristy Arnett: From PCA to Super Bowl Weekend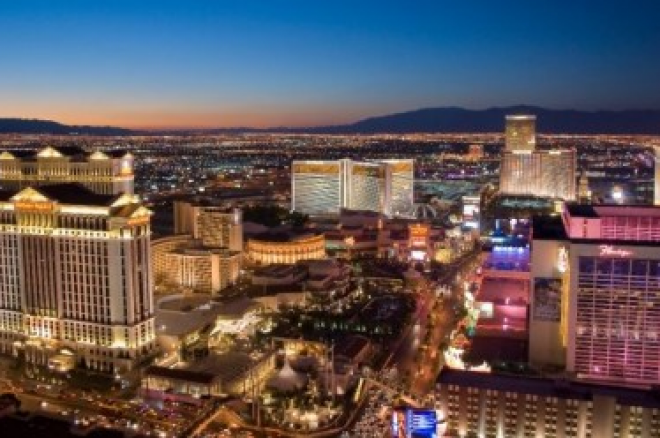 My 2011 kicked off with me leaving unseasonably cold Las Vegas for a two-week trip to the Bahamas to cover the PokerStars Caribbean Adventure for PokerNews. I have a tough life, I know. It was an amazing trip full of fun story lines, made even better by the fact that Sarah Grant made her public debut as the newest PokerNews hostess. She has been working with us as a producer, doing genius things behind the camera for the past few months, but when we needed another gal, she was ready to rise to the challenge. Of course though, whether a seasoned pro or a newbie, we all have our weak moments. Here's a recap with bloopers from the PCA.
Since being back in Vegas, I've been catching up on work, including filming Sunday Grinds. The most recent aired was Johnathan "Fatal1ty" Wendel. I remember seeing him on MTV years ago when he was featured on True Life: I'm a Gamer. For those of you who don't know who he is, Wendel specializes in first-person shooter games, and he's good, real good. He's one of the nicest guys in person, but take my word for it, you don't want to play Call of Duty with him. He shot and knifed me in a matter of seconds! Just watch.
I have also been catching up on some much-needed time on the poker felt. Two major tournament series have been going on in town including the Caesars Palace Winter Poker Classic and the Venetian Deep Stack Extravaganza. After shooting a Sin City Series at Caesars Palace, I decided to play in the heads-up event. I ended up min-cashing in eighth place, which was pretty frustrating, but the coolest event of the series in my opinion was the qualifier for the NBC National Heads Up Championship. For $240, you had a shot at playing in the invitation-only $25,000 buy-in event. Head PokerNews blogger Donnie Peters and I decided to play, and when we got there, we saw the likes of Brandon Cantu, Kathy Liebert, Tom McEvoy, and Theo Tran. Registration was open for more than four hours, so there were many late entries including Justin Young who told me that he didn't even know about the event until an hour after it started. His friend Eric Baldwin called Young while he was on his way. It turned out that two friends who had played heads up for the NAPT Los Angeles Shootout title a few months ago would go heads-up for the seat. In the shootout, Baldwin got the best of Young, but in the case of the NBC National Heads Up Championship seat, it went to Young.
The Winter Poker Classic series-ending Main Event started yesterday, so if you missed out, you'll have to head to the Venetian. I got to talk to Kathy Raymond, the director of poker operations, abut the Deep Stack Extravaganza.
This upcoming weekend is huge for Las Vegas. Visitors from around the world come to town to bet on and watch the Super Bowl. There are a number of ways to enjoy the game, but if you're not into standing shoulder-to-shoulder inside an overcrowded sports book, you can always fork over a little extra cash for comfort. At Lagasse's Stadium at Palazzo, you can secure a table if you spend a minimum of $200 on food and drinks. For the same price, you can also enjoy all you can eat and drink at Blondie's inside the Miracle Mile shops at Planet Hollywood. If tailgating is more your style, you can check out RHUMBAR at the Mirage. The party is happening on the outside patio, and patrons can have as much beer, nachos, bratwursts, and Bloody Marys they can consume for $125. No matter where you decide to watch the Super Bowl, don't forget to play some poker. The action should be particularly loose and juicy.
Don't forget to follow us on Twitter for up-to-the-minute news and like us on Facebook.