The Online Railbird Report: Good Week for Hastings & Galfond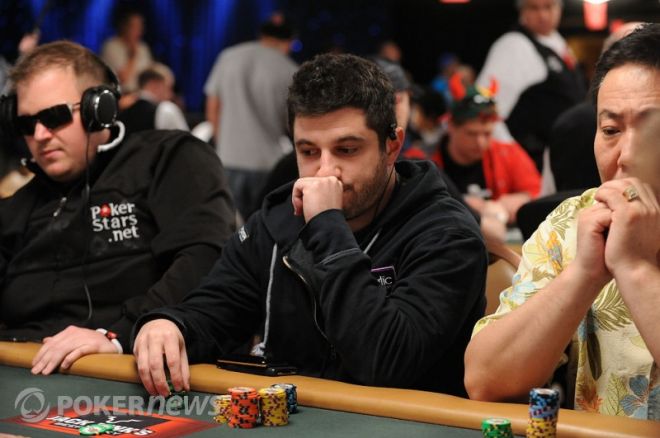 With PokerStars' WCOOP in the rearview mirror, the spotlight shifts back to the high-stakes cash games that really took off in the month September. In fact, depending on the last few days of the month, both Ilari "Ilari FIN" Sahamies and Rafi "refaelamit" Amit could book over $1 million in winnings for the month. That number wasn't all that impressive a year or two ago, but it's certainly something to brag about after Black Friday.
The biggest winner this week ended up being Brian "$tinger 88" Hastings who booked a nice $365,874 win in just 5,054 hands spread across 49 sessions. Right behind him was "socutiesf" with $350,150 in winnings over 224 sessions (23,083 hands). Rounding out the top four was Phil "MrSweets28" Galfond ($292,754 in 150 sessions/17,891 hands) and Amit ($251,095 in 91 sessions/6,982 hands).
On the flip side, Andreas "Skjervøy" Torbergsen and Sahamies ended up the biggest losers, with the former dropping $235,868 in 4,219 hands spread across 51 sessions. Meanwhile, Sahamies hurt his chances of finishing the month with $1,000,000+ by losing $196,660 in 58 sessions of 5,970 hands.
Galfond & Company Getting Busy
On Monday, Galfond was busy grinding the $50/$100 6-max pot-limit Omaha tables and put in 8,000 hands. He played for 12 hours against the likes of Sahamies, Amit, Gavin "gavz101" Cochrane, Rob "Vaga_Lion" Akery, Torbergsen, Hastings, and Jens "Jeans89" Kyllönen, just to name a few. In the end, he emerged as the biggest winner of the day with $153,000 in profit.
Surprisingly, Galfond wasn't involved in the biggest hands of the day, which you can see below:
"mTw-DaviN" Snags a $111,000 Pot
Davin "mTw-DaviN" Georgi didn't fare too well at the tables on Monday. However, despite finishing in the red, Georgi did take down the biggest pot of the day at a five-handed $50/$100 PLO table that saw "Bucketned" ($53,937) raise to $300 under the gun. Jens "Jeans89" Kyllönen ($9,275), who was next to act in the cutoff, then made it $1,150 to go, and Georgi ($90,378) opted to four-bet to $3,950 from the small blind. The other two players made the call and they were three-handed to the
flop.
Georgi led out with a modest bet of $2,650, which Bucketned raised to $19,998. After Kyllönen got out of the way, Georgi three-bet to $72,042, and Bucketned called off his remaining $29,989.
Showdown
Georgi:

Bucketned:
Both players had flopped a flush draw, but Georgi's was superior. Bucketned's best hope to win was to catch his open-ended straight draw, but the
turn blanked and the
river gave his opponent the nut flush. While he went on to lose, the $111,982 pot likely eased Georgi's pain.
One for Sahamies
Like the aforementioned Davin "mTw-DaviN" Georgi, everybody's favorite high-stakes Finn, Sahamies, managed to lose in the game, but not before taking down a big pot. The hand in question began when Torbergsen ($57,890.19) raised to $250 under the gun, which was called by both "EireAbu" and "!POkrparty?". When action reached Sahamies in the small blind, he exercised his option with a three-bet to $1,450. Both Torbergsen and the other two limpers called, and it was four-way action to the
flop.
Sahamies was first to act and checked, opening the door for Torbergsen to bet $3,903. Action folded back to Sahamies and he made the call, followed by a check on the
turn. Torbergsen wasted little time in betting $13,804, and Sahamies responded with a check-raise all-in for $40,657.50. Torbergsen made the call and showed
for top two pair, but it was no good against the
set of Sahamies. The
river changed nothing, and Sahamies took down a pot worth $95,061.
Welcome Back, Harrington10!
It's been a long time since we've seen Jared "Harrington10" Bleznick at the high-stakes tables — pre-Black Friday in fact — but that all changed this week when he made an appearance on PokerStars. According to the site, Bleznick has relocated to Mexico, making him just another poker player who has relocated to continue playing online.
While his weekly results weren't anything special, he did mix it up at the $50/$100 PLO tables on Tuesday. In one of his more notable hands, Bleznick ($39,594.50) was playing heads up against "terryhsu" ($10,198.75) when the latter raised to $300 on the button. Bleznick responded with a three-bet to $900, terryhsu called, and the flop came down
. Bleznick immediately led out for $899.75, terryhsu called, and the
appeared on the turn, which both players checked.
When the
peeled off on the river, Bleznick checked and terryhsu bet $1,799.50. At that point, Bleznick woke up with a check-raise to $8,997.50 and terryhsu called all-in for his remaining $6,599.50 with his
flush. Unfortunately for him, Bleznick held a higher flush with
to take down the $20,397.50 pot.
Who's Up? Who's Down?
Week's biggest winners (9/23-9/29): Brian "$tinger 88" Hastings (+$365,874), socutiesf (+$350,150), Phil "MrSweets28" Galfond (+$292,754), Rafi "refaelamit" Amit (+$251,095)
Week's biggest losers: Andreas "Skjervøy" Torbergsen (-$235,868), Ilari "Ilari FIN" Sahamies (-$196,660), !P0krparty¡ (-$192,618)
Year-to-date winners: *Gus Hansen (+$3,941,000), *Daniel "jungleman12" Cates (+$1,952,000), *Alexey "NoPasaran" Makarov (+$1,875,000), Rafi "refaelamit" Amit (+$1,814,000), *Matt Hawrilenko (+$1,440,000), *bixiu (+$1,406,000), *Phil Ivey (+$1,336,000), Andreas "Skjervøy" Torbergsen ($1,283,000)
Year-to-date losers: *Tom "durrrr" Dwan (-$2,474,000), *Eugene "fishosaurusREX" Yanayt (-$1,399,000), *kagome kagome (-$1,377,000), *cadillac1944 (-$1,336,000), *Esvedra (-$1,182,000), *UarePileous (-$837,000)
Biggest weekly winners/losers all on PokerStars
*Reflects Full Tilt Poker profit/loss
Data obtained from HighStakesDB.com
Stay up to date on all the latest news by following us on Twitter and liking us on Facebook.