The Online Railbird Report: Blom on a Major Roller Coaster Ride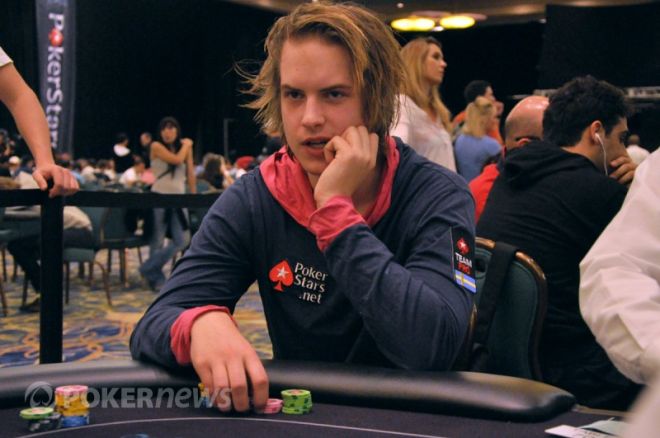 It may be a bit premature, but it appears the high-stakes games and subsequent $500,000 to $1,000,000 swings are back. Last week, Ilari "Ilari FIN" Sahamies became the first post-Black Friday million-dollar winner when he dismantled Viktor "Islidur1" Blom. Unfortunately, Sahamies didn't hold on to it for long. That's right, Blom managed to snag it right back by winning $1 million of his own in 24 hours last weekend. As if that wasn't enough, the high-stakes action continued throughout the week, and we doubt it will show any signs of slowing because top professionals are reserving their time for the upcoming WCOOP.
Even though Blom managed to win a hefty million off Sahamies, he went on to lose a little back in the high-stakes games. Nonetheless, he emerged as the week's biggest winner banking $630,624 in 43 sessions comprised of 4,397 hands. Andreas "Skjervøy" Torbergsen also had a good week, winning $334,293 in 2,497 hands spread across 24 sessions. Torbergsen's performance gave him enough to move ahead of Daniel Cates into second on the year-to-date winner's list, though he still trails Gus Hansen by $2 million.
Obviously Sahamies was the week's biggest loser, dropping $1,061,181. A couple of other high-stakes regulars also had less than stellar weeks. Phil "MrSweets28" Galfond managed to lose $347,326 in 63 sessions comprising 9,110 hands, while Gavin "gavz101" Cochrane saw $204,403 disappear throughout 1,246 hands in 21 sessions.
Sahamies vs. Blom
On Saturday, Ilari "Ilari FIN" Sahamies and Viktor "Isildur1" Blom continued their epic battle, but this time it was the latter who emerged victorious. In an early match, the Swede took around $420,000 from the Fin, sweetened by another $100,000 win off Gavin "gavz101" Cochrane. While half a million is good, a million is much better.
Looking to get some money back, Sahamies returned for another match against Blom, playing a three-hour session at the $100/$200 heads-up pot-limit Omaha tables. As it turned out, their early match was just an appetizer to the main course, because Blom won another $726,000, bringing his total for 24 hours to over a million dollars!
The match didn't bode well for Sahamies, who appeared to have turned around a pitiful 2011 where he began the month of August $1.4 million in the black. While it was back to losing for the Fin, Blom seemed to be headed in the opposite direction. Not only did he erase his big loss to Sahamies the week before, he had also won more than $600,000 in the previous two days, bringing his total profit to right around $1.4 million, or $1.7 million on the year.
In the biggest hand between the two, Sahamies ($117,889) raised to $600 on the button and Blom ($267,691) responded by making it $1,800 to go. Sahamies four-bet to $5,400, Blom five-bet to $16,200, Sahamies called, and the flop fell
. Surprisingly, both players checked and watched the
hit the turn.
Blom wasted little time in betting $32,398, Sahamies called, and the
peeled off on the river. Blom ended up check-calling Sahamies' all-in bet of $69,291 and showed
for sevens full of tens, which easily beat Sahamies'
. Send the $235,778 pot to Blom.
Even though Sahamies had a rough day, he managed to snag a few pots. In one such pot, Blom ($145,326) was on the button and raised to $600 only to have Sahamies ($125,848) exercise his option in the big blind by three-betting to $1,800. Blom made the call and watched as Sahamies fired out $3,598 on the
flop. Blom pushed back to the tune of $14,392, Sahamies called, and the
appeared on the turn.
Sahamies checked, Blom bet the size of the pot ($32,382), Sahamies moved all-in for $109,656, and Blom called the additional $77,274. The
was put out on the river and Blom rolled over
for missed straight and flush draws, while Sahamies'
two pair was enough to win the $251,696 pot.
In another notable hand between the two, Blom ($418,544) raised to $600 on the button, Sahamies ($115,268) three-bet to $1,800, Blom four-bet to $5,400, Sahamies called, and the flop came down
. From there, Sahamies check-raised Blom's $10,798 bet to $43,192, Blom reraised to $140,374, and Sahamies called off his remaining $66,676.
Showdown
Blom:

Sahamies:
Sahamies had flopped the nut straight but needed to avoid the board pairing because Blom flopped top set. Unfortunately for Sahamies, the
spiked on the turn to give Blom quads and a lock on the $230,536 pot. The meaningless
was put out on the river while Sahamies was left to rebuy.
Blom Spreads the Wealth
As if winning $1.4 million wasn't enough, Viktor "Isildur1" Blom returned to the $100/$200 PLO tables after busting from Day 1b of the European Poker Tour Barcelona. Alas, Blom's choice turned out to be a poor one as he proceeded to drop $300,000 in just 1,500 hands. To say he was tilted would be an understatement.
One man who benefited from Blom's return was Andreas "Skjervoy" Torbergsen, who raked in a little over $300,000, with about two-thirds of that coming from Blom. At the end of their three-hour match, it became apparent that the loss had gotten to Blom:
Isildur1: split and new tables if u ever want good action again
Skjervoy: gg can play tomorrow
Isildur1: im to tilt to play 1 table
Skjervoy: lets just continue tomorrow
Isildur1: u xxxx hit n runner
Skjervoy: wtf are u talking about
Isildur1: I 4 bet every time u 3 bet
Isildur1: and u still quitting
Isildur1: u stupid ugly nit
Skjervoy: take it easy
Isildur1: I give u nice action every time and all u do is tilting and hit n running
Skjervoy: Only fishes get special treatment/rules from me
Isildur1: lets go 4 new deep tables
Skjervoy: You are the one demanding no minraises etc
Skjervoy: I just play
Isildur1: 3 new deep tables ok?
Skjervoy: We can probably play tomorrow more tables
Isildur1: will never give u action again
Skjervoy: Yeah right
Another winner on the day was Niki "RealAndyBeal" Jedlicka, who booked a $286,000 win. The vast majority of that, about $230,000, came off of Blom. In his biggest pot, Jedlicka ($60,188) was playing five-handed $100/$200 PLO and was in the big blind when JP "Jp kelly" Kelly ($19,480) raised to $600 under the gun. Blom ($49,900) was next to act and three-bet to $2,100, which cleared the field back to Jedlicka, who made the call. With action back on Kelly, he put in the four-bet to $9,100, Blom called, and this time it was Jedlicka who popped it, raising enough to put Kelly all-in. Kelly called off for $19,480 total, and Blom also came along for the ride.
When the flop fell
, Blom got his remaining $30,000 or so in the pot and action was complete.
Showdown
Jedlicka:

Blom:

Kelly:
Jedlicka's aces were out in front when the money went in, and stayed there as the
appeared on the turn followed by the
on the river, sending the $119,380 pot to Jedlicka.
Ronny "1-ronnyr3" Kaiser Adds Name to the Winner's List
Last Friday, Ronny "1-ronnyr3" Kaiser was the big winner of the day after winning $315,000. Surprisingly, his win didn't come from Viktor "Isildur1" Blom; instead, the majority of his winnings came courtesy of Phil "MrSweets28" Galfond, who lost over $250,000 that day. Interestingly, Galfond wasn't involved in Kaiser's biggest hand, which went as follows:
Jens "Jeans89" Kyllönen ($182,355) was under the gun in a five-handed game of $100/$200 PLO and opened for $900. Kaiser ($116,828) was next to act and promptly raised to $3,200, which cleared the field back to Kyllönen. A four-bet to $11,000 ensued, followed by a call from Kaiser. The
flop saw Kyllönen lead out for $20,695, Kaiser raise to $82,780, and Kyllönen move all-in. Kaiser called off his remaining $23,048, and suddenly there was $234,816 on the line.
Showdown
Kaiser:

Kyllönen:
Both players had flopped a flush draw, with Kyllönen's being the better of the two. As it was, Kaiser's pair of eights were best, but not after the
delivered Kyllönen a pair of kings. With the best hand and best draw, it seemed Kyllönen was destined to win the hand. Unfortunately for him, the river had other plans. Much to Kaiser's delight, the
spiked to give him the nut straight and the massive pot.
Who's Up? Who's Down?
Week's biggest winners (8/26-9/1): Viktor "Isildur1" Blom (+$630,624), Andreas "Skjervøy" Torbergsen (+$334,293), Ronny "1-ronnyr3" Kaiser (+$215,714), Richard "nutsinho" Lyndaker (+$195,719), Jens "Jeans89" Kyllönen (+$153,021)
Week's biggest losers: Ilari "Ilari FIN" Sahamies (-$1,061,181), machado28 (-$352,348), Phil "MrSweets28" Galfond (-$347,326), Gavin "gavz101" Cochrane (-$204,403), Zypherin (-$152,054)
Year-to-date winners: *Gus Hansen (+$3,941,000), Andreas "Skjervøy" Torbergsen ($1,955,000), *Daniel "jungleman12" Cates (+$1,952,000), *Alexey "NoPasaran" Makarov (+$1,875,000), *Matt Hawrilenko (+$1,440,000), Rui "PepperoniF" Cao (+$1,438,000), *bixiu (+$1,406,000), *Phil Ivey (+$1,336,000), Gavin "gavz101" Cochrane (+$12449,000)
Year-to-date losers: *Tom "durrrr" Dwan (-$2,474,000), *Eugene "fishosaurusREX" Yanayt (-$1,399,000), *kagome kagome (-$1,377,000), *cadillac1944 (-$1,336,000), *Esvedra (-$1,182,000), *UarePileous (-$837,000)
Biggest weekly winners/losers all on PokerStars
*Reflects Full Tilt Poker profit/loss
Data obtained from HighStakesDB.com
Stay up to date on all the latest news by following us on Twitter and liking us on Facebook.