The WSOP on ESPN: Phil Collins Unstoppable on Day 6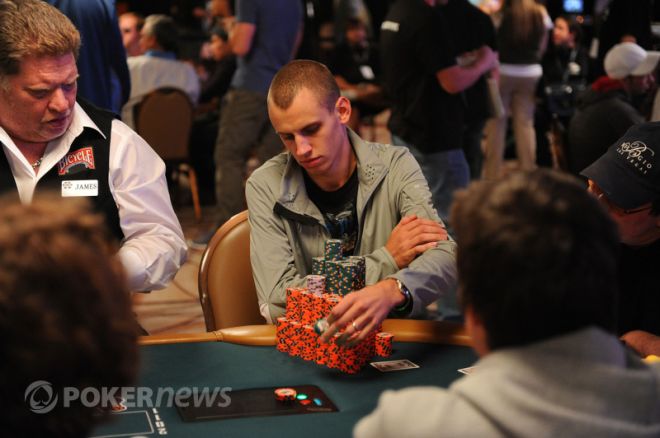 The 2011 World Series of Poker rolled on Tuesday night with two brand new episodes of the Main Event. With 12 of 24 episodes down, this week's broadcast marked the beginning of the Main Event's latter stages. Last week, Day 5 came to an end with a handful of players, from an original field of 6,865, still in contention for a share of the $64,531,000 prize pool.
This week, coverage of Day 6 kicked off with 142 players remaining, including a number of notables such as chip-leader David Bach (4,706,000); bracelet-winner Ben Lamb (4,032,000) online-star Phil Collins (4,109,000), and 2008 Player of the Year Erick Lindgren (385,000).
Start of Day 6 Chip Counts
| Place | Player | Chip Count |
| --- | --- | --- |
| 1st | David Bach | 4,706,000 |
| 2nd | Pius Heinz | 4,699,000 |
| 3rd | Kyle Johnson | 4,654,000 |
| 4th | Phil Collins | 4,109,000 |
| 5th | Ben Lamb | 4,032,000 |
| 6th | Aleksandr Mozhnyakov | 3,462,000 |
| 7th | Sebastian Ruthenberg | 3,354,000 |
| 8th | Lars Bonding | 3,327,000 |
| 9th | Bryan Devonshire | 3,292,000 |
| 10th | Thomas Grey | 3,262,000 |
Let's Get It On: With the blinds at 12,000/24,000 with a 3,000 ante, Erick Lindgren was all-in for his last 329,000 holding
and received a call from Minh Nguyen, who was holding
in the big blind. Interestingly enough, Nguyen was runner-up in the 2008 WSOP Player of the Year Race while Lindgren actually captured the title. The board ran out
and E-Dog doubled to 697,000, staving off collecting his first Main Event cash a bit longer.
80 BBs to Collins: Guiseppe Pastura opened for 52,000 holding
and received a call from Mario Silvestri, who was on the button, holding
. Phil Collins, who goes by "USCphildo" online, woke up with
in the big blind and promptly three-bet to 200,000. Pastura refused to back down and four-bet to 552,000, Silvestri folded, and Collins five-bet shoved. Surprisingly, Pastura called all-in for 2,001,000 only to discover he was dominated.
However, the
flop delivered two clubs and essentially made it a coin flip. Luckily for Collins, neither the
turn nor
river completed the flush, and he took down the 4.093 million pot, becoming the new chip leader with over 6.2 million.
Lindgren Does it Again: On a flop of
, Erick Lindgren bet 80,000 only to be min-raised to 160,000 by Lars Bonding. Lindgren, who held
, thought for a moment before announcing he was all-in for 551,000. Bonding called with his inferior
and watched as the turn and river both blanked. Just like that, Lindgren was up to 1,241,000.
Celebrity Resemblance: In a fun segment, ESPN decided to decipher which poker players had celebrity look-a-likes. When asked, here is whom the following poker players said they've been told they look like.
Jean-Robert Bellande = The Rock/Vince Vaughn
Daniel Negreanu = Andre Agassi/Edward Norton
Jason Mercier = Billy Walsch (Entourage)
Guillame Darcourt = Jean Reno
Andrew Robl = Matt Damon/Mark Hamill
Cheong Busted: Phil Collins, who seemed to have everything go his way on Day 6, looked down at
and opened for 75,000 from the cutoff. Joseph Cheong, last year's third-place finisher and the last November Niner remaining in the field, picked up
in the big blind and three-bet to 200,000. The blinds got out of the way, Collins moved all-in, and Cheong called off for 964,000.
Cheong's bid for back-to-back final tables was at risk, and he needed some major help. With just a 12 percent chance to win, Cheong picked up a little help on the
flop. Unfortunately for him, the
turn and
river blanked and he was eliminated from the Main Event in 114th place for $54,851. Not a bad two-year stretch for Cheong.
Holden's Queens Cracked: In the first hand of the second hour of broadcast, Sam Holden was moved to the feature table and picked up
. He min-raised to 60,000, which found a call from Phil Collins, who held the mediocre
. Both players proceeded to check the
, leading to the
on the turn. Collins, who could do no wrong, took the lead and bet 105,000. Holden called and the
peeled off on the river. Collins bet 325,000, Holden folded, and Collins took down the 702,000 pot.
Back to the Cash Game: Eli Elezra began the day on a short stack and opted to commit his last 474,000 with
. Jared Vengrin woke up with
and made the easy call, putting the veteran at risk. Elezra, who is a staple in the high-stakes games in Vegas, couldn't catch as the board ran out an uneventful
, and he was eliminated in 107th place for $54,851, which also constituted his second career cash in the Main Event.
Down to 100: With the field narrowed to just 100 players, Tony Hachem, brother to 2005 World Champ Joe Hachem, raised to 75,000 with
and received a call from the
of Lars Bonding. The
gave Hachem a flush draw, but he checked nonetheless. Bonding used the opportunity to bet 172,000, and Hachem decided not to gamble out of position.
Odds & Ends:

Longest Span Between Main Event Cashes: 35 years (Artie Cobb)
Longest Streak of WSOP Appearances: 28 years (Howard "Tahoe" Andrew)
Most Consecutive Years Playing the Main Event: 36 years (Dewey Tomko)
Most Second-Place Finishes in One Year: 3 (Phil Hellmuth, 2011)
Believe It or Not: Action folded to Mario Silvestri on the button and he min-raised to 60,000. Phil Collins was in the big blind and defended by moving all-in. Silvestri tanked, but eventually settled on calling off for 806,000.
Showdown
Silvestri:

Collins:
It was a race, but not after the
flop made Silvestri an 88 percent favorite. The
left Collins looking for a deuce on the river, but it was not meant to be as the
rolled off. Silvestri accomplished what so many others failed to do — double through Collins.
Mizzi Counterfeited: The cameras caught a hand on a
board with 591,000 in the pot. Sorel Mizzi had flopped a full house with
and fired out 365,000, and was met with an all-in reraise by Alexandr Mozhnyakov, who held
. Mizzi called off for 1,089,000 total and was an 84 percent chance to win the hand; however, in brutal fashion, the
spiked on the river to counterfeit Mizzi's full house and send him to the rail in 95th place for $64,531.
Tune in Next Week: Every Tuesday leading up to November, ESPN will air two episodes of the 2011 WSOP Main Event. Be sure to either check your local listings or come back next week for our recap of the action.
Don't forget to follow us on Twitter and like us on Facebook.