The Nightly Turbo: Bord Blasts Americans, November Nine Prop Bets, and More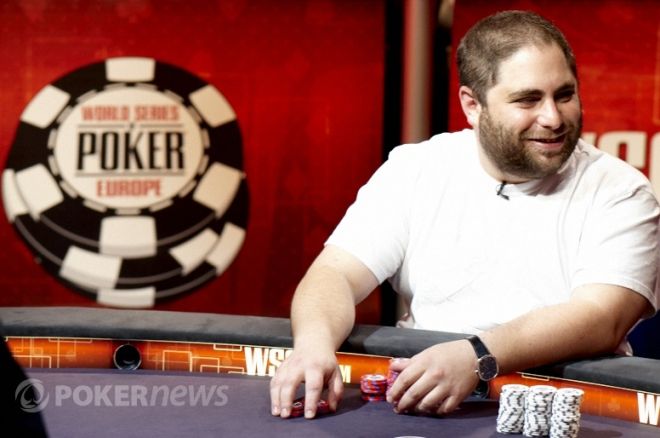 We already knew that reigning World Series of Poker Europe Main Event champ James Bord was brimming with confidence. But he took it to another level on Thursday. Also in this edition of the Nightly Turbo, Las Vegas sports books are offering prop bets on the November Nine, the Merge Network has re-opened to new customers, and more.
In Case You Missed It
Rhett Butler made the final table of World Series of Poker Main Event in 2006, but he's been noticeably absent from the poker scene since. We caught up with Butler to find out what he's been up to in this edition of Where Are They Now.
The Global Poker Index released its rankings as of Oct. 10. The seesaw battle for No. 1 continues as Erik Seidel regained the top spot from Jason Mercier this week.
Faraz Jaka, Dan Fleyshman and Taylor Caby are poker players and entrepreneurs. Kristy Arnett found out what it takes to be successful at both.
Steve Billirakis won his second World Series of Poker bracelet on Wednesday. Read about all the goings-on in Cannes in our daily WSOPE recap.
James Bord: "Europeans Are Far Superior To Americans"
The World Series of Poker Europe Main Event is only days away, and defending champion James Bord has officially thrown down the gauntlet to American players from across the pond.
Bord has offered to refund any losing bets on the WSOPE Main Event (up to $500) on the sports betting site Matchbook.com if an American wins the tournament. Bord, who won last year's event for £830,401 and now plays in some of the biggest cash games in the world, says he believes Europeans have surpassed Americans in terms of talent at the table.
"I don't think an American can win the bracelet; Europeans are now far superior," Bord said this week. "We used to look up to the U.S. players back in the day, but those days are now long gone. I'm prepared to put my money where my mouth is and refund any losing bets up $500 if an American wins."
Not surprising, several American pros weren't thrilled with Bord's comments.
GL USA. Serious arrogance and comments from a guy who barring one miracle championship has a very pedestrian record in poker.

— Kevin Iacofano (@icekevin)
Let the games begin.
Two Americans have claimed victory in the first four years of the WSOPE Main Event. Norway's Annette Obrestad took it down in 2007, and then Americans John Juanda (2008) and Barry Shulman (2009) won bracelets, before Bord won it in his home country last year.
Read more at UK.PokerNews.com.
Bet on the November Nine
The November Nine will reunite in Las Vegas in less than a month, and poker fans will now have the opportunity to bet on the outcome in the City of Sins. Nevada gaming regulators have allowed sports books to offer six different bets on the World Series of Poker Main Event final table.
In addition to betting on which player will win, bettors can wager on who will be the first to bust, which hand will determine the champ, how many hands will be dealt at the final table, and whether the first dealt flop will contain more black or red cards.
When asked if he ever thought he would be listing betting odds on the WSOP, Caesars regional Vice President of Specialty Gaming Howard Greenbaum said, "Ten years ago, no. But I also didn't imagine the thousands of fans seeking autographs from players or the live television. This shows you how popular the World Series of Poker has become. Our objective was to give people something to bet on."
The Las Vegas Review-Journal has the full story.
Merge Network Re-Opens its Doors
According to reports on TwoPlusTwo, the Merge Poker Network lifted its five-month block on new members Thursday, allowing most players worldwide to sign up for accounts on sites such as Carbon Poker, Lock Poker and PokerView.
The network stopped accepting new customers on June 1 in order to set up a proper frame to support the influx of players following Black Friday. According to PokerScout.com, Merge has seen an increase of 42 percent in traffic over since last year. The company said the hiatus was needed to ease the backlog of payment transactions, which were taking up to two months to process.
While most regions will be permitted to sign up with the Merge Network, players from the District of Columbia, Kentucky, Louisiana, Missouri, Maryland, New York and Washington remain banned network wide. In addition, Merge Network skin Hero Poker remains off-limits to U.S. players.
Find out more about Merge re-opening.
NBC's National Heads-Up Poker Championship Won't Return in 2012
NBC has cancelled the popular National Heads-Up Poker Championship for 2012, adding another poker show to the list of casualties caused by Black Friday. The 64-player heads-up event posted a respectable 1.5 rating during its seven years on NBC, but the network pulled the plug after PokerStars and Full Tilt Poker, two of the show's biggest advertisers, were removed from the U.S. market.
The National Heads-Up Poker Championship is the third poker show to hit the chopping block in the wake of Black Friday. Earlier this year, NBC dismissed Poker After Dark (NBC), sponsored by Full Tilt, and Fox put an end to the PokerStars Big Game. The Big Game can still be found on PokerStars.tv.
Find out more about NBC Heads-Up being cancelled.
Poker Cheats Arrested in France
A group of Italian con artists were in custody Thursday after using invisible ink and infrared glasses to cheat poker players out of an estimated 60,000 euros.
Three poker players and at least one employee of a casino in Cannes, France, developed a scam in which they marked each of the cards in a deck with invisible ink, then planted the deck at a poker table. The players then showed up to the tables wearing infrared glasses, essentially allowing them to see through their opponents' cards.
Casino authorities became suspicious of the huge amounts of money the players were winning and set up a sting operation for their next planned heist. That came Thursday when police arrested the men on charges of theft and fraud.
Get the full story at FoxNews.
Top 30 Under 30
SpyOnVegas is celebrating the best of the best in Las Vegas nightlife with the Top 30 Under 30 movers and shakers this week, and two poker pros have made the list. WSOP November Niner Ben Lamb and cash-game specialist Joe Cassidy are among the 30 to be honored at The Bank at Bellagio on Sunday, Oct. 16.
Plaques, gift bags, and other novelty items will be given to the honorees, but Lamb may need to send someone to pick up his swag. The 26-year-old is currently in France competing at the WSOP Europe and trying to fend off Phil Hellmuth to secure WSOP Player of the Year.
Others making the Top 30 Under 30 list include Vegas nightlife photographer Al Powers, former Playboy PlaymateLaura Croft and musician Brandon Marek.
Visit SpyOnVegas.com for more info.
You Know What They Say About Opinions?
During a break from the 2011 WSOPE €10,400 No-Limit Hold'em (Split Format) event,Jason Mercier told PokerNews'Kristy Arnett his opinion on fake boobs, french players, and more.
Are you following PokerNews on Twitter? Like us on Facebook while you're at it, and sign up for the newsletter. You know you want to.