The Online Railbird Report: D'Auteuil Wins $632K; Lyndaker to Quit Online Poker?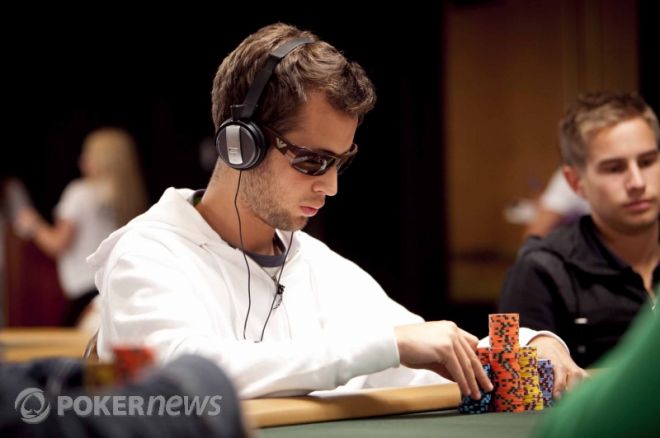 Since the end of PokerStars' World Championship of Online Poker, it seemed as though the high-stakes online action subsided a bit. This wasn't much of a surprise, given that the live circuit heated up in Europe and online grinders were content to take a break from the virtual felt. However, now that the post-WCOOP hangover seems to be cured, the online games are heating up once again. This was evidenced over the past week as most of poker's biggest online names were action, with two familiar pros boasting half-million-dollar swings.
Phil "takechip" D'Auteuil, who won an impressive $637,957 in 7,347 hands spread across 58 sessions, was this week's best performer. Coming in second was Ilari "Ilari FIN" Sahamies, who banked $207,189 in 1,261 hands of 16 sessions and showed that his performance last week was no fluke.
Richard "nutsinho" Lyndaker had a disastrous week, dropping $474,710 in 3,806 hands over 32 sessions. Lyndaker has had a rough go on PokerStars, earning the infamous distinction as the year's biggest loser on the site. What's worse, the downswing seems to be getting to the online pro, as reflected in his Twitter vents about his frustration:
continuing to run terrible every single day this year...just never ends, probably quitting online poker after the next 2 months

— Richard Lyndaker (@nutsinho)
impossibly bad downswing immediately follows heater AGAIN. November will be the last month of 'nutsinho' playing on Pokerstars. sad times...

— Richard Lyndaker (@nutsinho)
Townsend vs. Arnaud
Last Friday, Brian "aba20" Townsend lost $156,000 to Romain "moirhums" Arnaud at the $100/$200 pot-limit Omaha tables. On Sunday, Townsend was back and two-tabling his French foe, managing to score $89,000, the same amount he had lost two days earlier. He broke even against Arnaud for the weekend, but Townsend's performance made him Sunday's biggest winner.
In one hand between the two, Townsend ($50,598) raised to $600 on the button and Arnaud ($48,668) three-bet to $1,800 from the big blind. Townsend made the call and watched as Arnaud led out for $2,000 on the
flop. Instead of calling, Townsend raised to $5,800, and Arnaud called. The Frenchman then checked the
turn, Townsend bet $10,200, Arnaud called, and the
peeled off on the river. Arnaud check-called off his stack of $30,868 and the cards were turned up:
Showdown
Arnaud:

Townsend:
Townsend had flopped sevens full of aces, but Arnaud managed to turn aces full of fours. The $97,336 pot was sent to Arnaud, and while he may have won that battle, he ultimately lost the war.
In another hand, Townsend ($37,398) raised to $600 on the button, Arnaud ($139,604) three-bet to $1,800, Townsend four-bet to $5,400, and Arnaud made the call. Both players proceeded to check the
flop, and the
was put out on the turn. Arnaud seized the initiative with a $7,000 bet, but was quickly raised to $31,798 by his opponent. Arnaud responded with a reraise, and Townsend called off his last $200.
Showdown
Arnaud:

Townsend:
Arnaud had a flopped set with straight and flush redraws, while Townsend held a superior flush draw. Townsend's flush came when the
spiked on the river, sending the $81,796 pot his way.
The $89,000 loss to Townsend, combined with a $20,000 loss to "rickv17" at the $25/$50 heads-up PLO tables, made Arnaud's total losses for the day $109,000, enough to make him Sunday's biggest loser.
D'Auteuil Does What He Does Best and Takes Some Chips
On Monday, there was some notable $200/$400 no-limit hold'em action, contributing to the vast majority of Phil "takechip" D'Auteuil's profits for the week. It was at those tables that D'Auteuil won $410,000 playing a four-hour session of 300 hands. With a waiting list 20 players deep, it quickly became apparent that this was going to be one heck of a game NLHE game.
In what would be his biggest hand of the day, action folded to D'Auteuil ($256,623) on the button and he raised to $1,000. "LiangYu" ($173,260) made the call from the small blind, the big blind folded, and the two were heads-up to the
flop. LiangYu checked, D'Auteuil bet $1,400, and LiangYu check-raised to $4,400. D'Auteuil made the call and then watched as his opponent fired out $4,000 on the
turn.
D'Auteuil decided to raise to $23,400, LiangYu called, and the
was put out on the river. LiangYu led out for $60,000, D'Auteuil moved all-in, and LiangYu called off his remaining $84,460, creating a pot worth $346,915. D'Auteuil rolled over
for the nuts and LiangYu sent his cards to the muck. The latter would go on to drop $240,000 in the game, including a loss in the second-biggest pot of the day.
That hand began when D'Auteuil ($102,745) opened for $1,000 from the hijack, LiangYu ($85,172) called from the cutoff, and "wobbly_au" ($63,989) exercised his option from the big blind with a raise to $4,800. Both D'Auteuil and LiangYu made the call and three-way action continued to the
flop. After "wobbly_au" checked, D'Auteuil bet $7,400 and only LiangYu called.
The
turn saw D'Auteuil bet $22,400, LiangYu move all-in for $72,972 total, and D'Auteuil made the call. The latter rolled over
for trip queens, and LiangYu mucked yet again, sending the $175,339 pot to D'Auteuil.
Joining LiangYu on the loser's list in the big NLHE games was Richard "nutsinho" Lyndaker, who dropped $128,000 in the game, which came on the heels of losing $155,000 earlier in the day.
Who's Up? Who's Down?
Week's biggest winners (10/21-10/27): Phil "takechip" D'Auteuil (+$637,957), Ilari "Ilari FIN" Sahamies (+$207,189), Benny "toweliestar" Spindler (+$150,328), !P0krparty¡ (+$139,322)
Week's biggest losers: Richard "nutsinho" Lyndaker (-$474,710), VietRussian (-$239,299), Phil "MrSweets28" Galfond (-$173,657), LiangYu (-$145,946), Davin "mTw-DaviN" Georgi (-$108,786).
Year-to-date winners: *Gus Hansen (+$3,941,000), *Daniel "jungleman12" Cates (+$1,952,000), Rafi "refaelamit" Amit (+$1,910,000), *Alexey "NoPasaran" Makarov (+$1,875,000), *Matt Hawrilenko (+$1,440,000), Ilari "Ilari FIN" Sahamies (+$1,428,000), *bixiu (+$1,406,000), *Phil Ivey (+$1,336,000), Andreas "Skjervøy" Torbergsen ($1,305,000), Jen "Jeans89" Kyllönen (+$1,302,000)
Year-to-date losers: *Tom "durrrr" Dwan (-$2,474,000), *Eugene "fishosaurusREX" Yanayt (-$1,399,000), *kagome kagome (-$1,377,000), *cadillac1944 (-$1,336,000), *Esvedra (-$1,182,000), Richard "nutsinho" Lyndaker (-$1,014,000), *UarePileous (-$837,000)
Biggest weekly winners/losers all on PokerStars
*Reflects Full Tilt Poker profit/loss
Data obtained from HighStakesDB.com
Stay up to date on all the latest news by following us on Twitter and liking us on Facebook.