The Online Railbird Report: Sahamies Finishes as Week's Biggest Winner with $270K Win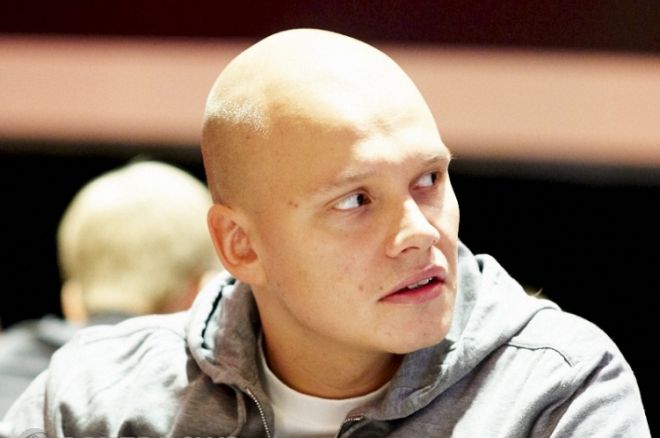 Between the Latin American Poker Tour in Colombia and the World Series of Poker Europe in Cannes, there was plenty of live poker action to choose from this past week. Even so, that didn't stop the high-stakes online action from being in full swing over at PokerStars. There were some remarkably big no-limit hold'em games throughout the week that complimented the usual pot-limit Omaha selection.
Althiough Ta-Chih "socutiesf" Geeng has dominated the high-stakes games in the past few weeks, including being last week's biggest winner, the PokerStars Team Online pro laid fairly low over the past seven days, allowing a couple of familiar names the opportunity to shine. We're talking about Ilari "Ilari FIN" Sahamies and Davin "mTw-DaviN" Georgi, who finished the past week as the two biggest winners.
Sahamies was the top earner with $270,150 in profit over 2,536 hands spread across 24 sessions, while Georgi banked $175,030 in 15 sessions/1,295 hands. On the other side of things, Terje "Terken89" Augdal continued to slide this week and ended up the biggest loser, dropping $249,246 in 67 sessions/4,502 hands. He was followed a little further down the line by Ben "Ben86" Tollerene, who lost $124,819 in 54 sessions/4,578 hands.
Friday Fun for Sahamies
Last Friday, Oct. 14, Ilari "Ilari FIN" Sahamies played 1,017 hands of $100/$200 PLO and won a hefty $374k. In one hand, Sahamies was playing six-handed against a pretty tough lineup when action folded to him on the button. Sahamies ($161,763) opened the action for $940 but was quickly met with a three-bet to $3,260 by Ta-Chih "socutiesf" Geeng ($61,672). Sahamies made the call and it was heads-up to the
flop.
Geeng proceeded to check-call a bet of $3,200, and the
appeared on the turn. The online pro check-called another bet, this time $13,355. When the
peeled off on the river, Geeng checked, Sahamies fired out a pot-sized bet of $40,065, and Geeng made the call. Sahamies rolled over
for a turned straight flush, and that was the end of that. Ship the $119,960 pot to the Fin.
In another hand at the same limits, Sahamies ($71,117) opened for $940 from the cutoff, Terje "Terken89" Augdal ($45,862) three-bet to $3,260 from the small blind, Sahamies four-bet to $6,520, and Augdal made it $17,180 to go. Not to be outdone, Sahamies made it $58,500 and Augdal called off his remaining $28,682.
Showdown
Augdal:

Sahamies:
It was a classic aces-versus-kings situation, with Augdal on the wrong side of the equation. The
flop was about as dry a board as possible, while the
turn left Augdal drawing to one of the two remaining kings. Unfortunately for him, the
bricked and the $98,404 pot was sent to Sahamies.
Sahamies' Saturday Success
Ilari "Ilari FIN" Sahamies rode his momentum straight into the weekend and returned to action on Saturday. He managed to win an additional $171,000 at the PLO tables, much of it against Rui "PepperoniF" Cao in heads-up action. Despite being taken by the Fin, Cao finished the day a winner himself, banking $100,000 at the $50/$100 PLO tables.
The biggest hand of the day actually occurred between the two, and began when Sahamies ($72,518) raised to $340 on the button and Cao ($63,217) exercised his option in the big blind by making it $1,060. Sahamies then four-bet to $3,220, Cao five-bet to $9,700, and Sahamies made the call, leading to the
flop.
Cao wasted little time in leading out for $19,439.50, Sahamies called, and the
was put out on the turn. At this point, Cao moved all in for $34,057.50, Sahamies snap-called, and the
fell on the river. Cao rolled over
for a pair of aces, but it was no good against the rivered
flush of Sahamies, who added the $126,434 pot to his stack.
Big Time NLHE Action
The latter part of Saturday and early half of Sunday saw some pretty significant no-limit hold'em action; in fact, Niklas "Ragen70" Heineckerragen ended up the day's biggest winner with $138,000 in profit over 721 hands of $200/$400 NLHE. Much of that came off "LiangYu", who ended up the biggest loser of the day by dropping $260,000 at the same stakes.
While Heineckerragen wasn't involved in the biggest hand of the day, LiangYu was, and it wasn't on the winning end. The said hand began when Cort "thecorster" Kibler-Melby ($114,343) opened for $1,200 under the gun and LiangYu ($72,154) made it $3,600 to go from the small blind. The
flop saw LiangYu lead right on out for $5,200, Kibler-Melby called, and the turn come the
.
Again LiangYu led out, this time for $10,000, and Kibler-Melby made the call. When the
was revealed on the river, LiangYu bet $39,200, Kibler-Melby moved all-in for $95,543, and LiangYu called off his remaining $14,154. With $144,703 on the line, Kibler-Melby flipped over the
and LiangYu simply mucked.
D'Auteuil Takes Some Chips
As the weekend wound down, so did most of the $200/$400 action; however, that didn't stop Phil "takechip" D'Auteuil from banking some nice wins at the $25/$50 and $50/$100 NLHE tables. On Sunday, he won a respectable $63,000, which he followed up with a more modest $17K win on Monday.
His biggest hand was played at a five-handed $25/$50 table, and began when "Halozination" ($13,876) opened for $150 under the gun and D'Auteuil ($21,293.50) made it $400 to go from the button. After both blinds got out of the way, Halozination made the call, and it was heads up to the
flop. Halozination checked, D'Auteuil bet $550, and Halozination woke up with a check-raise to $1,200. D'Auteuil responded with a three-bet to $3,025, Halozination four-bet to $6,050, D'Auteuil five-bet to $9,425, and Halozination moved all in for $13,476 total. D'Auteuil called the additional $4,051 and the cards were turned up:
Showdown
D'Auteuil:

Halozination:
Halozination was far ahead preflop, but D'Auteuil managed to spike a set on the flop to take the lead; however, the latter still needed to dodge a seven or an eight to lock up the hand. He managed to do so on the
turn, as well as the
river, and D'Auteuil's boat earned him the $27,827 pot.
Who's Up? Who's Down?
Week's biggest winners (10/14-10/20): Ilari "Ilari FIN" Sahamies (+$270,150), Davin "mTw-DaviN" Georgi (+$175,030), Niklas "Ragen70" Heineckerragen (+$151,540), ChaoRen160 (+$144,098)
Week's biggest losers: Terje "Terken89" Augdal (-$249,246), LiangYu (-$154,992), Ben "Ben86" Tollerene (-$124,819), Kanu7 (-$115,294)
Year-to-date winners: *Gus Hansen (+$3,941,000), Rafi "refaelamit" Amit (+$1,961,000), *Daniel "jungleman12" Cates (+$1,952,000), *Alexey "NoPasaran" Makarov (+$1,875,000), *Matt Hawrilenko (+$1,440,000), *bixiu (+$1,406,000), *Phil Ivey (+$1,336,000), Andreas "Skjervøy" Torbergsen ($1,316,000), Jen "Jeans89" Kyllönen (+$1,259,000)
Year-to-date losers: *Tom "durrrr" Dwan (-$2,474,000), *Eugene "fishosaurusREX" Yanayt (-$1,399,000), *kagome kagome (-$1,377,000), *cadillac1944 (-$1,336,000), *Esvedra (-$1,182,000), *UarePileous (-$837,000)
Biggest weekly winners/losers all on PokerStars
*Reflects Full Tilt Poker profit/loss
Data obtained from HighStakesDB.com
Stay up to date on all the latest news by following us on Twitter and liking us on Facebook.