Win Your Way into the PokerStars Saturday Countdown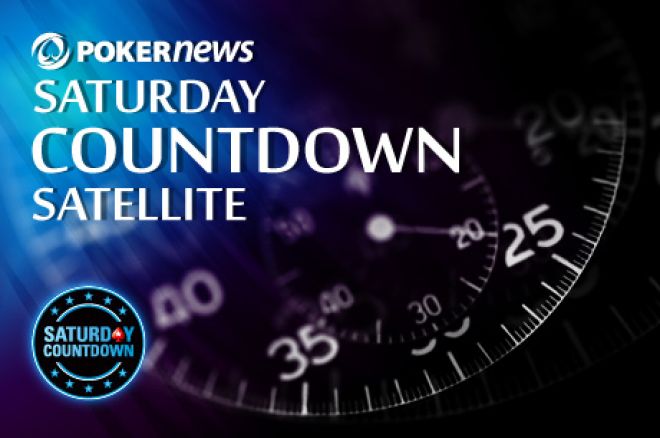 Download PokerStars and win your way into the Saturday Countdown.
Introducing the Saturday Countdown
For those who aren't familiar with the Saturday Countdown, it is PokerStars' newest addition to its already jam-packed Saturday tournament lineup. The Saturday Countdown will use the new Time Tourney format.
In Time Tourneys, instead of playing until one player has all the chips like in a traditional format, play lasts for a set period that changes depending on each tournament. Once this time limit is reached, the prize pool is distributed based upon the size of players' stacks.
In the Saturday Countdown this set period is an action-filled 120 minutes. Imagine winning an obscene amount of money in only two hours!
Win Seats into the Saturday Countdown
To help celebrate the launch of the brand new PokerStars Saturday Countdown, PokerNews will be hosting an affordable satellite, which will award at least 100 seats to its winners.
The satellite will run Friday, Oct. 28 at 1500 ET (1900 GMT) and features a $2+0.20 buy-in. To participate, players will simply need the password, "POKERNEWS," when signing up for the tournament.
With 100 guaranteed seats up for grabs, the Saturday Countdown satellite is sure to be a massive success, so don't be one of the few to miss out when the Saturday Countdown kicks off Saturday, Oct. 29.
The PokerNews Saturday Countdown Satellite is open to players regardless of where they signed up for PokerStars, but, of course, there is always extra incentive to open a PokerStars account through PokerNews, since we continue to offer the best, exclusive promotions available anywhere online.
Double the Reason to Countdown
To further celebrate the launch of the Saturday Countdown, PokerStars has decided to double the guarantees in all of its Saturday lineup tournaments this weekend.
This means the Saturday Countdown will feature a massive $20,000 guarantee, and thanks to the PokerNews satellite, you could turn just $2+0.20 into a share of this huge prize pool!
Try a Time Tourney for Free
If you don't already have an account, download PokerStars now and remember to use the marketing code "POKERNEWS.COM." If you deposit more than $30 before Oct. 28, use special bonus code "TIME" when depositing to receive a free $5.50 tournament ticket!
If you don't happen to sign up to PokerStars before Oct. 28 to claim your free tournament ticket, remember to still use the marketing code "POKERNEWS.COM" and then use the 100% up to $600 first-deposit bonus by also using the bonus code "STARS600."
If you experience any problems with this or any of our promotions, please contact our Ticketed Promo Support System.