The Online Railbird Report: Romain "moirhums" Arnaud, Phil Galfond Gets in on the Action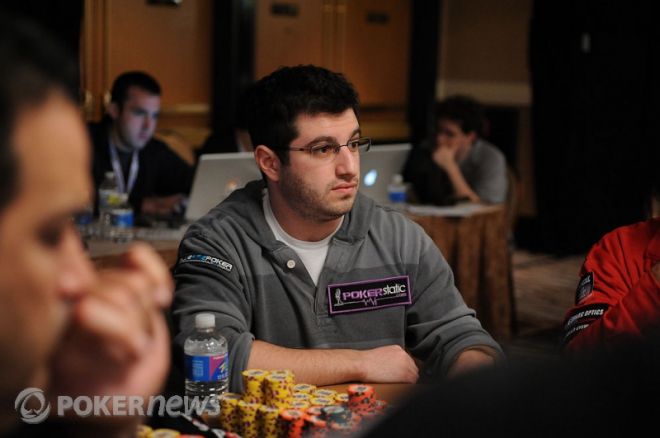 There was big online poker news earlier this week when it was announced that the United States Department of Justice has supposedly given its consent for a deal between Groupe Bernard Tapie and Full Tilt Poker that would see the redistribution of players' funds. While that was good news for all online players, some were busy banking on the high-stakes cash games on PokerStars.
This past week, there was plenty of action on the virtual felt, although no big winners and losers. The biggest winner of the week ended up being Romain "moirhums" Arnaud, who booked $162,877 in profit in 8,974 hands spread across 68 session. Not far behind in second place was Ville Wahlbeck, who won $131,389 in 23 sessions of 3,166 hands.
On the opposite end of the spectrum, !P0krparty¡ ended the week as the biggest loser, dropping $139,166 in 63 sessions comprised of a hefty 18,058 hands. Rounding out the top three losers were Davin "mTw-DaviN" Georgi, who lost $133,723 in 20 sessions of 2,069 hands, and Sami "Lrslzk" Kelopuro, who dropped $92,862 in 3,637 hands spread across 62 sessions.
!P0krparty¡ vs. MrSweets28
The online poker world loves mystery players, or at least loves to speculate as to whom they could be, which is the case with !P0krparty¡. In the last week, the mystery player has played more than 46,000 hands at the $25/$50 (and higher) pot-limit Omaha tables, which is an insane volume by anyone's standard. !P0krparty¡ has been known to play with his entire bankroll on the table, which is why he's experienced some polarizing swings. When down, he can be found at the $1/$2 tables, but plays as high as $50/$100 when winning.
On Friday, Oct. 28, !P0krparty¡ could do no wrong and booked a $288,000 win, only to turn around and lose $324,000 the next day. Unfortunately !P0krparty¡ couldn't hold onto his profits and ended up losing $15,700 overall between Oct. 22 and 29. As if things couldn't get any worse, !P0krparty¡ took a beating on Sunday by Phil "MrSweets28" Galfond.
In one of their hands, Galfond ($43,335) opened for $324 on the button only to have !P0krparty¡ ($50,904) exercise his option in the big blind with a three-bet to $1,012. Galfond made the call and then fired out $1,150 after !P0krparty¡ checked the
flop. !P0krparty¡ responded with a check-raise to $4,225, Galfond made it $12,100, !P0krparty¡ four-bet to $42,588.50, and Galfond called off his remaining $30,223.
Showdown
!P0krparty¡:

Galfond:
!P0krparty¡ had flopped the nut-flush draw, which he needed to hit to defeat Galfond's set of sixes. The
turn was no help, and the
saw the $86,670 shipped to Galfond.
!P0krparty¡ ($36,155.50) got some revenge when Galfond ($48,201.50) raised to $224 on the button and he had the chance to three-bet to $712 from the big blind. Galfond made the call, the flop fell
, and !P0krparty¡ bet $1,125. From there, Galfond opted for a raise to $3,250, !P0krparty¡ three-bet to $6,675, Galfond four-bet to $24,738.50, and !P0krparty¡ moved all-in for $35,443.50 total. Galfond made the call and the cards were turned up:
Showdown
!P0krparty¡:

Galfond:
Both players had flopped top two pair, but !P0krparty¡ improved to a better two pair when the
hit the turn. The
river improved his hand once again, this time to a full house, and !P0krparty¡ took down the $72,311 pot.
Cao Tuesday's Biggest Winner
On Tuesday, Rui "PepperoniF" Cao was busy at the $50/$100 PLO and NLHE tables, where he won close to $100,000. In one hand, Cao was playing heads-up against "urubu111" when he moved all-in from the button for $29,646.50. Urubu111 called off for $23,522.70.
Showdown
urubu111:

Cao:
The board ran out
and Cao took down a pot worth $47,045.40, which turned out to be his biggest hand of the day.
At the PLO tables, which is where Cao won most of his money, he squared off against Ilari "Ilari FIN" Sahamies and had the following hand develop. Cao ($32,787) opened for $300 on the button only to have Sahamies ($17,940) make it $900 to go from the big blind. Cao made the call, the flop came down
, and Sahamies checked. Cao took the opportunity to bet $1,100, Sahamies called, and the
hit the turn, which both players checked.
When the
appeared on the river, Sahamies checked, Cao bet $2,100, Sahamies check-raised to $10,299.50, and Cao three-bet to $20,599. The raise proved too much for Sahamies, who folded his cards. That hand contributed to Cao taking Sahamies for more than $30,000 on Tuesday.
Arnaud is Week's Biggest Winner
On Wednesday, French pro Romain "moirhums" Arnaud played Gavin "gavz101" Cochrane at the $50/$100 PLO heads-up table, playing approximately 1,000 hands in just over an hour and a half. When the dust settled, Arnaud had won around $109,000, enough to make him the day's biggest winner.
In the largest hand of their match, Cochrane ($23,819.40) raised to $300 on the button, Arnaud ($20,054.09) three-bet to $900 from the big blind, Cochrane four-bet to $2,700, and Arnaud made the call, proceeding to check the
flop. Cochrane then bet $3,700, Arnaud check-raised to $16,499.50, Cochrane moved all-in for $21,119.40, and Arnaud called the additional $854.60.
Showdown
Arnaud:

Cochrane:
Cochrane held pocket aces with an open-ended straight draw, but it was behind Arnaud's top two pair. The
turn gave Cochrane the said straight and the lead, but the
river hit Arnaud and improved him to nines full of queens, good enough to win the $40,108.19 pot.
Thanks largely to that hand, Cochrane became the day's biggest loser with a loss of $103,000.
Who's Up? Who's Down?
Week's biggest winners (10/28-11/3): Romain "moirhums" Arnaud (+$162,877), Ville Wahlbeck (+$131,389), azn_baller3 (+$89,492)
Week's biggest losers: !P0krparty¡ (-$139,166), Davin "mTw-DaviN" Georgi (-$133,723), Sami "Lrslzk" Kelopuro (-$92,862)
Year-to-date winners: *Gus Hansen (+$3,941,000), *Daniel "jungleman12" Cates (+$1,952,000), Rafi "refaelamit" Amit (+$1,916,000), *Alexey "NoPasaran" Makarov (+$1,875,000), *Matt Hawrilenko (+$1,440,000), *bixiu (+$1,406,000), *Phil Ivey (+$1,336,000), Ilari "Ilari FIN" Sahamies (+$1,321,000), Jen "Jeans89" Kyllönen (+$1,288,000), Andreas "Skjervøy" Torbergsen ($1,255,000)
Year-to-date losers: *Tom "durrrr" Dwan (-$2,474,000), *Eugene "fishosaurusREX" Yanayt (-$1,399,000), *kagome kagome (-$1,377,000), *cadillac1944 (-$1,336,000), *Esvedra (-$1,182,000), Richard "nutsinho" Lyndaker (-$1,038,000)
Biggest weekly winners/losers all on PokerStars
*Reflects Full Tilt Poker profit/loss
Data obtained from HighStakesDB.com
Stay up to date on all the latest news by following us on Twitter and liking us on Facebook.