Pigskin Diaries Week 10: A Full Slate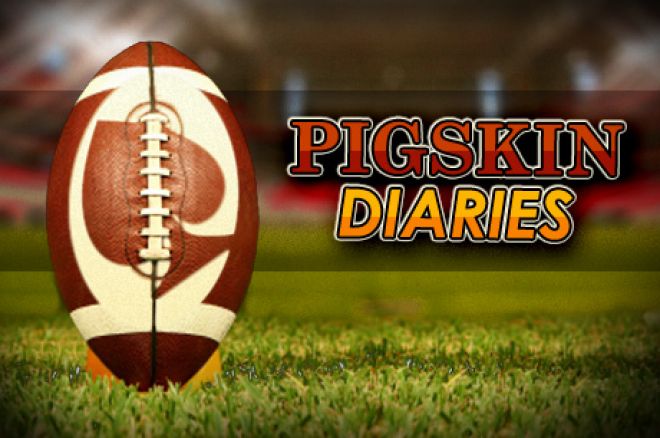 The National Football League offers a full slate this weekend — all 32 teams will be in action. This is a strange twist to the schedule, because there is still one more bye week. We're not complaining (the more football the better), but a full, 16-game slate is a lot to mull over, so let's get right into it.
Buffalo (+5.5) @ Dallas
The Cowboys are 1-3 at home against the spread (ATS), and the only team they covered against was St. Louis in a game where DeMarco Murray ran for over 200 yards. Washington, Detroit, and Seattle all covered in Jerry Jones' Death Star, and Buffalo is better than all three of those teams. This line is too high (a classic overreaction after losing by 16 to the Jets at home), thus taking the points is a no-brainer.
It's going to be tough for Dallas to defend against Buffalo's spread attack because they're so limited in the secondary. If the Cowboys bring in extra defensive backs, which they will have to do because they can't play man, then the Bills will run Fred Jackson out of three and four wide receiver sets. This is a nightmare scenario for Dallas because it eradicate their pass rush completely, keeping Ryan Fitzpatrick's jersey clean.
Fantasy: With Miles Austin out with another hamstring injury, Dez Bryant should receive the most WR targets. Laurent Robinson becomes an interesting play, as well, although Jason Witten eats into his value.
New Orleans (PICK) @ Atlanta
The Saints are quietly declining and are 1-4 ATS on the road, which makes this a perfect pick against one of the teams we hate the most. The Falcons' value is "rising" because they've won (and covered) three straight games against Carolina, Detroit, and Indianapolis. The Lions are pretty good, but the Panthers and the Colts are a combined 2-15 — that's nothing special.
Atlanta's defense struggles against fast teams that can spread it out, and Darren Sproles and Jimmy Graham are match-up nightmares. Despite what we've seen over the past nine weeks, Drew Brees is still one of the best quarterbacks in the league. You should feel very comfortable when you're on his side, especially if it's a pick'em game against Matt Ryan.
Fantasy: Marques Colston is back to being Mr. Inconsistent. Consider him a mid-level WR2, while on the other side of the ball Julio Jones has asserted himself as a must-start.
Pittsburgh (-3) @ Cincinnati
It's time for the Bengals to show us whether they're a contender or a pretender. They're 6-2 (7-1 ATS), but their schedule has been very soft up to this point. Their next five games are Pittsburgh, at Baltimore, Cleveland, at Pittsburgh, and Houston. They could easily find themselves at 7-6, right? At best they'll be 8-5, clawing for a playoff spot.
Usually we would ride a team like Cincinnati into the ground, 7-1 ATS is impressive, but we'd rather wait a week to see how they perform against a team with elite talent. Cincy's toughest opponent to date was San Francisco, which beat the Bengals at home by five points. Andy Dalton and the offense struggled to move the ball, but the rookie quarterback has come a long way since Week 3. We love Dalton, we love A.J. Green, and we love the Bengals defense, but we trust the Steelers more.
Pittsburgh should be fired up after that awful, last-second home loss to Baltimore, as well.
Fantasy: Antonio Brown is a stud, and he's only found the end zone once this year. Touchdowns are impossible to predict, and with the number of targets he's receiving, he's bound to score another touchdown soon.
Washington @ Miami (-4)
St. Louis (+3) @ Cleveland
We here at the Pigskin Diaries would like to thank the NFL for scheduling these four terrible teams against one another. Had they been placed against four good teams, we would've been forced to watch them for an unhealthy amount of time. Now we can avoid these games at all costs, and if anything exciting happens, the Redzone Channel has us covered.
Fantasy: Steven Jackson and Fred Davis. Maybe Reggie Bush and Roy Helu Jr. in point- per-reception leagues, but other than these four players, it's slim pickings.
Houston (-3) @ Tampa Bay
OK, Houston, we believe you. Arian Foster and Ben Tate are, without a doubt, the best one-two combination in the league. Tate has crossed the century mark three times this season — twices in the past three weeks as Foster's spell, and once as the starter in Week 1. Without Andre Johnson, Houston has shortened their passing attack and relied on defensive play — which is a far cry from the Texans of old.
Imagine what's going to happen when they get Johnson back and can stretch the field again.
For the Bucs, it's been a very disappointing year. Josh Freeman is regressing in front of our eyes, Mike Williams disappeared, Gerald McCoy suffered another season-ending injury, and no has been able to replicate Barrett Ruud's productivity. At 4-4 this may be Tampa's last gasp, but even inspiration can't save this team.
Fantasy: Without Earnest Graham, LeGarrette Blount is the every down back. Houston's defense is tough, but touches are paramount in fantasy.
Tennessee @ Carolina (-3.5)
Carolina is 5-3 ATS, 4-1 at home, and you won't see us betting against Cam Newton anytime soon — he's a backdoor covering machine. Unfortunately, this week he has to win to cover, so Olindo Mare better not screw up again. Tennessee has lost three out of its last four games, including a 41-7 beat down from the aforementioned Texans. This team isn't the same without Kenny Britt, and Chris Johnson still hasn't turned it around.
Fantasy: Damian Williams got into the end zone last week, and is quickly ascending in the Titans WR ranks. Nate Washington is a natural WR2, so Williams' targets could increase even more going forward.
Arizona @ Philadelphia (-14)*
With Kevin Kolb's health in question, this line is a mystery. VegasInsiders.com guessed it would be 14, assuming Kolb is out, so that's what we'll use. Laying 14 points with a 3-5 team isn't ideal, but the Eagles have the potential to explode at any moment — just ask the Cowboys. Philly stomped Dallas 34-7 two weeks ago, putting themselves back into contention for the division/wildcard, before getting dominated on Monday night by Chicago. They are the ultimate Jekyll and Hyde team.
Arizona is awful, but the only time they were double-digit underdogs this season they almost beat Baltimore outright. Kolb was at quarterback then, not John Skelton, who makes brilliant plays like this. Unless Patrick Peterson runs back two or more kicks, the Cardinals have no shot at winning this game, and if Philly gets off to a hot start, then covering shouldn't be a huge issue either.
Fantasy: Don't be afraid to bench DeSean Jackson if you feel like you have better options. Jackson is a boom or bust player who has been stuck in bust all season.
Denver (+3) @ Kansas City
Tebow 3:16 says: take the Broncos and the points.
Fantasy: Seriously, it was another solid fantasy week for Timmy terrific. The guy finds ways to score points and is starting to look comfortable with Eric Decker.
Jacksonville (-3) @ Indianapolis
Why does everyone think that "this has to be the week," or that "Indy can't lose every game?" Why not? When your quarterback is being benched for Dan Orlovsky, then there are serious problems. This team is terrible. Most importantly, the Colts are at their worst when they play tough defenses, and the Jaguars rank sixth in Football Outsiders' defense-adjusted value over average (DVOA) ratings. We've seen Jacksonville perform well against Baltimore, Pittsburgh, and Carolina, holding all three teams to 17 points or less.
On the other side of the ball, who is going to stop Maurice Jones-Drew? Pat Angerer leads the world in tackles, but that's only because backs reach the second level frequently. Indy isn't built to stop the run on defense, they're built to rush the passer with a lead — which doesn't work without Peyton Manning. Jacksonville isn't a powerhouse by any means, but Indy should be more than a three-point dog to every team in this league regardless of where the game is being played.
Fantasy: You safely bench every Colt in this game, unless you're in a really, really deep league.
Baltimore @ Seattle (+6.5)
This is a classic letdown after a huge win. Joe Flacco finally beat Pittsburgh, and now the team has to travel all the way to Seattle to play in one of the loudest stadiums in the league. The Seahawks are 2-1 ATS at home — the Bengals covered in the Pacific Northwest two weeks ago. Perhaps this pick was driven by a negative bias against Flacco and the Ravens, but Baltimore played awful two weeks ago against Arizona and lost in Jacksonville the week before that. They also could've lost last week had it not been for Flacco's surprise heroics.
Seattle will be competitive as long as they don't turn the ball over. Baltimore thrives on their opponents mistakes, but they're also exploitable — especially in the passing game. Sidney Rice, Doug Baldwin, and Ben Obomanu are all athletic wide outs who will give the Ravens fits if Tarvaris Jackson has time to get rid of the ball.
Fantasy: It's safe to say you should bench Marshawn Lynch unless you have no other option. Keep an eye on Ravens tight end Dennis Pitta — the rookie out of BYU looks like a young Todd Heap.
Detroit @ Chicago (-3)
New York Giants @ San Francisco (-3.5)
One favorite and one dog will cover. We're sure of this. Last week we correctly predicted that either Dallas or Houston would cover but not both. Of course, we chose the wrong side on each game. This time we're splitting the difference and hoping to get a little lucky. We especially like the Niners because they get to play a banged up Giants team that's coming off of a big win. Without Ahmad Bradshaw, New York has far less balance on offense, and San Francisco can rush the quarterback. Conversely, the Niners will pound the rock with Frank Gore, forcing the Giants' defensive line to stop the run.
In Chicago, Jay Cutler is returning to form. Kudos to Mike Martz for finally eliminating seven-step drops and giving Matt Forte the ball — even though the Bears front five is still sluggish, you have to protect Cutler with your play calls. Earl Bennet might be just what the doctor ordered in the intermediate passing game, which would help balance the offense and make Devin Hester more of a downfield threat. This is also a must-win for Chicago — Detroit won the first meeting back in October, and the Bears can't afford to fall to 5-4 with a 1-3 divisional record.
Fantasy: While we can't assume Bennett will always be that productive, somebody has to get the targets in Chicago. Neither Roy Williams nor Johnny Knox has been impressive, so Bennett could easily ascend to the top of the list.
New England @ New York Jets (-1.5)
No comment.
Fantasy: Shonn Greene is slowly making amends for his terribly slow start. One more productive week and he'll resolidify himself as a no-brainer RB2.
Minnesota @ Green Bay (-13.5)
Vegas can't make this line high enough. The public loves the Packers and Aaron Rodgers. So do we. We'd rather take the Pack with the best quarterback in the league than take the points and hold on for dear life. Plus, every time we see this video, we wonder why we would ever take the Vikings.
Fantasy: Neither James Starks nor Ryan Grant should be anywhere near your lineup, whereas James Jones is worth a flier.
This Week: 1-0
Last Week: 7-5-1
Season: 65-57-8
Follow us on Twitter for up-to-the-minute news.
All betting lines are from Covers.com, and are accurate as of 11 a.m. EST
Get up-to-the-minute NFL betting lines at Sportmoose.com.